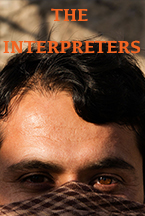 (The 2019 Annapolis Film Festival, out of Annapolis, MD, featured 70 films in 4 days and ran March 21-24. Lead critic Chris Reed was on the ground there and offered his usual compelling slate of reviews and interviews! Like what you see here on Hammer to Nail? Why not share just $1.00 per month via Patreon to help keep us going?)
Imagine a world in which you put your life on the line for an idea only to find yourself abandoned by erstwhile allies. Such is the plight of the interpreters who helped U.S. forces in Afghanistan and Iraq. Though there is a program in place – the Special Immigrant Visa (SIV) – to help such folks, what with bureaucratic foot-dragging and political posturing, the once-vital friends who made American actions possible are all too often left to face potentially fatal consequences for their work. For a country that likes to position itself as a bastion of good in this world, we so frequently fall short of that ideal that it's a wonder we don't all die of shame.
Fortunately, there are people determined to force us to live up to our intentions, including filmmakers Andres Caballero and Sofian Khan (Gaucho del Norte). Their documentary The Interpreters  profiles three men, two from Afghanistan and one from Iraq, struggling to flee an increasingly dangerous situation, their aid to the Americans seen by extremists as a justified death sentence. They are Malik, Mujtaba and "Phillip Morris" (real name Khalid), and we follow their stories and, in one case, the accompanying narrative of former serviceman Sgt. Paul Braun, doing everything he can to bring one of them (Khalid) to his home state of Minnesota. Braun and Khalid share a special bond, forged in the cauldron of war, that Braun, unlike our State Department, is unwilling to forget.
Mujtaba's narrative is particularly heartbreaking, and a true condemnation of how casual neglect leads to dire consequences. His SIV application stalled, and the threats against him escalating, he flees to Turkey with his family, where they pay a smuggler to ferry them to Europe. It does not go well, and the ensuing tragedy is on the U.S. (which means on all of US). Not everyone has an advocate like Braun on their side. Fortunately, both Khalid and Malik see more positive outcomes, but only after a long wait. A brutal condemnation of imperial arrogance, The Interpreters needs to be seen.
– Christopher Llewellyn Reed (@ChrisReedFilm)
Like what you see here on Hammer to Nail? Why not pay just $1.00 per month via Patreon to help keep us going?