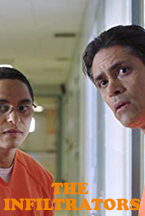 (The 2019 Full Frame Documentary Film Festival ran April 4-7 in Durham, NC. Stay tuned for a smattering of excellent reviews. Like what you see here on Hammer to Nail? Why not share just $1.00 per month via Patreon to help keep us going?)
A movie as much dramatized reenactment (if not more so) as documentary, The Infiltrators pushes the boundaries of form while delivering a message of searing content. Following two undocumented activists as they successfully get themselves arrested and thrown into a detention center in Broward County, Florida, the film reveals the degrading treatment our country metes out to those it deems unwanted. Mixing footage of its real subjects with that of actors portraying them, directors Cristina Ibarra and Alex Rivera create a hybrid work that is equal parts journalistic exposé and taut drama, and one hundred percent cinema.
We start with the main characters, each introduced as their actual selves followed by their fictional counterparts. The story, itself, starts with the arrest, by Immigration and Customs Enforcement (ICE) officers, of one Claudio Rojas, for overstaying his visa. After he is thrown into the Broward Detention Center – a facility where, as we learn, some people are being held, without due process, for years at a time –  members of the National Immigrant Youth Alliance (NIYA) spring into action.
NIYA is made up of mostly undocumented twentysomethings, some of them DREAMers, who have figured out that public protests often lead to the release of detainees; ICE much prefers to do its dirty deeds in the shadows. And so one of their own, Marco Saveedra, infiltrates the center, soon to be followed by Viridiana (Viri) Martinez on the women's side. Once inside, they start the process of informing the prisoners of their rights, so those on the outside can better help them get free.
Even if one is a staunch believer that undocumented immigrants should be summarily deported (something which, if we're honest, would have a negative impact on parts of the economy), could there not be a better, more humane way to do it? We are ostensibly a nation of laws, but as The Infiltrators makes all too clear, we often ignore them. Sadly, this particular story takes place in 2012, with a brief coda set in 2016, begging the question of why the delay and, more importantly, how much has changed since the election of Trump. Still, to those tempted to believe that previous administrations have always been kind to immigrants, this film serves as a helpful reminder that we have long had problems being on our best behavior.
The actors in the recreations are all engaging, from Maynor Alvarado (Listen) as Marco, to Chelsea Rendon (Thriller) as Viri, to Manuel Uriza (The First) as Claudio. Given the power of the story, however, it would have been nice to see even more behind-the-scenes footage of the real people, as they are the true stars. In fact, one of them, Claudio Rojas, was just finally deported this past April, though in the film he is free at the end. Here, unfortunately, life has not imitated art. Let's hope a sequel is in order, then. Stay tuned.
– Christopher Llewellyn Reed (@ChrisReedFilm)
Like what you see here on Hammer to Nail? Why not pay just $1.00 per month via Patreon to help keep us going?