(The Dish & The Spoon is now available on DVD through Screen Media Films. It world premiered at the 2011 SXSW Film Festival and opened theatrically at the reRun Gastropub in NYC on Friday, February 10, 2012. Visit the film's official Facebook page to learn more. NOTE: This review was first posted on Thursday, February 9, 2012, as a "Hammer to Nail Pick of the Week" at the Filmmaker Magazine blog.)
Alison Bagnall's The Dish & The Spoon opens with a distraught young woman named Rose (played by Greta Gerwig) hastily driving an old, large Mercedes station wagon into the rainy sprawl of an off-season Delaware beach town. When her cell phone rings, she only hesitates for a moment before throwing it out the window onto the highway. This act — equal parts defiant, hostile, foolish and liberating — embodies Rose perfectly. Her internal roiling torment is what impels her and the film forward.
Rose drives until she hits the Delaware coast, where, exhausted and flustered, she retreats to a cement watchtower — more on the amazing locations later — in order to finish her five-pack of beer (i.e., all the change in her ashtray would buy her). In the watchtower, she stumbles upon a young man (played by Olly Alexander and credited simply as "Boy") lying comatose at the top lookout. The young man's looks and boyish charm evoke Bob Dylan, albeit with a British accent and a cravat to boot. In her red beanie, overcoat and baggie pajama pants, Rose more closely resembles a crazy cat lady. Despite their differences, not to mention Rose's best efforts to get rid of the young man, the two find themselves having coffee at a diner… and so begins their road trip of sorts.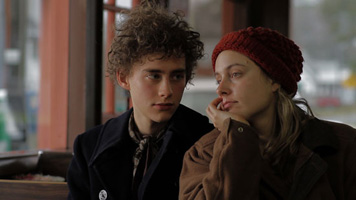 Gerwig and Alexander take turns stealing scenes, and it is this magic that really stays with you long after the final frame. In the end, however, The Dish & The Spoon is Gerwig's show. She lays bare Rose's emotions and juggles the character's confusion effortlessly. In one of the film's most memorable moments, she confronts her cheating husband over the phone and berates him until he confesses, at which point she becomes awkwardly congenial as they discuss, presumably, the sordid details of his affair.
I say that this film depicts a road trip "of sorts" because in a geographical sense, it doesn't actually travel very far. For the majority of the film, the two stay in the same town in the same house, and yet, we have a sense that they are moving further away from where they started and closer to wherever it is they're going.
Credit this partially to a perfect combination of iconic locations — the aforementioned tower that is a still-standing relic of WWII, the actual Dogfish Head brewery, and an 18th century costume ball, to name just a few. But the main credit goes to director Bagnall, who honed her skills in Buffalo '66 (which she co-wrote) and which she has perfected here. She perches her characters precariously at the top of a cliff and nudges them slightly, letting their own inertia send them hurtling downward towards a certain inevitability. It's worth drawing another parallel between these two films, as both feature improbable couplings of a man and woman thrown together by virtue of their own bad decisions and held together by some kind of Machiavellian fate. In this odd manner, Bagnall compels us to root for Rose and Boy, despite knowing that, on many levels, it's foolish that they should even find themselves together in the first place.
But perhaps Bagnall's most noted accomplishment is the authenticity she wrings from literally every beat and element of her film. It is clear she has given her team—one that seems to have been assembled in a purposefully small manner—the freedom to explore the world her and co-writer Andrew Lewis's script has created. Cinematographer Mark Schwartzbard's wandering camera captures the fickleness of the characters and their interactions; production designers Jade Healy and Chris Trujillo create a bleak, yet poignant, stage on which the story unfolds; editor Darrin Navarro manages the tempo skillfully, punctuating the long, introspective moments with Rose and Boy's playful dialogue; and actress/director/writer/producer wunderkind Amy Seimitz, who put on her producer hat for the film—she plays a small role as well—helps to pull it all together.
The Dish & The Spoon is a fine example of intimate storytelling done right, balancing the rawness of the actors' performances with a delicateness that accentuates all of their smiles, tears, cringes and screams. We are rewarded for Bagnall's efforts with a sense of being physically inside this world, up close to the characters, in all their distastefulness and charm.
— Vinay Singh