THE CURBSIDE CRITERION: BARCELONA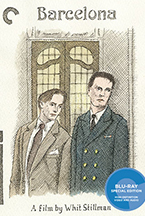 (We here at Hammer to Nail are all about true independent cinema. But we also have to tip our hat to the great films of yesteryear that continue to inspire filmmakers and cinephiles alike. This week "The Curbside Criterion" continues where HtN staff can trot out thoughts on the finest films ever made. This week Brad Cook gets into Whit Stillman's droll classic Barcelona.)
Whit Stillman's "comedy of manners" trilogy that began with his breakthrough 1990 film Metropolitan continued with 1994's Barcelona, in which American cousins Ted and Fred find themselves in the Catalonian capital during a time of unrest during the 1980s. Ted is a soft-spokesman salesman who has been navigating the city's social and professional circles for a while now, and Fred is a brash Navy officer who arrives on official military business and decides to stay with his cousin, much to Ted's chagrin.
Ted and Fred haven't seen each other in a long time, so they catch up while trading thoughts on dating, politics, and other subjects. Soon each begins dating a local woman, and the narrative thrust revolves around the intersections of their relationships with their girlfriends and each other, as the local unrest plays out in the background with potentially tragic consequences. Given their contentious past history, questions emerge regarding the cousins' compatibility with each other, often played out in the form of the wry jokes for which Stillman is famous.
There's also a political undercurrent in the form of violent protests against Spain joining NATO, a subject that comes up at some of the parties the cousins attend. While Ted does his best to blend in and not make any waves, Fred has no problem airing his patriotic views and irritating some of their hosts, including Ramon, a journalist who enjoys baiting Fred. Ramon is also romantically linked to both of the cousins' girlfriends, further complicating matters.
Barcelona could be considered an anti-rom-com in many ways, particularly judging by its third act. Its humor is subtle, and the characters' emotions are often understated – Even when they're upset, they're restrained. Some of its politics can be a bit heavy-handed, although it's worthwhile to consider those scenes in their entirety. For example, Ted's use of ants as a metaphor for America's relationship with the rest of the world seems obvious and cliché, but the way it goes off the rails is quite funny, and Fred provides a humorous punchline to the scene.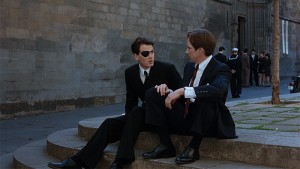 In the end, Barcelona is the kind of film that isn't appreciated by at least 90% of the movie-going public, but if you're in that 10% who don't mind movies that make you do a little mental work, you'll enjoy this one. And if you're a Stillman fan, you're probably ready to grab this Blu-ray with its new 2K, director-approved digital transfer.
The bonus features on this disc include a commentary track with Stillman and actors Chris Eigeman and Taylor Nichols, who play the cousins; they also appeared in Metropolitan. It's a good track that covers a lot of information about the making of the film, and the three of them also recorded commentaries for the alternate ending and three-minute batch of deleted scenes. The alternate ending is intriguing, but I can see why it was eliminated in favor of a more low-key conclusion that still arrived at the same emotional place.
Nearly all of the other bonus features are archival too, including a five-minute making-of that's one of those EPKs (electronic press kits) which used to be distributed to theater owners as part of a movie's promotional materials and then included in DVD releases. Too bad a more in-depth documentary wasn't commissioned for this release, but I suppose the budget just wasn't there.
Also included are Stillman interviews from the Today and Charlie Rose shows in 1994 and a Dick Cavett interview from 1991, when the director was promoting Metropolitan. The original trailer can be found too.
However, there is a new piece, a video essay with film critic Farran Smith Nehme in which she talks about the themes that run through Stillman's trilogy. The obligatory booklet includes an essay by film historian Haden Guest.
Finally, if you're looking for a set that offers the entire Stillman trilogy, including The Last Days of Disco, on Blu-ray, Criterion has that for sale too.
– Brad Cook (@BradCWriter)