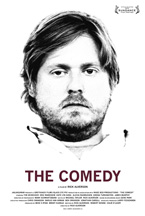 (The Comedy is now available on DVD
through New Video, as well as digitally at Amazon Instant
. It world premiered in the U.S. Dramatic Competition section at the 2012 Sundance Film Festival. It has been picked up for distribution by Tribeca Film and will open theatrically in the fall. Its NYC premiere is at BAMcinemaFEST, with an indoor screening on June 23rd and an outdoor screening on June 27th. Visit the film's Facebook page to learn more.)
With The Comedy, Rick Alverson has held up a mirror to a culture terrified of its own reflection. Alverson uses the raw material of privileged, disaffected white males under 40 as the canvas on which to paint a pungent portrait that is hideous yet forbids us to look away. Reactions to the film thus far have ranged from a near public outcry to gushing personal affirmations of Alverson's uncompromising vision. Like the bravest art, it has sparked fury and fawning in equal measure.
Swanson (played by Tim Heidecker) is the man in the mirror. In his first dramatic lead role, Heidecker becomes the Mr. Hyde to his Dr. Jekyll persona on Adult Swim's Tim and Eric Awesome Show, Great Job! (which is its own Mr. Hyde to just about anything else). Swanson is about to inherit his father's estate, but you wouldn't know it to look at him. His numbed indifference is absolute. He sits in a huge wooded room bathed in sunlight, not by his father's bedside but 20 feet away, sipping expensive whiskey and eating cream-filled cookies. Instead of offering assistance to the male nurse, he verbally assaults him, dismantling him piece by piece like a piece of furniture. To Swanson, all people are objects, playthings. Swanson's endgame is satiety through stimulation, but this satisfaction is near impossible. What do you give to the boy who has everything?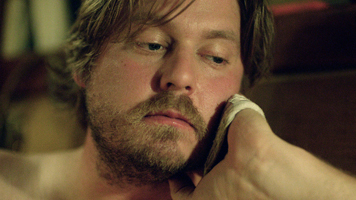 What results is an eternal game of one-upmanship, a game played solo, where Swanson always loses. Alverson pushes him to defame and to deface, to flout all convention, to not only push the envelope but destroy it altogether, to prove it no longer exists. Early on, with sophisticated ease, he seduces a young woman (Alexia Rasmussen), citing his admiration for Hitler—not all of his practices, just some of them—and his desire for a return to Feudalism. The next morning on his boat, he does not feel like waiting for her to wake up and so speeds up the process by pulling her eyelids open repeatedly. This is Swanson on his best behavior.
He may be lonely, but he is not alone. Van Arman (his Tim and Eric partner Eric Wareheim), Ben (LCD Soundsystem's James Murphy) and a few others tool around with him, playing bike baseball while drinking PBRs, berating a cab driver for not having a hip-hop option on the radio, going to a church to cause a scene, just because. Tellingly, the people in this world that maintain any kind of maturity and contextualize this repugnant behavior are the women.
Swanson's older brother is in a mental institution (a fabulous touch, as if the only alternatives are depravity or insanity), leaving his wife (Liza Kate) to manage the estate, and thus deal with Swanson. Heidecker and Alverson save a particular brand of cruelty for Kate's character; Swanson at one point goes on an extended monologue in the voice of a 19th century slave owner from the South, commenting on their family's relationship with the hired help. But when a real question is asked concerning his father, or his brother, he has nothing to offer.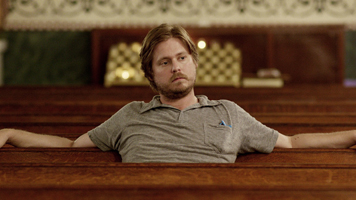 She needs him to sign papers to make her executor of the estate, but he won't make this easy and demands that she comes out to his boat to see him. While they ride the dinghy out to his boat, he shuffles over and sits down, close, beside her. On the scale of moral transgressions, seducing the wife of your institutionalized brother is up there. He leans in and kisses her. She does not recoil, nor does she reciprocate. Within moments, his head drops and she holds him. She knew what he did not; that this action was not lustful, not even destructive—it was a desperate attempt at intimacy, an effort to have a real connection with someone.
Swanson's malaise manifests itself in a search for authenticity; this leads him to a job as a dishwasher in a dime-a-dozen Brooklyn eatery. There, he meets a waitress (Kate Lyn Sheil), one who can trade jabs with him effortlessly, who can look down on him as the sad mid-30s dishwasher that he is. She understands the irony to his being there, and finds it pathetic. This all thrills him, so much so that after one of their bouts he accidentally slices his hand open so badly it requires multiple stitches. The brother's wife and the waitress are both centered, assured adults, as well as necessary reference points when considering Swanson and his cronies.
This issue of the quarter-life crisis creeping ever closer to middle age is one largely associated with men, and yet despite the fact that The Comedy's face needed to be Male, needed to be White, it speaks to a feeling that may not be an epidemic, though it certainly is a virus, which is applicable to many different people in different circumstances. Tim Heidecker brings wit, consideration and pathos to Swanson, displaying an arc—though slight—of a person searching for his own self-ness, for a self that goes beyond itself, for his own ability to be human. The bullying, the tirades, the endless jokes, the apathy, it's Swanson's process to redeem himself as a hopeful, giving adult, in a cynical, taking world. He needs to tear it all down before he can start building it back up.
The Comedy isn't easy viewing. It's a give and take. But if you are looking for challenging cinema that speaks uncomfortable truths, look no further than right here.
— Jesse Klein