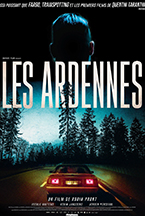 (The Ardennes, by Robin Pront, opens January 6 and is this year's Belgian submission to the foreign language Oscar race; a crime film that blends gritty realism, noir with pitch black humor into a twisted drama of brotherly love and betrayal in contemporary Belgium.)
A taut, atmospheric thriller that pits brother against brother, The Ardennes, this year's Belgian submission to the Academy Awards foreign-film category (though it didn't make the shortlist), starts with a splash and ends with a bang. In between, the characters flounder in the waves of their own desperation before rising above the turgid tide, only to find themselves consumed by a new element, the fire of sibling rivalry. Starring Kevin Janssens (Madonna's Pig), Veerle Baetens (The Broken Circle Breakdown) and Jeroen Perceval (Borgman) – who also co-wrote the screenplay with first-time director Robin Pront – The Ardennes plunges us into a murky world of crime and drugs, where one's recovery is ever threatened by the omnipresent demons of the past.
We start in water, looking up at the grey sky above. A body falls, and we cut to the reverse angle. A man emerges, his masked face struggling for air as the nylon stocking hampers his breathing. Is this a dream? A harbinger of doom? We learn soon enough that this man (played by Perceval) – Dave is his name – has just committed some form of crime, and been forced to leave his partner (his brother, as it turns out) behind. As Sylvie (Baetans), the young woman behind the wheel of the getaway car, screams "Where's Kenny?," Dave pulls off the stocking, his real face distorted in anguish. We cut to a courtroom, where said Kenny (Janssens) is sentenced to 7 years in jail. He kisses Sylvie goodbye, we fade to black, and the movie truly begins, the stage set for the drama to come.
Kenny will eventually be released, his ways unmended, but those who participated in the same crime will have moved on. And therein lies the conflict. He's that devil they cannot shake, and soon his negative energy draws everyone into his toxic orbit, willing or not. The strength of the film lies in the three central performances and the slow burn of Kenny's eventual eruption. He's one of those characters – like a young Robert De Niro – whom we constantly expect to explode in violence, leaving us on edge, even when there's nothing happening.
Perceval is a worthy, albeit more passive, foil, for whose own big moment of resistance we wait with bated breath, as if we, ourselves, are caught in the stranglehold of the opening nylon stocking. That image persists, Dave never quite escaping his preordained battle with the forces that want to suck him back into the watery vortex from which he sprang. And though this is hardly untrod cinematic territory – either the criminal or sibling aspect of it – the manner of the story's unfolding makes it fresh, its familiarity never a source of comfort. If occasionally predictable, The Ardennes is always gripping.
**In Flemish and French with English subtitles.
– Christopher Llewellyn Reed (@ChrisReedFilm)