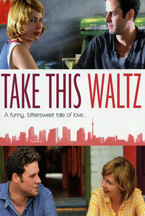 (Take This Waltz world premieres at the 2011 Toronto International Film Festival: go here for screening details.)
On the surface of things, Sarah Polley's Take This Waltz might seem a dramatic shift for the filmmaker. The first film after her beautiful drama Away From Her, which dealt with the affects of Alzheimer's disease on a married couple, Take This Waltz eschews the patient realism of her previous film in favor of a romance that feels equally inspired by Punch Drunk Love and Scenes From A Marriage. But that is just the surface of things; beneath the quirky palimpsest, Take This Waltz is a profoundly moving film about the conflict between desire and responsibility, complacency and identity, that absolutely nails the emotional texture of marriage, commitment and need.
I was talking with a friend today who made an important insight about the crippling addiction to literalism that seems to have crushed our collective imaginations; throughout my screenings here in Toronto, I have heard films being judged over and over for their narrative and structural veracity without an ounce of credibility given to their emotional meaning. Like worrying a sore, my ears now prick up when I hear people giving ultimate priority to the most basic levels of filmic storytelling without concern for their cumulative, poetic power. Maybe it should come as no surprise to me, but the films that have moved me most deeply here in Toronto have been made by independent women filmmakers, artists who clearly place a value on getting the depth and quality of feeling right before they trim it away in the name of a narrative device.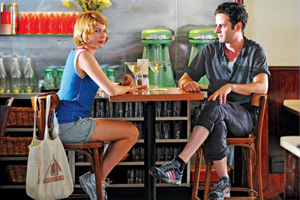 In films like Goodbye First Love (by Mia Hansen-Løve) and Take This Waltz, it is the cumulative power of emotional details that is so striking. In the case of Polley's film, the repetition and rhythm of married life provides chills; the wordplay that seems intimate but is utilized in order to keep things comfortable and distant, the rebuffed sexual advances, the routines and requirements of everyday things. Polley takes her time with these moments and then repeats them, adding a layer of complexity to each exchange. This is how it works, sometimes, when a relationship becomes an inarticulable string of disconnections that all add up to something you never expected to have and don't want anymore. And then what?
In Take This Waltz, the burden of delivering those feelings is shared by Polley and Michelle Williams who, for my money, is the best actress working today. Here, she plays Margot, an aspiring writer torn between her complacent marriage to a likable cookbook author named Lou (Seth Rogen) and her deep attraction to a new neighbor named Daniel (Luke Kirby), with whom she engages in an illicit and exciting courtship that puts her marriage in jeopardy. Whereas most films would either create a competitive situation between the men or punish Margot for undermining her marriage, Polley is far more interested in the imagination, needs and feelings of her heroine, a woman torn between her recognition of her own complicity in her marriage's problems and her need to be needed, to be loved on her own terms. Williams pulls it off with charm and grace, making each beat of the film alive with feeling.
There are some moments that don't work as well as others and a subplot about Lou's alcoholic sister Geraldine (played by Sarah Silverman, in top form) seems unnecessary and forced against the honesty of the film's central dilemma. But what has stayed with me about the film is its belief in Margot's interior life, its validation of her needs and its poetic expression of her complexity. Take This Waltz feels alive because of its honest examination of the human heart in all of its messy, problematic and emotional glory.
— Tom Hall