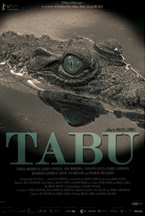 (Tabu is now available on DVD
through Lorber Films. It world premiered at the 2012 Berlin International Film Festival, where it won the FIPRESCI Prize and the Alfred Bauer Award. It was distributed theatrically by Adopt Films and opened at the Film Forum on December 26, 2012. Read Tom Hall's "HTN Conversation With Miguel Gomes".)
When was the last time you saw a film in which you were fully aware, from very early on, that you were watching a masterpiece? Tabu hits so many of my cinematic sweet spots that before I was even halfway through my first viewing I couldn't wait to see it again. It's easily the best film of 2012 and lucky for us it has emerged from the thickets of the international film festival circuit to open theatrically here in America.
Shot in glorious 16mm and 35mm black-and-white, Tabu is both a sublime celebration of life's passage and of cinema itself. It tells the story of upper-60-something Pilar and her elderly but dignified neighbor Aurora, an eccentric woman who has a quiet, dutiful black live-in caretaker named Santa. When Aurora is on her deathbed, she makes a list of people she wants to come to her bedside. Pilar locates one: Ventura, a dapper old man with a foppish leather hat. When they arrive at the hospital, Aururoa has passed, and so begins the 35mm portion of the story, which Ventura narrates, detailing his and Auroura's amour fou romance back in the sixties in colonial Africa on the sprawling estate where Aurora lived with her husband. We hear the old man's voice while we watch the young Ventura, sporting the same foppish hat, playing drums in a local band that plays all of the early '60s hits, often at parties put on by Aurora's wealthy husband.
This section recalls a more typical colonial romance ala Out of Africa, yet at the same time, due to the pacing and placement of the voice-over, it plays as a sort of silent film. I say 'sort of' because despite the lack of diegetic dialogue, sound plays a crucial role in the storytelling. The actual voice-over is beautiful, but the mixture of voice-over, striking imagery, music, and sound design make for a completely unique and enveloping cinematic experience.
Soon after I first saw the film, though, I was bothered by my memory of Pilar early on in the film, sitting in a movie theater next to her old snoozing boyfriend, crying while a Ronettes song played on the soundtrack of the film she is watching. It bothered me because in the Africa section, that is one of the songs Ventura's band plays. It was then that I realized Pilar is the film's narrator; despite the fact that she is listening to Ventura narrate the story of his romance with Aurora, the images are guided by her point-of-view. Sound confusing? What's remarkable is that all of those technically complicated aspects of screen narration, point-of-view, and the mystery of the reliable/unreliable narrator are seamlessly melded within a lyrical, joyful, fun, transporting cinema story. Thus, I think Tabu ranks amongst the best voice-over films ever, just behind Max Ophuls' Letter From An Unknown Woman and Tomas Gutierrez Alea's Memories of Underdevelopment. Tabu's mystery is located in the strange nexus between speaker and listener as what we see on the screen is actually the mind-screen of Pilar, the female listener who is hearing the male narrator recount the story of his amour fou romance.
One of the problems I have with Holy Motors, the film that has placed at the top of most critics 'best of the year' lists, is that it is really more whining about the loss of cinema than it is about its celebration. Watching Holy Motors, I often wished that Leos Carax would focus on trying to create his own magic rather than try to replicate the magic of the past. Tabu proves definitively that cinema is still very much alive. In the right hands, original cinematic art can still be created without having to resort to mashups (Holy Motors, Django Unchained) or impersonal nostalgia (The Artist). For that reason, it's not only my favorite film of 2012; it's my favorite of the 21st century so far.
— Mike S. Ryan