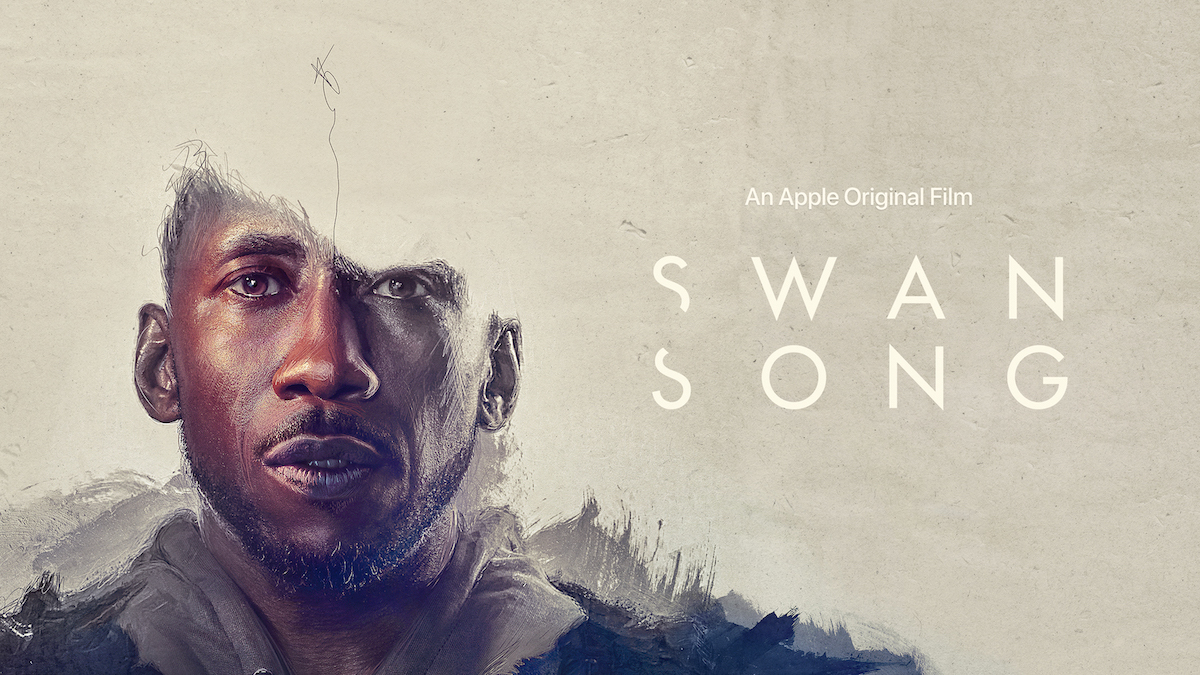 (Benjamin Cleary's Swan Song makes it's debut on Apple+ Friday, December 17. Chris Reed has this movie review of Swan Song. Like what you see here on Hammer to Nail? Why not give just $1.00 per month via Patreon to help keep us going?)
Set in a near future where cloning is possible, writer/director Benjamin Cleary's debut feature, Swan Song, examines profound questions of humanity and individual identity, supported by strong performances from its impressive cast. With Mahershala Ali (Moonlight) leading the way, the film proves thoroughly engaging, even as the script sometimes falters. What would you do with death looming just around the next corner? Choose life, even one not technically your own?
Ali plays Cameron, a talented illustrator long married to Poppy (Naomie Harris, Black and Blue), with whom he has a son, Cory. In flashbacks, we see their meet-cute first encounter and then subsequent romance. Even early on, we can appreciate the gentle, unobtrusive ways that Cleary brings in his subtle sci-fi elements, laying the groundwork for the technological innovations ahead. First, though, we flash-forward to Cameron with a Dr. Scott (Glenn Close, Four Good Days), on the verge of making some kind of important decision, which he then rejects.
Cameron is mortally ill, with each seizure perhaps his last, though he hides the truth from his family. Dr. Scott offers him a way to ensure that Poppy and Cory need not be bereft. She makes "duplicates," copies of a person at the exact here and now (so like a clone, but different), and then transfers all the memories — conscious and unconscious — from the original to the new host. The process doesn't harm the primary, but does thereafter result in two people who each think they are the one and only.
When Cameron changes his mind once again, this time in favor of the procedure, he watches in distress as the new him, initially dubbed "Jack" to keep the two individuals distinct, reveals that he truly contains all the elements that Cameron thought were his, and his alone. The stage is set for a horror movie where something goes wrong, to disastrous results, but that is not at all what Cleary has planned.
Instead, he is much more interested in exploring the metaphysical dilemma that any of us might face in such a situation, whether we be version one or two. As Cameron stays behind on the remote island location where the lab is located, he spends time with another of Dr. Scott's clients, Kate (Awkwafina, The Farewell), whose duplicate he met in an initial test. Now, Cameron and Kate keep each other company as their new selves, designed to be free of disease, continue on. 
Beautifully shot and edited, Swan Song is full of poignant moments that force us into serious meditations on the nature of existence. It is best not to think too much about the mechanics of the plot, however, lest its weaknesses stand out. There are too many things that could go awry here that are never touched upon, even as that which holds our interest always mesmerizes. Stay focused on Ali and his heartbreak, each moment that Cameron has left reminding us to cherish the present. Soon, it will be but the past, receding in a memory perhaps not our own. Sober thoughts for one possible way forward.
– Christopher Llewellyn Reed (@ChrisReedFilm)
Apple+; Benjamin Cleary; Swan Song movie review