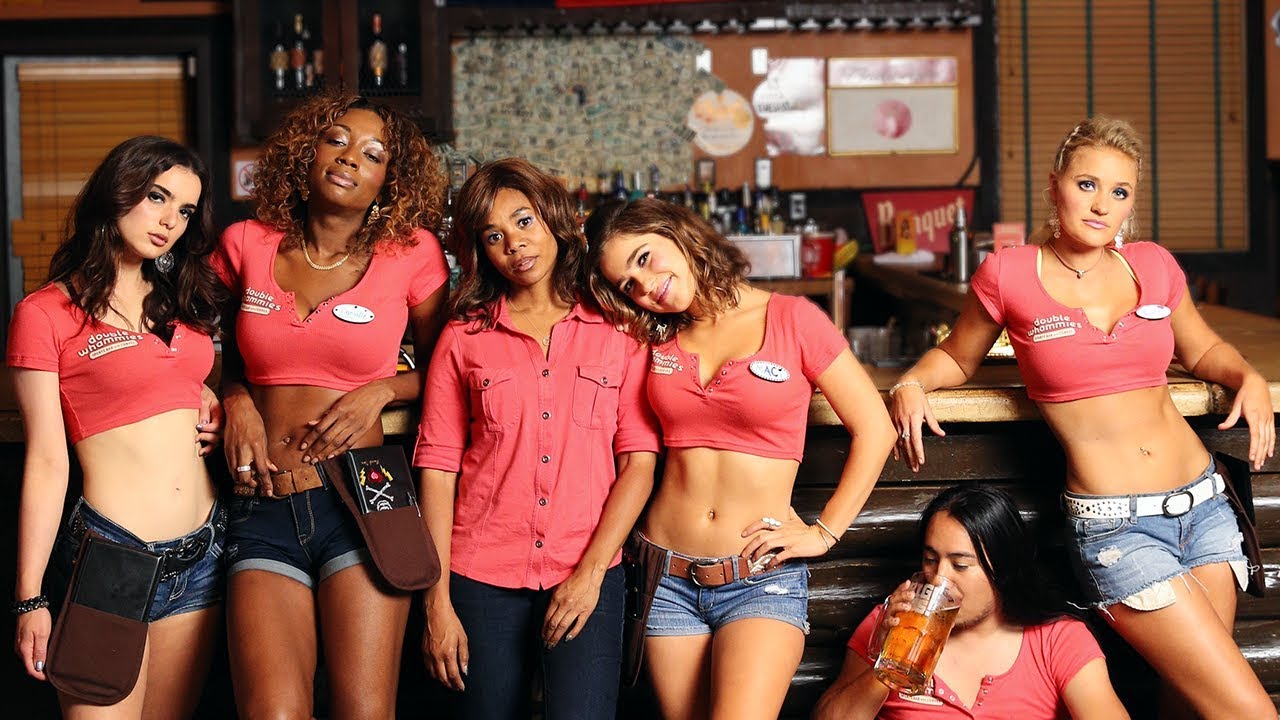 (Writer/director Andrew Bujalski's Support the Girls opens in limited theaters Friday, August 24.)
From writer/director Andrew Bujalski, maker of the charming, off-beat 2015 Results, comes Support the Girls, about a group of women who work at a Hooters-style sports bar. Despite this inauspicious setting, the film offers an empowering, feminist take on the experience of its working-class protagonists as they struggle to make ends meet under less than ideal circumstances. With an excellent cast that includes Regina Hall (Girls Trip), Haley Lu Richardson (Columbus), rapper Shayna McHayle (aka Junglepussy) and James LeGros (Stray Bullets), among others, the movie makes up in performance what it occasionally lacks in story. Whatever its narrative flaws, Support the Girls ultimately delivers a solid, engaging dramedy where its downtrodden characters find meaning and strength through the power of female friendship.
Hall plays Lisa, the manager of Double Whammies (you have to love the joyful obviousness of the name). When we first meet her, she sits in her parked car, weeping. It's just before her shift begins, and her star server (and confidante) Maci (Richardson) notices her vehicle and greets her, perhaps noticing her distress, perhaps doing her best to buck her up with overwhelming bonhomie (Maci's stock in trade). We'll learn later what has Lisa so upset, but for now we follow her and Maci inside, where they gear up for the day, training new recruits (not quite hires, yet) for what awaits them. Their mantra is flirt, but know when to quit. Meanwhile, Danyelle (McHayle) has to deal with her sick young son, who can't go to school, while she waits for an off-work colleague to come and babysit. It's one big, not-so-happy family, though together they keep their spirits up.
Once the shift starts, so does trouble. Cubby (LeGros), the owner, comes by to check in, micromanaging everyone and wondering why Lisa didn't call about the would-be burglar stuck in the ventilation shaft (she called the cops, however). Now she has to deal with him and the usual problems. Before long, they're at loggerheads, something we take to be the usual state of affairs, even though the other women claim that Lisa is too efficient to fireable. We'll see. The day certainly doesn't seem off to a great start.
Eventually, we leave Double Whammies to learn more about Lisa, but always come back to the dynamic between her and her gals, surrogate daughters all (she, herself, is childless). It's in the interactions between Hall, Richardson, McHayle and the rest of the crew that the film shines, the bar a stand-in for the many indignities women face in their daily lives. Sure, it's worse here, but only by degree. Some scenes work better than others; it should, perhaps, have been a stage play, in just one location, since the best parts are all at the bar, where the dialogue shines. Outside, not only does Hall lose energy, but so does the script. It's still worth watching, though, as these women need, deserve and earn our support.
– Christopher Llewellyn Reed (@ChrisReedFilm)