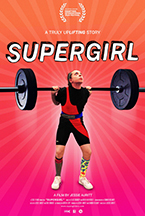 (The 2017 Slamdance Film Festival kicked off on January 20 and runs through January 26. The HtN staff is repping Slamdance hard with reviews like this – Supergirl, Jessie Auritt's documentary on the Orthodox Jewish teenage girl who's a champion power lifter.)
An intriguing coming-of-age tale that tackles issues of exploitation and empowerment, Supergirl profiles a young girl named Naomi Kutin who, when we first meet her, is about to have her Bat Mitzvah. She's 12 years old, the age one becomes a woman in Orthodox and Conservative Jewish communities (Reform Jews hold the ceremony at 13). She's also a powerlifter, able, at 97 pounds, to lift over twice that much: "The Strongest Girl in the World Is an Orthodox Jewish Girl from New Jersey" announces a BuzzFeed headline on screen. Supergirl, indeed. And more power to her. Except, as one might expect, that such activities, magnificent as they are, can cause problems, strains both physical and mental. What at first is a charming way for Naomi to spend time with her powerlifter father – and gain a fair amount of self-confidence, to boot – later becomes as much danger as boost.
Initially, however, it is unquestionable that Naomi gains from the experience, flourishing in a spotlight that she never expected. As we learn, she began lifting at the age of 8, quickly rising to the top of her weight class. Now, she travels the country competing against adult women three times older, taken seriously by all. It's a remarkable achievement not only for one so small (though she grows over the course of the film), but also for one from a community that normally encourages physical modesty among their women. Grunting and yelling her way through exercise and tournaments in shorts and tank tops sets Naomi apart from the other girls her age.
So it comes as an unpleasant shock to the family (including a younger brother) when Naomi develops health issues. To this viewer, it is not so surprising, given the fact that strength training for pre-teens, whose muscles and tendons are not yet developed, comes with risks (as well as benefits, for sure). Naomi's parents are loving and supportive, and keen to avoid applying pressure on their daughter, yet they also allow her to ignore the doctors' advice. Director Jessie Auritt (The Birdman) paints a largely sympathetic portrait of mom and dad, yet what makes her film truly interesting is the unflinching way she approaches the sensitive topic of how everyone will feel if Naomi can no longer powerlift or, perhaps more importantly, win tournaments. At least within the confines of this movie, everything works out fine in the end, and Naomi shows every sign of becoming a well-adjusted teenager. I, for one, however, am very interested in a sequel, ten years down the road, to see if Supergirl avoids the potential kryptonite of these early years.
– Christopher Llewellyn Reed (@ChrisReedFilm)