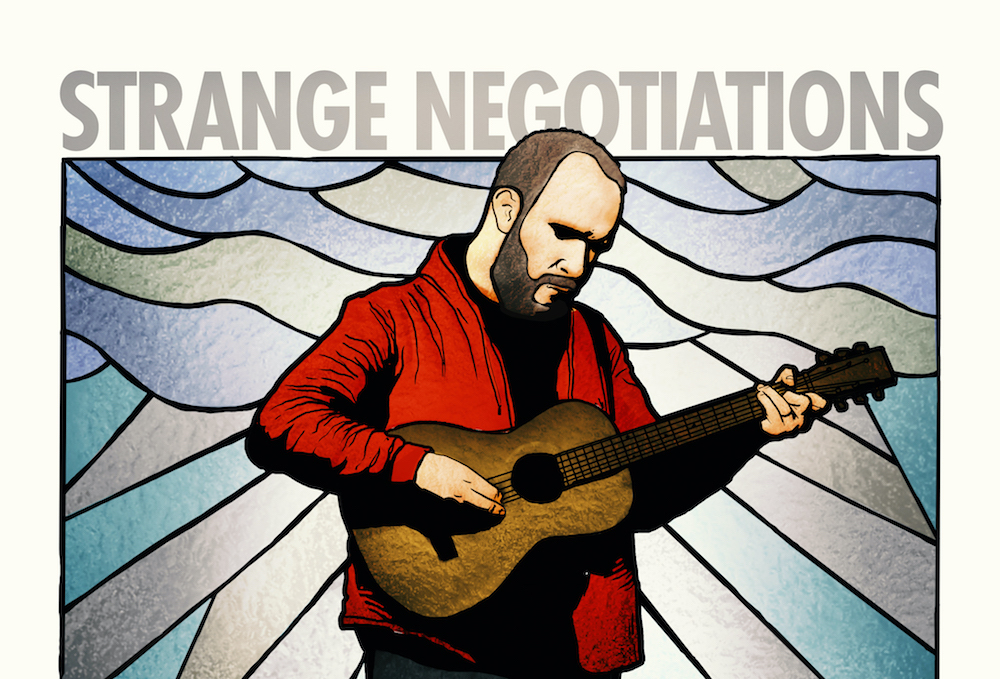 (After its premiere at the 2019 SXSW Film Festival, filmmaker Brandon Vedder's doc debut Strange Negotiations is available now on VOD Like what you see here on Hammer to Nail? Why not give just $1.00 per month via Patreon to help keep us going?)
The Seattle-based indie-rock band Pedro the Lion was formed in 1995 by musician David Bazan, who at the time was a devout evangelical Christian, consistently infusing his songs with religious themes. In 2006, after a number of years of growing doubt about his own faith and about the state of modern-day Christianity, Bazan scrapped Pedro for a solo career, beginning a decade of touring in much smaller venues (mostly living rooms and coffee houses) as he struggled to find a new path forward, all the while juggling the demands of marriage, parenthood and career. In Strange Negotiations, filmmaker Brandon Vedder, making his documentary-feature debut, follows Bazan over the course of 2015 and 2016 as he performs across the country, closely embedded with him in a profoundly intimate portrait that showcases the man's meditations and art. Beautifully and creatively photographed, the film offers much visual, as well as aural and mental, interest, even if one comes to the subject cold.
Which would be this critic, who watched the movie with no prior knowledge of its protagonist. Vedder does an excellent job introducing Bazan to the uninitiated, slowly providing all the details one needs to know to understand his trajectory. And even though I ended the film merely appreciative, if not enamored, of Bazan's (and Pedro's) compositions, I was nevertheless fascinated by the world he inhabits and the way he directly engages with his beliefs. The fact that evangelicals continue to attend his concerts, even as he criticizes the tenets of the faith that, he feels, go against the core values of Christianity, speaks to the clear sincerity of his efforts. Who hasn't had doubts and longed for meaningful conversations about the metaphysics of our time on earth?
The title refers to Bazan's negotiations as much with himself as with God, religion, music and family. In that, the film speaks to universal truths, grounded in the specificity of Bazan's experiences. When, at the end, he reconfigures Pedro for a new age, it's with a sense of fresh purpose, one which we have seen him develop over the previous hour.
All along, we have Vedder's gorgeous, evocative cinematography (he shot the film himself) as a moving accompaniment to the thoughts expressed by Bazan on the road. The director succeeds in making the act of driving an intensely cinematic experience, which is no small feat. He also cuts to repeated overhead shots – each one strikingly different – of Bazan's car in a variety of locations, as if some kind of supreme being is looking down on a searching soul. It's a lovely technique, befitting this brooding, contemplative profile. May all such negotiations with the spiritual realm be as quietly mysterious as this wistful, wishful work.
– Christopher Llewellyn Reed (@ChrisReedFilm)