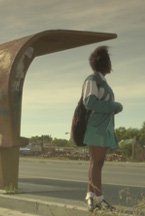 ***WINNER OF HTN's WINTER '14 SHORT FILM CONTEST***
(Visit the Facebook page of Green Brother Films to learn more.)
Pardon me if I've written something to this effect before, but it's true: it never ceases to exhilarate when one encounters the work of a young filmmaker who has just crushed it out of the park. With Stone Cars, Reinaldo Marcus Green has done that and then some. Green's pre-thesis film for NYU's Tisch Graduate program—no, that's not a typo, this is a pre-thesis film?!—is incredibly mature storytelling from a 32-year-old American director working in a foreign land: in this particular case, the Cape Town townships of Khayelitsha and Philippi. In just under 15 minutes, Green does more than just establish a thoroughly credible and lived-in world (for most student filmmakers, that would be victory enough). Far beyond that, he makes us feel the burning pain of what it means to be a confused teenage girl who is losing her sense of agency to the dangerous environment that is oppressing her.
Credited as "A Film By The Green Brothers"—the other green brother being Rashaad Ernesto Green, writer/director of the HTN-approved Gun Hill Road, whose credits here are Executive Producer/Production Supervistor/Sound Recordist—Stone Cars opens as two teenaged schoolkids make out. Lungas (Lungisani Dyal Vani) wants more; April (Olwethu Anita April) wants less. It becomes quickly evident that Green has dropped us into this young couple's life at that epic precipice when the line of virginity is about to be crossed forevermore. At first, it seems that Lungas is overly pushy—or at the very least, extremely horny—yet he never crosses any sort of line. It isn't until later when we realize that Green has actually subverted our expectations of this character.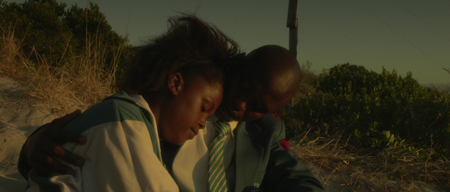 Speaking of crossing lines, Green has his sights set on another type of line within this story, which only reaffirms his maturity. Throughout the film, April draws the increasing attention of an at-first seemingly innocent group of local boys. But one night—the night it appears she has finally decided to concede to her boyfriend, in fact—she is accosted by the boys, who snatch her backpack and taunt her. For so many lesser male filmmakers—and I'm not talking age here because we all know that stunted immaturity is a lifelong train ride for so many male directors—the entire point of a film like this would be to go there. Yet Green trusts his characters and his world and his own voice enough to not cross any physically or sexually violent lines. He doesn't have to, for as realized by Green and his collaborators, this bracing encounter packs the visceral punch of an outright criminal violation. What makes it worse is that we are forced to process it as a "merely" emotional one.
In spite of this terrifying encounter—perhaps because of it?—April heads for her boyfriend's with an intensity that she's never previously exhibited. Only now, her clearly agitated state has Lungas pushing her away. When he's able to calm her down, the act happens, and on seemingly consensual terms. They're a young couple, they're "in love," that's what kids do. But as April leaves the sleeping Lungas behind and finds herself walking alone on a sloped hill looking out over the beautiful but dire Cape Town landscape, her eyes tell a different story. At this moment, the pain in April's eyes isn't about her lost virginity. It isn't about her boyfriend. It isn't about the punks who accosted her. It's about everything. She's stuck in this harrowing place indefinitely, trapped inside this frightened skin, with nowhere else to go.
— Michael Tully
***WATCH THE FULL MOVIE UNTIL TUESDAY JANUARY 21st AT MIDNIGHT!!!***