Short Film Contest Winner/Runner-Up: Spring '18
This one, was a battle. Well, not really. But, sort of. I'm not sure if I've mentioned the "Behind the Scenes" machinations on how our short film contest works but, it typically goes like…
I choose 2 jurors and try to pick folks who have a new project out or who are well known and respected in the independent film world. The 3rd juror is the previous contests winner. After that's set and I've nailed down most of the fests who will offer fee waivers as well as made sure Fandor isn't sick of us yet, I launch the contest. From there, I have a group of pre-jurors who watch all the films and give them a rating of "yes," "no" or "maybe" then, after the contest closes and all submissions have been pre-juried, the top 5ish go to our jurors. From there, they watch them and duke it out for a winner and a runner-up.
While I did indeed say above that the Spring 2018  Short Film contest was "a battle," that was hyperbole and a way to hook you in. Duh. But it actually was an interesting contest because after the jury watched their films, everyone had a different top 3 selections. I've never seen that before! Usually one film kind of stands out or rises to the top and then the runners-up get much more discussion but this time, all three jurors had three different selections. It was weird, neat and ultimately fun!
Before announcing the winners, we have to give some love to our participating festivals who offered a fee waiver. These include: IFFBoston, Maryland Film Festival, Nashville Film Festival, Oak Cliff Film Fest, St. Cloud Film Fest,  Julien Dubuque International Film Festival,  Oxford Film Fest, Indie Memphis, San Diego International Film Festival  and we're thrilled to welcome back the Sun Valley Film Festival , Cleveland International Film Festival, Dallas Video Fest, Austin Film Festival and the Denver Film Festival!
We're also excited to continue award a fee waiver for the Citizen Jane Film Festival for a winning female filmmaker!!
The Winner of the Spring Shorts Contest will also get a ONE YEAR SUBSCRIPTION TO FANDOR!!! Runners up will each receive a 6 month subscription!
I also want to give a shout out to the aforementioned jurors for this contest. They were super solid, astute, on the ball and a lot of fun to work with. Disgustingly talented as well, all of them.
Blake Robbins is probably most recognizable as Jim Halpert's older brother Tom on the U.S. version of The Office but he's also a talented director as evidenced in the taut mystery thriller The Scent of Rain and Lightning starring Maika Monroe, Maggie Grace, Mark Webber and Will Patton. It's available now.
Kamau Bilal is the winner of our Winter 2018 short film contest with his truly beautiful film Baby Brother. I kid you not, it's one of my most favorite shorts winners we've had as well as a truly wonderful short documentary all around.
Ashley Spillers is a much beloved actress around the Hammer to Nail offices. She's, as always, working her tail off but wanted to me to tell you all that a truly wonderful feature she's in titled Dr. Brinks and Dr. Brinks will have a week run in theaters Aug. 17-23rd in Los Angeles at the Laemmle Playhouse 7 Pasadena and in NYC at Videology Bar and Cinema before plopping on VOD. She's also in a webseries created by Alex Dobrenko called Distance which you can stream right after you finish reading the winners.
Speaking of…
Runner-Up
The Clinic
(Directed by Jennie Allen; 15 mins, 40 seconds)
The Clinic – Trailer from Jennie Allen on Vimeo.
THE CLINIC from Jennie Allen on Vimeo.
Inspired by Michael Pollan's article The Trip Treatment, The Clinic centers around Adele, a shaken woman (excellently and fearlessly played by Marsha Stephanie Blake) who is suffering from a terminal illness. While some stories of this nature feature a happy-go-lucky character, facing impending doom in a positive way, Adele isn't handling it well and it's wearing on her husband and daughter. Adele decides to participate in an unusual experiment in order to face her fears about dying. The study includes a high dosage of psilocybin and the results are, well, trippy. I can only speak for myself when I say, I'm not a huge "drug culture" fan. While I'm totally of the opinion "to each their own," the constant barrage (at least where I live in Northern California) about using drugs to expand one's mind gets overwhelming. We're also constantly barraged with Grateful Dead inspired…everything's (bars, nightclubs, theme nights) and it's just not my jam. But Allen's The Clinic is a much smarter take on using psychotropic drugs to expand horizons rather than trip out. This is all my long-winded way of saying, The Clinic upended my expectations.
The Clinic takes viewers on the deep, dark and ultimately clarifying journey Adele goes on by using simply beautiful cinematography by Andres Karu and truly amazing editing by Allen herself.  Clocking in at a solid 15 minutes and 40 seconds, The Clinic is a solid short that we think you'll be seeing a lot on the festival circuit.
Winner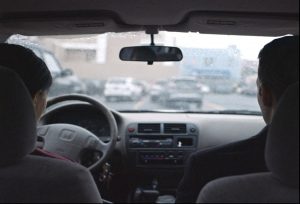 Cole
Written and Directed by David Call; 10 minutes, 11 seconds
Films and other media programs showing the awful affects war has on soldiers have been done to death. This is because the way these men and women handle PTSD, injuries and life in general in TV and film has been done to death. Until now. David Call's excellent short film Cole smartly takes the "damaged soldier" storyline to a smaller, more intimate place as the titular character (brilliantly played by triple-threat filmmaker Call who also wrote and directed the short) tries to do a simple thing: get a job.
Cole tautly and cleverly functions on a few levels as nearly everyone knows the difficulty involved in trying to get a job. Especially as one grows older. So with that relatable plot point woven in, Call ups the ante by having Cole not only becoming extremely nervous about his job interview but also, simply trying to function as a human being after the shattering affects of war have left him with a brain injury that is noticeable, especially as Cole speaks.
Call says " I chose this story because I wanted to make something simple and direct that also held special meaning for me. As someone with close family and friends currently serving in the armed forces, these are issues I am very familiar with and care deeply about. My brother is an active duty combat veteran and this script came about after visiting him on post and talking with him and some other soldiers and vets. We discussed the difficulties they faced reentering the civilian world and how the all too common depiction of vets in film and television as unstable & psychologically troubled or as unimpeachable heroes had led a widening of the gulf between them and their civilian counterparts, making it increasingly difficult for them to find jobs and re-integrate into American society. This film is my attempt to tell their story."
Cole is a truly excellent, carefully crafted, inspiring and relatable film that is also short and sweet. For those of you out there making a short film with festival aspirations,  take note of David Call's film. He keeps it simple, works with what he knows and has available and, he kept it under 12-15 minutes. Those are some top ingredients for a solid short film right there.
While we are un able to screen Cole for readers at this time, myself and all the jurors know you'll have a chance as the film makes it's way out on the film festival circuit.
So, that's a wrap on our 2018 Spring Short Film Contest! We're going to do a pretty quick turnaround and launch the summer shorts contest so, stay tuned…
– Don R. Lewis (@ThatDonLewis)