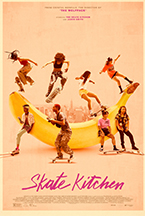 (Filmmaker Crystal Moselle is back  with her buzzed about narrative debut film Skate Kitchen, in theaters now via Magnolia Pictures.)
Vérité teen dramas don't have to be depressing. Documentary filmmaker Crystal Moselle (The Wolfpack) makes her narrative debut with Skate Kitchen, a coming-of-age tale which follows an 18-year-old Long Island native on her journey to both independence and finding her tribe. Apart from conflict with her single mother (Elizabeth Rodriguez, Orange is the New Black), and a little boy drama, nothing horrific happens to Camille (Rachelle Vinberg). Instead, she joins the ranks of the titular girl skate group, and they traverse Manhattan in empowering formation.
 The driving drama comes after a board-related trip to the E.R. Camille's mom tells her she got lucky, and makes her promise to quit skating. Camille tries to get her fix through the Instagram exploits of the Skate Kitchen. But when they post about a "girl's skate sesh", Camille can't help herself. She creates a cover story and makes the long journey into the city to carefully orchestrate a "casual" meet-up with the like-minded ladies. Because Camille's talent for skating matches her passion, it's not long before they're posting videos of Camille's tricks and welcoming her into the fold.
When her mom learns of the deception, Camille doubles down. As a newly minted legal adult, there's nothing her mother can do to stop her from moving in with fellow skater, Janay (Dede Lovelace). Camille isn't quite ready to be on her own, however. Despite getting a job and learning how to use a tampon, she still has a lot to learn about womanhood in the Big City.
Moselle crafted the story after meeting the Skate Kitchen on the subway. Each character is a cinematic version of their real-life counterpart. Skate Kitchen co-founder Vinberg does the most emotional heavy lifting through Camille's character arc, and she handles it the way she handles her skate board. The other core members also get their moments to shine. Though they have recognizable attributes, they are far from archetypes. Kurt (Nina Moran) is a self-assured patriarchal challenger, who is quick with a joke and healthy snacks. Janay is soft-spoken but fierce when the moment calls for it.
Though the other young women don't get a lot of solo screen time, Moselle presents them as whole, complex people. When they shoot the shit in a group setting, their conversation sets the Bechdel test on fire. They pass a joint around but never rag on anyone for abstaining. They discuss skating, pop culture, psychology, sexual preference, and occasionally, menstruation. Though they sometimes interrupt each other, it's because they're so excited to be heard in a safe space. In contrast, most of the male skaters don't have names and spend a lot of time talking about girls.
But boy drama does arise when Camille lands a job at a grocery store and unwittingly befriends Janay's ex Devon (Jaden Smith), who is the artiest member of the rival boy crew, takes a shine to Camille when he sees her hold her own in a co-ed skate session. Further complications arise when Janay becomes housebound with a broken ankle (from a trick that Camille encouraged her to perform). Janay wants company, but Camille can't stay off her board or away from Devon, even after learning that Janay retains feelings for him. As much as I'd like to see a story where a girl doesn't betray her best friend over a boy, it serves as a cautionary tale. Through Devon's friends, Camille bears witness to macho rivalry and the tall tales that permeate the masculine side of the culture. While the patriarchy infects even the world of skating, Moselle's Skate Kitchen provides the antidote.
For the most part, the narrative sides with Camille. Skate Kitchen feels like an empathetic portrayal of youth, rather than an out-of-touch adult interpretation. All things considered, skating is a fairly healthy form of youthful rebellion. Though it can be dangerous, a person can get seriously injured doing almost anything. Moselle's film goes to great lengths to show that Camille's happiness and feelings of inclusion are worth any physical risk. The Skate Kitchen are getting plenty of fresh air and exercise and they aren't doing any hard drugs or committing real crimes. Even Camille's mother comes to understand her daughter's point of view. I can see Skate Kitchen becoming an inspirational classic for up-and-coming female skaters.
– Jessica Baxter (@tehBaxter)