(Filmmaker Jason Cohen premiered his film Silicon Cowboys at the 2016 SXSW film festival. The film is out now in limited release in theaters as well as on VOD.)
Are you a Mac or a PC? How about IBM? "What?" you say, "Why would I ever choose an IBM? Do they even make personal computers?" Well, believe it or not, they once did, and even seemed poised to dominate that field as they had forever dominated the realm of business systems. Since the 1980s, looking back, we have tended to think in binary terms of Windows vs. Mac, an opposition cemented in our consciousness thanks to the brilliantly funny ad campaign starring John Hodgeman and Justin Long as personifications of the traits of Microsoft founder Bill Gates and Apple founder Steve Jobs. But such a dichotomy might never have existed had it not been for another company, Compaq, which was the first startup to successfully challenge IBM – or International Business Machines – by creating better products that consumers preferred to those made by the older behemoth. We learn all about this history, and much more, in Silicon Cowboys, a smart new documentary from filmmaker Jason Cohen (Four Women, One World), which demands to be seen by all fans and users of modern technology (in other words…everyone).
We start in the late 1970s, in Texas, where friends Rod Canion, Jim Harris and Bill Murto decide to leave their comfortable jobs in Houston and start a new business. Texas Instruments, for which Canion worked, was the big local tech giant, and it wasn't clear what, exactly, the three men were going to do. They just knew that they wanted to work for themselves. Armed only with The Entrepreneur's Manual, their own gumption, and the desire to found a business that would be "a good place to work," they eventually settled on the then nascent industry of personal computing…just in time for IBM to decide to do the same. What Compaq decided, however, that helped launch it into the PC stratosphere, was to focus on portability. If you could carry your computer with you from office to home and back again, how convenient would that be? Very, as it turned out, and consumers responded by making the company one of the most successful of the 1980s. These were not laptops, mind you – those were still a decade away – but computers, with handles, light enough to pick up and bring to and from your car; IBM never saw them coming. Compaq's triumph over their rival showed the world that a small startup could compete against an established titan, paving the way for the Apple/PC rivalry of later years.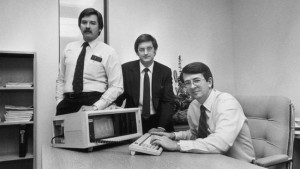 Eventually, Compaq became a victim of that very success, finally posting losses in the early 1990s, losses which led to the swift departure of the company's founders from the board. But for a while, anyway, these Texan "silicon cowboys" were on quite the rodeo ride. And the film – filled with smart graphics, great and informative talking-head interviews, and loads of archival material – does them full justice. It's both illuminating and highly entertaining. Unfortunately, much of the video archives from which the footage is borrowed has deteriorated over time, which sometimes makes the viewing of it a bit of a visual chore. But that is a small price to pay for the rich texture the material brings to this solid and expertly crafted documentary about an important era in computer history. Yippee-Ki-Yay, motherboard!