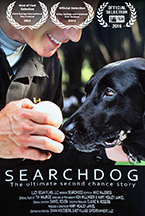 Dogs have long been our helpmates – as hunters, shepherds, guardians and companions – but in our current technological age, it can be easy to forget the qualities that have made them so useful to us over the course of millennia. So many animals find themselves in shelters because of behavioral problems, many of which arise from a lack of stimuli. Dogs require activity; many working canines of yore, rough though their lives were, may have been happier than their modern brethren, well-fed and surrounded by comfort. I write this as a proud doggy daddy with a Beagle in my apartment, rescued from the Maryland SPCA. She's a spoiled one, but I'm pretty sure she'd have a more satisfying life if she could chase squirrels and rabbits all day to her heart's content.
The dogs we meet in Searchdog do not have this problem. They are working animals in the best sense: loved and spoiled by their handlers while active and busy in their jobs as members of Police K-9 Search & Rescue/Recovery units. Their training – theirs and their humans' – is rigorous (and not all succeed), but at least according to the footage in this moving new documentary by Mary Healey Jamiel (Holy Water-Gate: Abuse Cover-up in the Catholic Church), an industrious dog is very much a happy dog. And an extremely useful one, as the work accomplished by these units allows grieving families some sense of closure – when bodies are recovered – and anxious families relief when the living are rescued while still…living.
Healey's entry point into the story is the work of one man: Matthew Zarrella. A Rhode Island State Police Sergeant, he finds his trainees at the pound – usually overly energetic dogs that no one wants – and transforms them into working professionals. Perhaps one of the most profound aspects of the film is the realization that some of the terrific animals we meet were but hours away from extermination before Zarrella's intervention. Ruby, a hyperactive Australian Shepherd mix, is one such almost-lost soul, who is a mess when we first encounter her, yet by the end of the film has not only completed her training but helped recover bodies at the bottom of a lake, months after their drowning.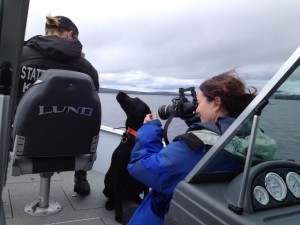 Excuse me…bottom of a lake? How is that possible? One of the most surprising facts that I learned in this movie is that dogs can actually smell decomposing flesh far below the surface of water, and if you have trained them properly, know how to read their body language, and the wind is cooperating, you can pinpoint the location of corpses long sunk. Gruesome information that may be, but if you are a relative of someone missing, the discovery of their remains is a welcome find, indeed.
Occasionally, the film disappoints for lack of footage from crucial dramatic moments (a hazard of all documentaries that eschew reenactments), but this does not take away from Searchdog's genuine strengths, which include a detailed portrait of a humble man (Zarrella) doing vital work, as well of his faithful furry colleagues. The specificity of the story – its Rhode Island setting and its single protagonist – allow Healey to layer detail upon detail that eventually reveal universal truths about the human (and canine) condition. It's a film for dog and doc lovers, alike.
– Christopher Llewellyn Reed (@ChrisReedFilm)