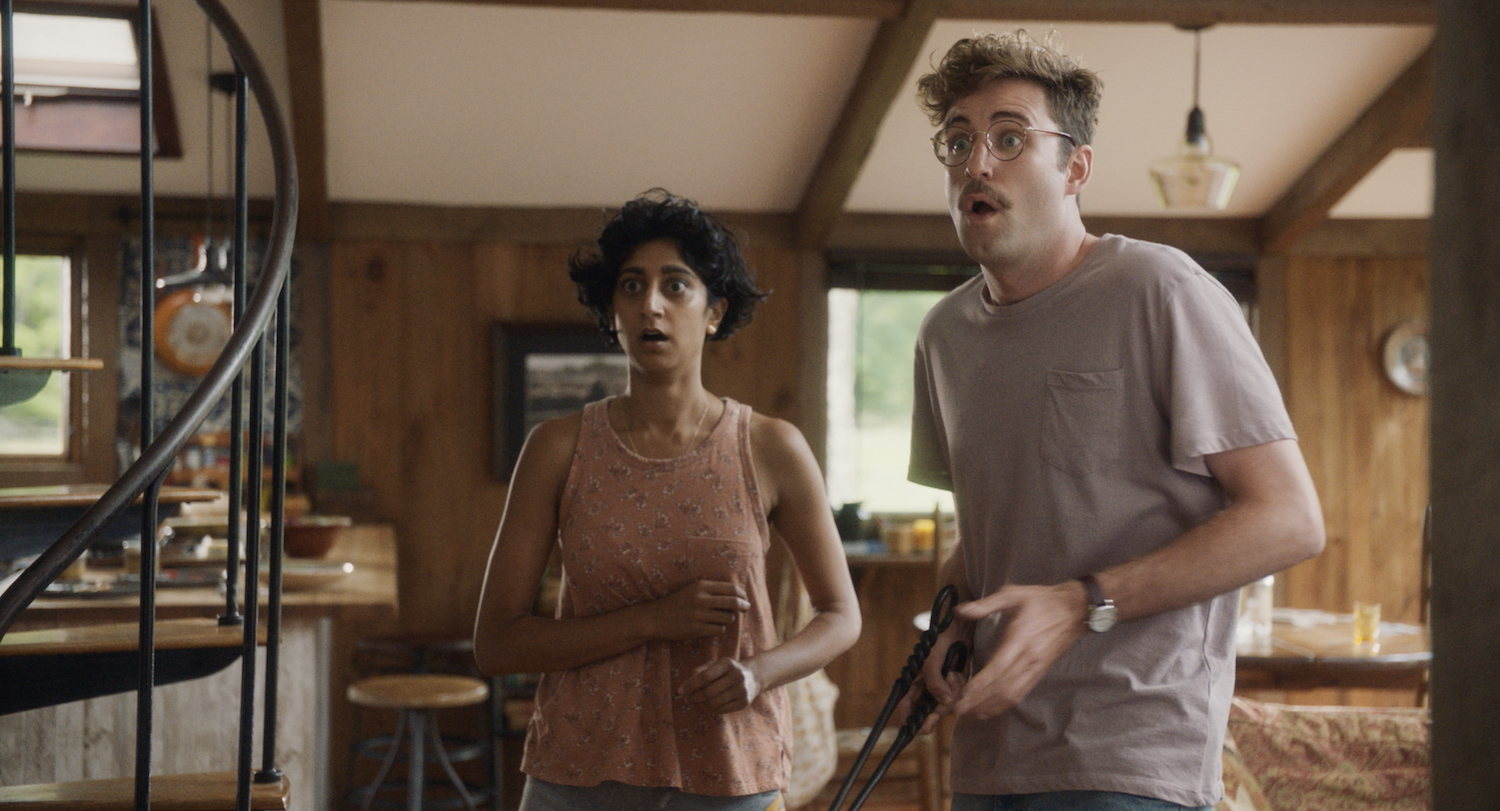 (Real-life couple Alex Huston Fischer and Eleanor Wilson's debut feature Save Yourselves! is out now in theaters via Bleecker Street Media and will be available on VOD October 6th. Like what you see here on Hammer to Nail? Why not give just $1.00 per month via Patreon to help keep us going?)
Ever feel trapped, either in a relationship or a dead-end job, or simply by the oppressive pace of modern-day life, evermore driven by the omnipresence of technology? You wouldn't be human if you didn't, and so no one should find the protagonists of Save Yourselves!, Alex Huston Fischer and Eleanor Wilson's debut feature, at all strange when, right off the bat, they express the kind of existential ennui we all experience, or have experienced. Indeed, it is the very – dare we say boring – normality of Su (Sunita Mani, Netflix's GLOW series) and Jack (John Reynolds, A Maine Movie) that lends to their initial appeal, even as they annoy with their New York hipster complaints about the state of things. But we need this unremarkable setup for what follows, and the comedy flows from the juxtaposition of these two garden-variety thirtysomethings thrust into the thick of our world's final days.
That's not giving too much away, as the film opens with onscreen text declaring that this is "the year humankind lost planet Earth." Considering the exclamation point at the end of the movie's title, however, there is hope that at least we'll go down laughing (think Airplane! or Mars Attacks! or any number of shlocky 1950s/1960s sci-fi). And even if it takes a while for the comic mayhem to build, by the end we can accept our fate with a modicum of good humor. The apocalypse is nigh! Ha, ha!
The premise goes like this: Su and Jack are aware of how little they now connect with each other, but feel powerless to do anything about it until they meet an old friend at a party who offers them his cabin upstate to get away. He used to be an investment banker but since has gone all New Agey, and now radiates health and happiness. "I'll take one of those," they think, and leaving Brooklyn behind, they head north for a week of blessed calm, promising themselves to shut down their devices for an internet blackout. Wouldn't you know it, though, the aliens didn't get the memo, and choose this moment to invade.
For quite some time, Su and Jack remain blissfully unaware, signs and symbols of the impending doom ignored until it is almost too late. Plus, since the aggressive extraterrestrials just happen to look innocuous, who would think they could be so dangerous? And so, our extraordinarily ordinary heroes find themselves behind the eight ball and decidedly unprepared, but also highly adaptable. Perhaps there is hope for humanity, yet?
However this charming blend of slacker comedy and sci-fi actually works out, along the way we are treated to two engaging central performances, some sharp dialogue that points out just how poorly most of would fare in a similar situation, and enough genuinely funny moments to elevate the occasional parts that are dumb without the fun. If we're all going to die, let's at least do it in good company.
– Christopher Llewellyn Reed (@ChrisReedFilm)