MARCH MADNESS, Or: Movies Featuring Those Chosen Few Who Have Played Major College Basketball As Well As Appeared On The Silver Screen
It's no secret to anyone who knows me that if I had to choose between a sneak preview of the new Terrence Malick film or watching the NCAA men's basketball tournament—i.e., March Madness—I would have to think long and hard about that one. From an early age, this time of year has always filled me with Christmas Eve-like excitement. But as I get older and care less and less about so many sports that I used to watch with religious fervor, March Madness remains a major annual event for me. Studying the brackets, staying up late to watch overtime battles with unknowns who are so boldly rising to the occasion, it all fills me with a surge of promise that never gets old. Yes, it's true. I love March Madness as much as I love movies. Come to think of it, what I've read about Terrence Malick, he does too.
Which brings us to this very special list. While many movies have featured NBA stars who never played collegiate ball in the States—hello up there, Gheorges Muresan (My Giant)—it was more fun to put together a list of those who might not have made a splash in the NCAA tournament, but whose presences were felt at some point in their Division I careers.
And with that, let's get to it:
MOST DIRECTLY RELEVANT TO THIS YEAR'S TOURNEY
Gunnin' For That #1 Spot — Adam Yauch's funky-fresh portrait of a group of big-name high school superstars features Duke's Kyle Singler, who will be playing in Saturday's Final Four and who will be violently rooted against by anyone who isn't a Duke fan (or, as I like to call them, Dork). Cincinatti's Lance Stephenson—who only made it as far as the NIT this year—also has a major role. Completing the rotation are former college standouts Michael Beasley (Kansas State), Tyreke Evans (Memphis), Donte Green (Syracuse), Kevin Love (UCLA), and Jerryd Bayless (Arizona), who sure don't look or play like high-schoolers.
PLAYING THEMSELVES
Space Jam — This movie has an astonishing collection of NBA superstars who also played some mean college ball: Charles Barkley (Auburn), Larry Bird (Indiana State), Patrick Ewing (Georgetown), Tyrone 'Muggsy' Bogues (Wake Forest), Larry Johnson (UNLV), Shawn Bradley (BYU), Danny Ainge (BYU), Alonzo Mourning (Georgetown), A.C. Green (Oregon State), Charles Oakley (Virginia Union), Derek Harper (Illinois), Jeff Malone (Mississippi State), Anthony Miller (Michigan State), Sharone Wright (Clemson), and Coach Paul Westphal (Pepperdine).
BBALLER-TURNED-ACTOR GRAND JURY PRIZE
Why not, let's give this one a three-way tie. You don't have to do too much research to realize what these three men have in common (The Los Angeles Lakers? Close to Hollywood? Get it?).
Kareem Abdul-Jabbar — Kareem has the distinction of being in the best of the bunch when it comes to his airline pilot role in Airplane! But to seal the deal, give a quick scan of his IMDB page to see the crazy range of television show's he's been on. Diff'rent Strokes? 21 Jump Street?? Uncle Buck??? He's like a Zelig of TV pop culture in the late 20th century!
Shaquille O'Neal — Everybody knows former LSU superstar Shaquille O'Neal can, and does, it all, from his domination on the court (but not the foul line!), to his Shaq-fu hip-hop career, and, in keeping with this post, his appearances on the big screen. It all started with him as Neon in William Friedkin's Blue Chips, which led to him playing a rapping genie in Kazaam (see clip below). And then the resume gets really strange, with roles in Freddie Got Fingered and The Wash. Don't be surprised if, at some point, Shaq earns an Oscar nomination.
Rick Fox — Even playing at North Carolina, Rick Fox had a Hollywood sheen about him. Or was that just because he looked like C. Thomas Howell in Soul Man? Whatever the case, getting picked up by the Lakers seemed like a self-fulfilling prophesy. Like Shaq, Fox's big screen career started with Blue Chips, before leading to an ever-evolving resume that includes Eddie, He Got Game, Holes, and Meet the Browns.
AS ACTORS
Blue Chips — The following played actual characters: Shaquille O'Neal (LSU), Anfernee 'Penny' Hardaway (Memphis State), Matt Nover (Indiana); Bob Cousy (Holy Cross); These dudes appeared as themselves: Bobby Knight (Indiana/Texas Tech), Rick Pitino (Providence/Kentucky/Louisville), Larry Bird (Indiana State), George Raveling (USC). There are actually way more, but it would take up too much space to list them all. Do a scan of the IMDB cast page and see for yourself.
He Got Game — Connecticut's Ray Allen is, let's face it, absolutely horrific as Jesus Shuttlesworth in Spike Lee's not great drama about college athletics. I haven't watched it since it came out, but I remember thinking at the time, "Did he do any research before writing this?" Part of me wants to give it another try, and part of me can't get past the first try to give it a second try.
Black and White — Tennessee sharp shooter Allan Houston also made his first big screen appearance in Blue Chips—that movie's like the American Graffiti for bballers-turned-actors—but he got his first legitimate acting role in James Toback's curiosity (which features one of the great all-time screen exchanges between Robert Downey Jr. and Mike Tyson). He has also gone on to appear in James Gray's The Yards (whoa!) and Laws of Attraction, which should also make him eligible for the Grand Jury Prize, come to think of it.
Conan the Destroyer — It's fitting that Kansas University's record-shattering stud Wilt Chamberlain's most notable role is as Bambaata in Conan the Destroyer. I'm not sure why, exactly. It just is.
Van Wilder — How DePaul's Quentin Richardson got cast in this movie deserves its own Sports Illustrated article. I'm not saying I know the story and it's great—I just want to know why.
Eddie — I was a huge fan of Malik Sealy when he played at St. John's. Which made his premature death in 2000 at the hands of a drunk driver even sadder. It's odd, but nice, that because of Eddie, he's forever immortalized in movies.
Juwanna Man — 5′3″ point guard—yes, that's correct, 5′3″—Tyrone "Muggsy" Bogues surprised everyone when he proved himself good enough to play in the NBA after an impressive career at Wake Forest. In Juwanna Man, he gets to show off some of that boundless charm of his.
Amazing Grace and Chuck — South Carolina's Alex English made a big splash when he landed the starring role in this 1987 drama, and though he also appeared in Eddie and continues to act spottily, this remains one of the heartiest roles a bballer has ever gotten.
MOST BIZARRE BIG SCREEN APPEARANCE BY A BASKETBALL STAR
The Exorcist III — If you told me in 1982, after Georgetown's Freddie Brown threw the national championship away to North Carolina and I ran into my room screaming crying, that I didn't have to worry, for Georgetown center Patrick Ewing was going to appear in 1990's The Exorcist III as "The Angel of Death," I wouldn't have believed you. Come to think of it, I still don't.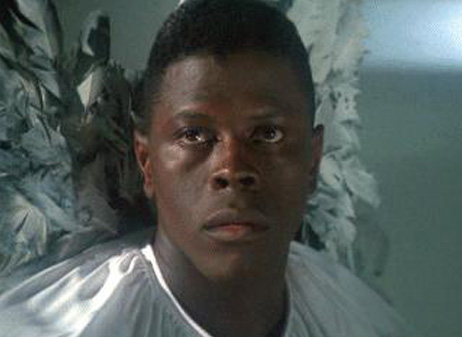 BEHIND THE SCENES

Some bballers have shown such a passion for film that their connection to it goes deeper than simply standing in front of the camera. Check out this awesomeness:
Baron Davis — UCLA bad-ass Davis is credited as a producer on the following films and appears to still be going strong: Stacy Peralta's Made in America, Asylum, and The Pool Boys.
Elton Brand — Former Dork star Brand supposedly helped put the financing together for, and is a producer on… get this… Rescue Dawn!
Reggie Miller — Another UCLA star, Miller is credited as an executive producer on… say HUH… Chad Lowe's Beautiful, Ohio?
Magic Johnson — Michigan State point guard Magic Johnson has dabbled in movies as well on this end, executive producing such films as Brown Sugar and Obsessed.
WILD CARD — MORMON BBALLERS IN MORMON CINEMA
The Singles Ward — Not only does this Mormon comedy supposedly feature former BYU standouts Shawn Bradley and Danny Ainge in minor roles—I say 'supposedly' because you couldn't pay me to watch this thing based on the trailer—but it features none other than Troll 2's Connie McFarland (who is now Connie Young and is a major actress in Mollywood cinema).
A STRIKING CONNECTION TO THIS YEAR'S TOURNEY
While no official college stars appear to have starred in Hoosiers—at least I don't think they did—it must be noted that this year's Cinderella team—the Butler Bulldogs—plays their home games in the Hinkle Fieldhouse, which just so happens to be the gym where the infamous game that inspired David Anspaugh's classic movie took place.
THE BEST FOR LAST
The best basketball movie of all time—Steve James's Hoop Dreams—follows the hopes and dreams of two inner-city Chicago youth who dream of playing in the NBA one day. Will Gates ends up at Marquette and is coached by Kevin O'Neill (who is currently the head coach at USC). An inspiring reality check and an altogether transformative experience, Hoop Dreams is a towering achievement on each and every level. You don't have to care about basketball to be affected by this movie.
[P.S. I am very sure that I am forgetting some notable names/faces/movies, so please be sure to point out them out in the comments section below!]
— Michael Tully