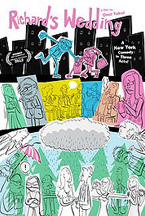 (Richard's Wedding world premiered at the 2012 Sarasota Film Festival, where it took home a Special Jury Prize in the "Independent Visions" program for Best Screenplay. It opened theatrically in New York City at the reRun Gastropub on June 1, 2012. It next screens at the Oak Cliff Film Festival on Sunday, June 17th at 3pm. Visit the film's page at the website of distributor Factory 25 to learn more.)
Onur Tukel's uncompromising comedy almost feels like a live event, equal parts narrative feature and "happening." Think Husbands and Wives-era Woody Allen directing reality TV and you're in the ballpark. Shot with a sharp, spontaneous eye on the streets of New York, Richard's Wedding feels endearingly handmade. You can tell it was produced quickly, not because it feels rushed, but because it's full of energy.
Tuna (Tukel) and Alex (Jennifer Prediger) are on their way to Russell's apartment to meet up with all their other friends who are heading to Central Park to watch Richard (Lawrence Levine) and Phoebe (Josephine Decker) get married. Things go wrong like they always do. There is a greater, uncontrollable chaos at hand guiding the action (the minister was in a car accident, a storm breaks, a creepy stranger infiltrates the festivities.) Multiple characters profess their atheism, but Richard's Wedding does have faith—albeit in Murphy's Law.
The dialogue is so quick, so relentless, that it's easy to miss the important lines. Like the first one, delivered as an aside, barely even audible if you're not listening for it: "That kid was crying. That's how I feel every day. Inside." In a movie made of words, these eleven set the stage for everything we're about to see. Everyone's crying on the inside. Everyone's a phony. Everyone's an asshole. Everything that can go to sh*t, will. If there is one grand question asked, it's "Why bother?" And it's answer (for the most part) is "F**k humanity."
And jokes!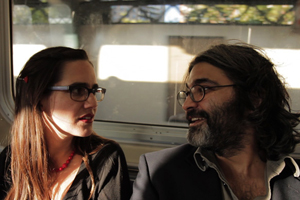 As sad and f**ked as the people of Richard's Wedding are, they're all pretty hilarious. The one-liners can't come fast enough. For every snarky remark, there's an even snarkier retort. Humor isn't a way for these friends to hide their fears and insecurities, but to wallow proudly in them. Tuna is quick to flaunt his problems with weight, sex, alcohol and dental hygiene. Alex's recovering junkie cousin Louis (Randy Gamble) shares disturbing personal information like he's reading a grocery list. When asked by Louis if he has any crack, Tuna's response is no, but it would probably be pretty easy to make some.
Despite their messy, murky personal histories and a repartee that often borders on outright contempt, this prickly group does ultimately care for each other. Call it friendship, love or maybe just empathy through shared misanthropy, but there is a heart that beats behind the vitriol. The ensemble cast is composed of real life friends, and their affection for each other—and especially for writer-director-leading man Tukel—clearly shows.
The chemistry of the actors and breeziness of the pacing and cinematography feel so effortless, that when the film jumps ever so slightly outside of reality, it sticks out like a sore thumb. (For example, an iPhone app that delivers electric shocks doesn't especially ring true. Pun intended.) These instances are few, quickly washed away by another pitch-black zinger.
It should be noted that Richard's Wedding belongs to a new wave of nihilistic micro-budget comedies (of which the appropriately/inappropriately titled The Comedy is the current zenith.) But where Rick Alverson's film uses assaultive yuks to show us how devoid of humanity its protagonists are, Tukel demonstrates a genuine affection for ALL his characters and a moral curiosity that makes his voice unique. Since Richard's Wedding arrived on the festival circuit and was signed by Factory 25 for distribution only eight or nine months after production, one can only hope that Tukel will have Richard's Divorce ready for us to watch by early next year.
— Zach Clark