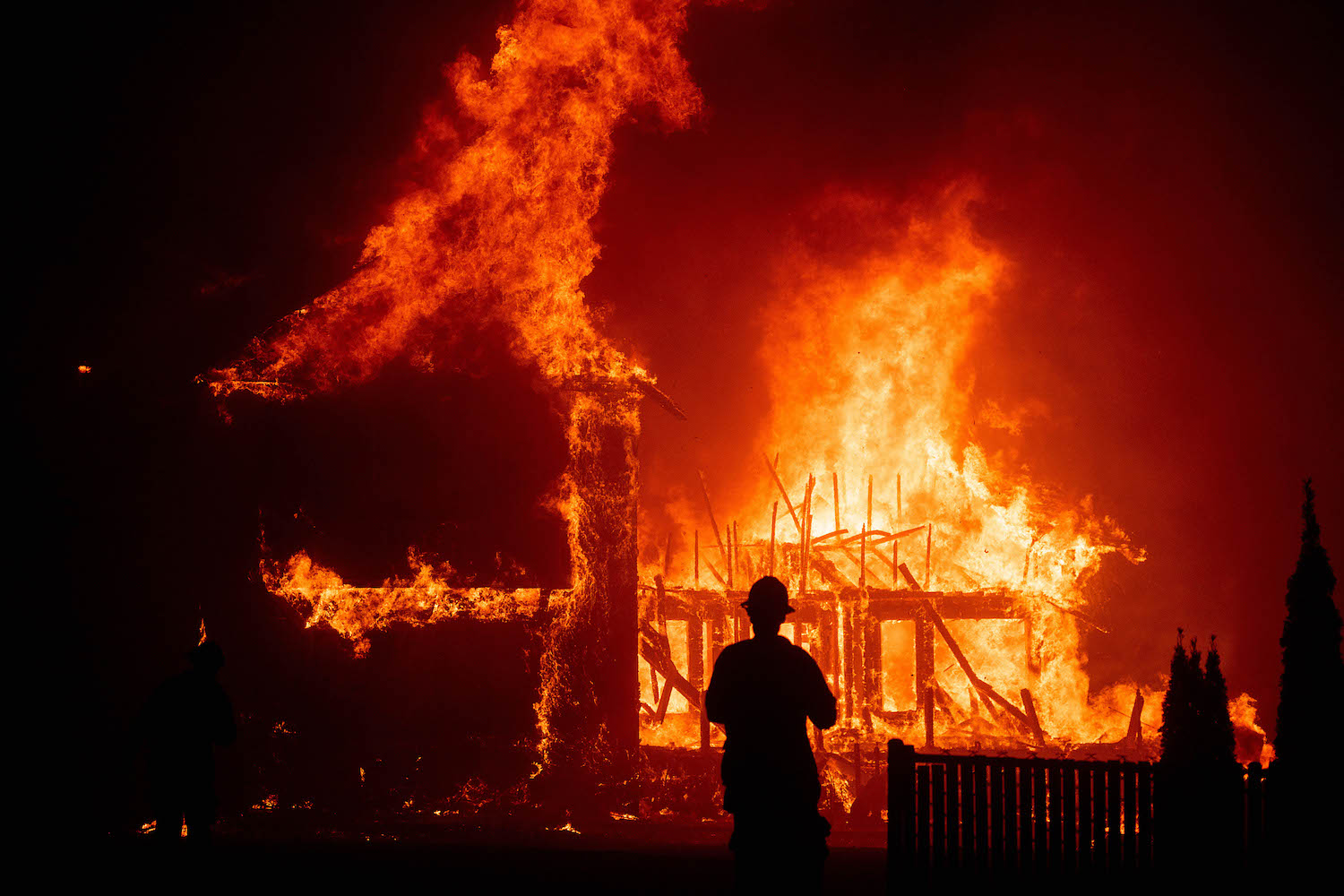 (The 2020 Sundance Film Festival runs January 23-February 2 in and around Park City Utah. Hammer to Nail has boots on the ground at the fest and guarantee more coverage thank any other site out there. Like what you see here on Hammer to Nail? Why not give just $1.00 per month via Patreon to help keep us going?)
The most spectacular footage in Rebuilding Paradise, the new documentary from versatile filmmaker Ron Howard, comes not from anything shot for the movie, but from cell-phone video captured by the fleeing residents of Paradise, California, whose lives went up in flames, quite literally, in 2018, as the deadly "Camp Fire" burned their community to the ground. Thick black smoke turns day into night, verdant Eden into blazing hellscape, the roiling inferno raging through the town with a rapidity that takes everyone by surprise. It's impressive, and terrifying, children wailing in cars as parents desperately navigate roads surrounded – and in some places, consumed – by roaring walls of undulating red-hot orange. It may not (yet) be the end of the world as we know it, but it's certainly the end of these people's world. It's hard to watch, but we cannot look away. Does this presage our collective future?
With films like the 2013 Made in America and the 2019 Pavarotti, Howard has slowly been adding nonfiction work to his long filmography of varied fiction features. He shows himself here as capable as ever, combining the above material with footage from the ensuing year of rebuilding, including interviews with local officials and residents, alike. Following their unimaginable ordeal, many choose to stay and start anew. Many also decide to leave. As the movie progresses, Howard ponders, directly and indirectly, what the right move should be, while simultaneously celebrating the resilience of the human spirit.
Howard also brings in climate and forestry experts to discuss the why and how of the fire. They explain the factors that contributed to the catastrophe, among them rising temperatures, consistently drier weather than in the past, and an excess of undergrowth beneath the trees that acted as perfect kindling. Add in more than a dash of high winds, and Paradise stood no chance to survive. The question now becomes whether this is the new normal, and if so, whether it is wise to continue to live in such a risky place. We are stubborn creatures, however, so it is unlikely that all would be quick to abandon their homes. And so it goes. I wish the film pushed even harder on this issue, but at least it raises it.
Beyond the big picture, Howard plunges us into the nitty-gritty details of the fire's aftermath, introducing us to a series of engaging protagonists that include Superintendent of Schools Michelle John and police officer Matt Gates (a dead ringer for actor Ryan Reynolds). They cope and assist as best they can, but suffer as much as those they help. Even as Rebuilding Paradise forces us to confront the folly of our reckless management of the planet, it also pays tribute to the generosity of our selfless compassion. We are a complex mystery, heaven and hell side by side within us. Any work of art that reminds us of this duality is well worth watching.
– Christopher Llewellyn Reed (@ChrisReedFilm)