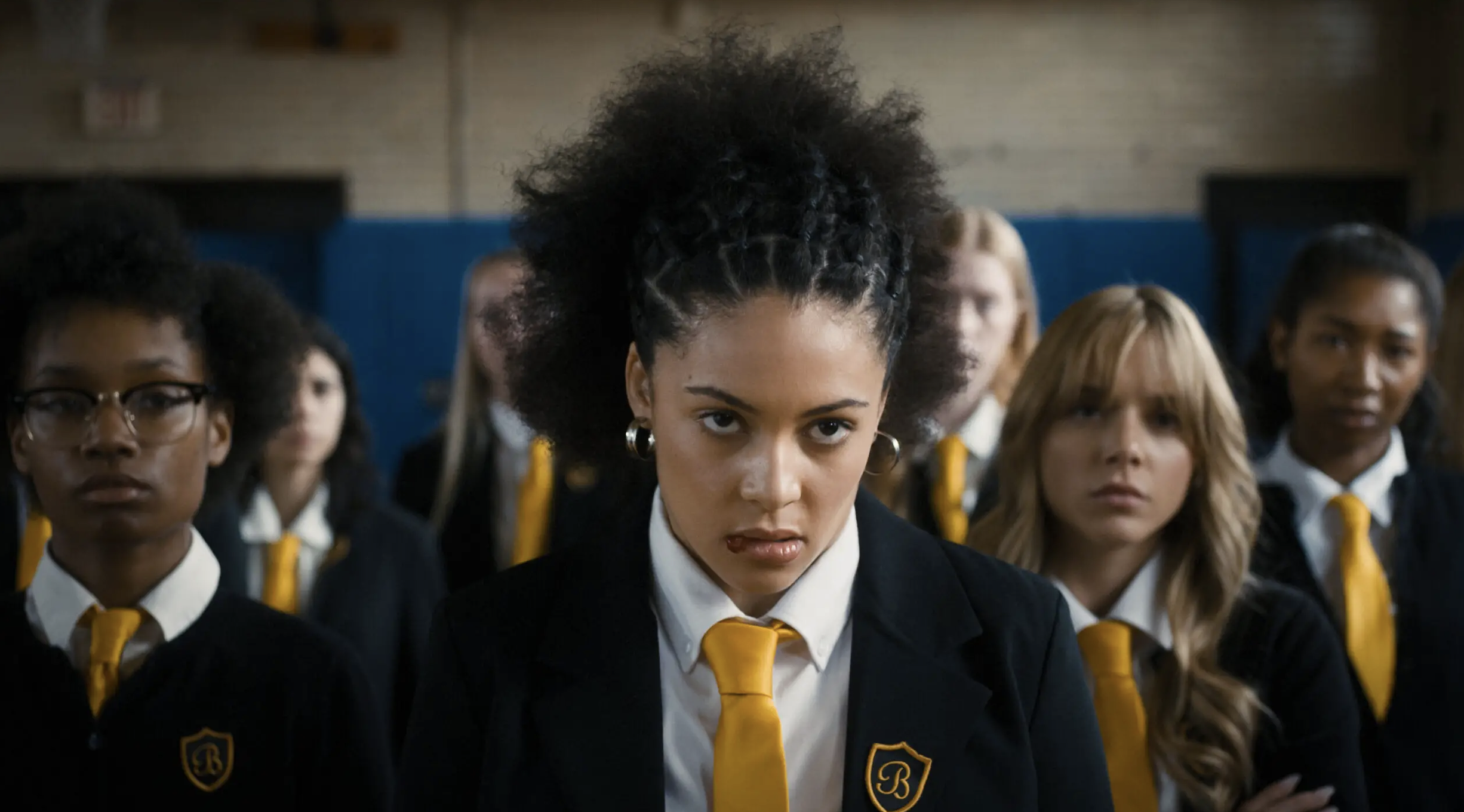 (Check out Bears Rebecca Fonté's movie review of  Perpetrator it opens in select theaters and on Shudder Friday, August 1. Seen it? Join the conversation with HtN on our Letterboxd Page. )
Jennifer Reeder is not going to spoon feed her audience anything. In fact, I spent most of the first 30 minutes of her new film Perpetrator struggling to figure out just exactly what was going on, a labor shared with the lead character. Perpetrator is part crime noir, part coming of age film, part monster movie, everything coalescing into a legendary blood bath of female empowerment.
Kiah McKirnan plays Jonquil "Jonny" Baptiste, a kleptomaniac sent to live with her aunt when she proves too much for her father. But Jonny's not just acting out, she is changing, sometimes as she looks in the mirror. Her face seems to morph into that of someone else, sometimes holding just for a second, sometimes loner. Her aunt Hilde (Alicia Silverstone) explains she comes from a long line of empaths, capable of 'forevering' amongst other skills. As Jonny flexes her powers, she stumbles into the emotions of a string of missing girls and may just have the key to finding and freeing them.
Rereading the above paragraph makes the film sound far more cohesive and accessible than it actually is. In real time, the film moves so quickly through its touchstones that it plays like a blur, somewhat like a teenager's life. Whatever is happening with her father or her absent mother, the relationship she develops with another girl at school, her kleptomania, her aunt forcing her to eat lipstick, all of these moments whiz by only slightly shifting the plot. Without Hilde's explanation halfway through, I don't think I would ever have understood the powers, and even so, I still only have a cursory understanding of the world Reeder has created. Somehow, this didn't make the film a frustrating watch, only a somewhat helpless one. I was pulled along from scene to scene desperate to discover the truth, much like Jonny herself.
The strongest section of the film is the 2nd act, where Jonny finds herself subject to an invasive entrance interview at a school ruled by a demonic principal who relishes patrolling the hallways with a squirt gun of blood to show the girls how ill-prepared they are. Chris Lowell dominates the screen from the first moment of his appearance, his manic gusto for 'preparedness' playing against his boyish good looks. It comes as little surprise that he is more involved in the plot than as just a school administrator.
As the plotlines irrevocably coalesce in the final act, Jonny finds herself taken like the other missing girls, but with the powers to fight back. In a world where Reeder's villains are deconstructing young women for their parts, her heroine draws upon her inner secrets, one passed down through the women of her family, to rescue herself and the other victims.
Perpetrator is not going to be a film for everyone. It is often gross for gross sake. It plays with deeper meaning but never dwells long enough pay off the rich world promised. Silverstone seems to want to play both aunts in Sabrina the Teenage Witch. However, a messy film from Reeder is still substantially more interesting than the standard fare and the stains she leaves on the tile floor are always worth a study.
– Bears Rebecca Fonté (@BearsFonte)
Shudder; Jennifer Reeder Perpetrator movie review