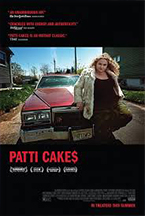 (Patti Cake$, the debut feature from Geremy Jasper, has received a ton of love and positive buzz since it premiered at the 2017 Sundance Film festival. FOX Searchlight is now rolling the film out in select theaters, maybe even one near you.)
Despite issues of cultural appropriation, Magical Negroes, and the overused story of the underdog who makes good, Patti Cake$, the debut feature from Geremy Jasper, is nevertheless a poignant and cathartic narrative about a young woman's struggle to overcome the squalor of her working-class life. It showcases a superlative, mostly little-known cast, with Danielle Macdonald (Every Secret Thing) – as protagonist Patti – and Bridget Everett (Dagmar on Netflix's Lady Dynamite) – her mom, Barb – as the particular standouts. Though conventional in its dramatic arc, Patti Cake$ more than makes up for the predictability of its approach with fully realized lead characters and a toe-tapping soundtrack that will have you bursting with joy at the climax.
To be fair to Jasper, the reality of any urban (and, often, suburban) American (and not just American) landscape of the 21st century is such that most working-class (and not just working-class) kids speak and think in the rhythms and lingo of hip hop, irrespective of race or ethnicity. And though we need more stories by and about people of color on our screens, this movie does a solid job laying the groundwork of Patti's aspirations. She's an overweight 23-year-old white woman in New Jersey with one dream: to rap. Her alcoholic mother almost broke out as a singer in the big-hair 1980s era, and doesn't get her daughter's betrayal of her own culture (as she sees it). Fortunately, Patti – or Dumbo, as the denizens of her town call her, or Killa P, as she calls herself – has Hareesh (the delightful newcomer Siddharth Dhananjay), her best friend and promoter (and fellow rapper), by her side. Together, they strive for the big break that never comes.
Money is a big issue, since mom doesn't really work and Nana – played by a comically tragic Cathy Moriarty (Once Upon a Time in Brooklyn) – is at death's door, needing medications that drain what meager salary Patti brings in as a bartender and waitress. But confidence – or the lack thereof – is Patti's real bugaboo. And who can blame her? She's an outcast within her own community and rejected by the rappers she admires, who see her as just a fat white girl out of her depth. Seen in that light, the cultural appropriation is less problematic: making her a true outsider raises the stakes.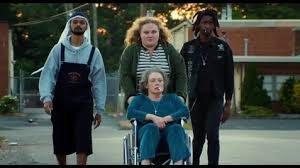 It's too bad, then, that the next character we meet is a near-mute African-American anarchist who calls himself the anti-Christ, played by the appealing Mamoudou Athie (Jean of the Joneses), who at first seems drawn from a long line of unfortunate racial stereotypes of the helpmate to white people. Patti latches on to him as her and Hareesh's ticket to success, and since he mostly just stares silently back at her, he feels like a construct. But then he does grow, and change, and become more than the character sketch we first see. It's a nice touch, too, to make his musical preference of the head-banging metal variety, in contrast to Patti's rapping. Everyone's a fish out of water.
I found the pull of the story hard to resist. Yes, we know that there's a trajectory here and that Patti might see some success at the end. Still, none of it comes easy, and even the way the finale plays out offers some nice twists on the expected formula. And Macdonald – an Australian – really is a wonder. Her chemistry with costars Everett, Moriarty, Dhananjay and Athie brings real pathos into every scene, no matter the cliché. Jasper deftly mixes humor and drama throughout, making us laugh one minute and cry the next. There's so much good here that, by the end, I forgave the faults and just had the good time I was meant to have.
– Christopher Llewellyn Reed (@ChrisReedFilm)