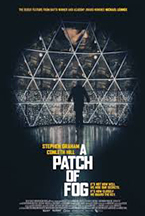 (Michael Lennox's A Patch of Fog is a cat-and-mouse thriller which had its World Premiere at the Toronto International Film Festival this year. It's available now via XLrator Media.)
Sandy Duffy, a one-hit wonder of an author, has a problem. Sure, he lives a lavish lifestyle, courtesy of the fame and fortune brought by his only novel, but some deep dissatisfaction within pushes him to shoplift. The thrill of it each time leaves him trembling afterwards, a powerful feeling that shakes up his otherwise comfortable – read, boring – existence. It's a particularly risky move, since Sandy is easily recognizable in his native Belfast, where he appears on a weekly television program on culture and the arts. An upcoming solo interview with him by that show's host has led to his face being plastered on billboards throughout the city. He is not, in other words, just anybody.
The inevitable happens, and he is caught by the security guard at one of his usual haunts, courtesy of the ubiquitous CCTV (indeed, stealing these days without getting caught seems impossible). That guard, Robert, is a lonely man, however, and agrees to let Sandy go if they can just have a drink together. Soon, that one encounter leads to many more, and before long Sandy has an unexpected – and unwanted – new friend, from a completely different social class, raising eyebrows among his own circle. There's nothing he can do, given that Robert has video not only of the theft we have witnessed, but of earlier ones, as well. It turns out Sandy has a number one fan, though not of the kind he would wish.
In the film genre in which the protagonist is stalked by an obsessive – including movies like Cape Fear (both original and remake), Fatal Attraction, Misery and many more – the best of them make sure to create a main character as flawed as his/her antagonist. A Patch of Fog does not disappoint, as Sandy, it turns out, is neither a particularly nice man nor an entirely honest one. We identify with him, nonetheless, because director Michael Lennox (whose first feature this is) tells the story from his perspective, as well as because Robert is quite an odd duck. Conleth Hill (Lord Varys on Game of Thrones), as Sandy, and Stephen Graham (Al Capone on Boardwalk Empire), as Robert, make a perfect on-screen couple, the one fleshy and dissolute, the other lean and hungry. Their uncomfortable pas-de-deux drives the story forward, even when the plot strains credulity.
Which it does, especially if one asks a few too many questions about various details, including how a local author, with a single best-seller to his name, published years earlier, who now teaches night courses at a university, could live quite so well. Does any one book earn that kind of continuing royalties? In addition, Robert alternates between extremes of cleverness and naïveté that sometimes annoy. All of that said, however, A Patch of Fog mostly works as a taut atmospheric thriller that manages to hold some real surprises for the end, thanks to solid mise-en-scène and excellent performances.