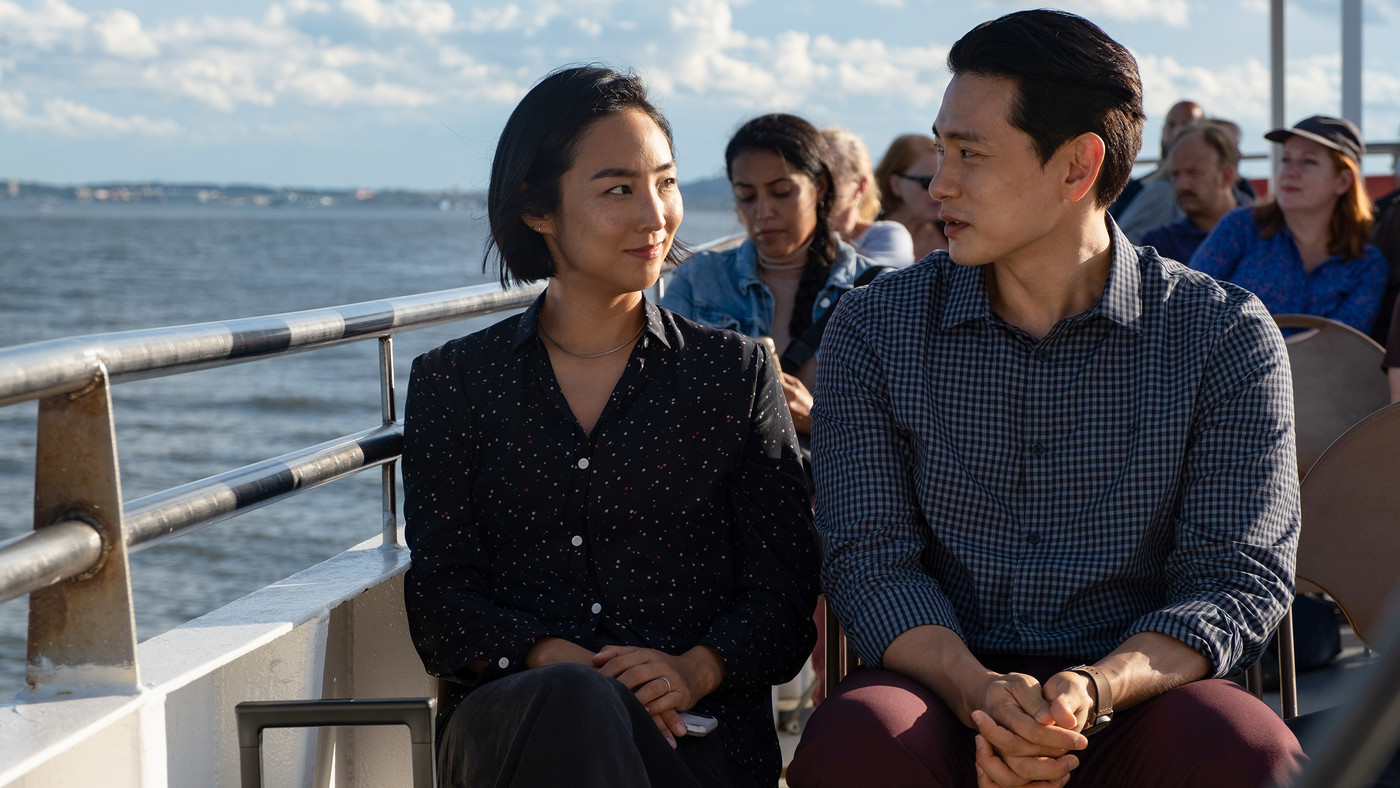 Editors Note: Past Lives opens theatrically this weekend in New York and Los Angeles, and will expand from there. Below is Matt Delman's review from the 2023 Sundance Film Festival.
(The 2023 Sundance Film Festival takes place January 19-29 in and around Park City, UT and virtually. As always, Hammer to Nail has you covered with tons of movie reviews like Matt Delman's review of the film Past Lives. Seen it? Join the conversation with HtN on our Letterboxd Page.)
Celine Song's Past Lives is a tale of romance between Nora (Greta Lee) and Hae (Teo Yoo), and her husband (John Magaro) is there too. Playing the ultimate nice guy, Magaro gets plenty of belly laughs from his reactions to his wife reconnecting with her old flame. The anguish on his face is almost as if someone was milking his cow in the middle of the night. While Magaro's character in Kelly Reichardt's First Cow was more mischievous, his natural gentle restraint is such an important aspect of making this story work. The strength of the screenplay works off the tension, both romantic and civil, that builds between the three leads. Greta Lee puts off a mega-wattage of likable luminosity in a role that puts her in the spotlight of two lovestruck men. Song's subtle but deep screenplay suggests that race does have an impact on relationships as much as we pretend to be colorblind. The director herself, in telling a personal story, affirms an undeniable connection to persons of our own ethnic background, those from our 'homeland'. Ultimately the film works as a passionate provocation, a what could have been, and what will remain.
The narrative is told with a few big-time jumps, beginning with Nora and Hae as children, and their first date (supervised by their mothers) in a sculpture garden. Nora—whose English name 'Leonore' is bestowed by her father—immigrates to Canada, leaving Hae behind. And then later as an adult, she moves to New York City, where most of the film takes place. First Nora and Hae connect over zoom, but after more than two decades pass, he comes to visit her. By now Nora has already married a nice Jewish guy, and fellow writer, who is understandably uncomfortable. At the same time, he wants Nora to be happy and is determined to be a good sport about the whole situation.
Long walks along the Dumbo waterfront in Brooklyn are reminiscent of Barry Jenkins's Medicine for Melancholy. In both films they pass by a carousel, perhaps symbolizing the ups and downs of long-term love. Cinematography by Shabier Kirchner (Small Axe) frames the leads in a variety of arresting ways. The look and feel of the film is more Mia Hansen-Løve than Murakami, and though there have been a number of Korean arthouse hits recently, Past Lives has a distinctly French New Wave vibe.
Though there aren't any explicit sex scenes, like the opening of Drive My Car, this is still a sexy film as Greta and Teo are a very attractive couple. Past Lives is graceful and tender, sweet and romantic, deliberate but never dull. The time jumps are no gimmick, like in the Alan Alda classic Same Time Next Year. They are less of a narrative crutch and moreso a necessity to allow for the long, deep breaths of father time to shape these characters. In a packed Eccles theater, the final scene ended with an emotional wallop and a standing ovation. Though it's hard to imagine that ending having as big of an impact at home on a laptop—the film was not made available virtually. One of the most universally praised premieres out of Sundance, next it heads to competition at Berlin, and expect A24 to do a wide theatrical release with a possible awards campaign.
–  Matthew Delman (@ItsTheRealDel)
2023 Sundance Film Festival; Celine Song; Past Lives movie review