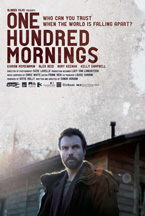 (One Hundred Mornings opens for a one-week theatrical run on Friday, March 25, 2011, at the reRun Gastropub in New York City. Visit the film's official website to learn more.)
Haunting, effortlessly lyrical and subtly topical, Conor Horgan's One Hundred Mornings was the most overlooked film to bow in Park City last year.
Horgan, a well regarded Irish photographer and commercial director, has made a fourth feature film that makes big-budget, civilization-wide disaster movies like The Book of Eli and 2012 pale in comparison; it provides emotional multitudes where those films supply plot points and CGI spectacles of collapsing metropolises. Everything about Horgan's way of detailing the effects—physical, societal and psychological—of whatever catastrophe has taken place feels like a breath of alarmingly plausible, startlingly fresh air. Not to be confused with former Sundance staffer-turned-Sundance filmmaker Mike Mohan's One Too Many Mornings, which played at Sundance the same year, Horgan's film bowed at Slamdance (where it received a Special Jury Mention). A gorgeously photographed, delicately paced glimpse at the harrowing emotional difficulties of a pair of couples stranded in the Irish countryside after some unnamed event has caused civilization to at least partially collapse, One Hundred Mornings is an insidiously intelligent post-apocalyptic drama, as achingly humane and stringently observed in its own quiet way as Michael Haneke's Time of the Wolf.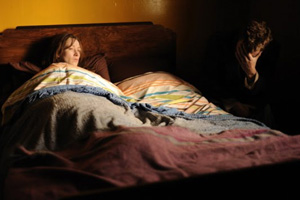 Like Mr. Haneke's film, little or no exposition is given and the manipulative specter of non-diegetic music is tossed aside. We are thrust into the daily tedium, the horrors large and small, of Westerners who have been reduced to gardening a small plot and hoping that armed gangs or the remnants of the police force don't steal their paltry food and water supply. While their consistently drunk but generally amiable (and armed) neighbor Tim (Robert O'Mahony) looks out for them and is always willing to trade some of his food for a bottle of their vodka, all alliances, even marital ones, are reduced to the provisional and the tenuous in this gloomy milieu. When a boar comes running onto the couples' property before bolting onto Tim's, one quickly learns how any sort of potential protein becomes a most valuable commodity in a world like this. Even the benevolent Tim, like everyone else in this film who has the authority of a weapon, can almost never transcend naked self-interest. To share could be to starve.
Among the two couples, the shaggy haired Mark (Rory Keenan) is the only one with a green thumb and thus assumes the most essential role among the four, although Jonathan (Ciaran McMenamin) retains the closest thing to a leadership position in the group. Mark's English wife Hannah (Alex Reid) spends her days knitting and maintaining order, while Jonathan's wife Katie (Kelly Campbell) is clearly the most rattled and sexually needy. The dangerous interpersonal manifestations of her growing emotional distance from Jonathan and general dissatisfaction place a slow simmer on the arrangement, one that's only exacerbated by the frequent armed thefts by various marauders and the newly armed police who claim to be maintaining some order but always leave with a tithe of food stuffs.
The sparsity of energy and new goods, the corrupt remnants of government, the newfound, hastily improvised attempts at rural, sustainable living, they all resonate as possible side effects of the unavoidable and potentially catastrophic oil shortages which the coming decades seem destined to provide. As timely as it is gorgeous (it is perhaps the most impressive looking feature I've seen that shot on the Red), let's hope—and work toward—a world where a film like One Hundred Mornings remains in the realm of sci-fi and not historical fiction.
— Brandon Harris