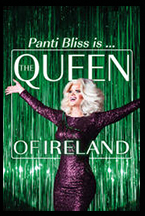 (The 2016 Seattle International Film Festival kicked off May 19 and ran for just shy of a month, until June 12. We are just wrapping up coverage from the fest so keep your eyes tuned to HtN!)
Director Conor Horgan is a longtime friend of Ireland's most famous drag queen, Panti Bliss, so he couldn't be more qualified to bring her story to the big screen. Panti is more than just an entertainer. She is the accidental leader of a civil rights movement in Ireland, kick starting the national conversation about gay rights and marriage equality. It's very possible that without her advocacy, Ireland wouldn't have become the first country to approve marriage equality by popular vote. Horgan's engaging and concisely comprehensive film tells the story of Panti's origins and how she came to be The Queen of Ireland.
Panti Bliss isn't exactly a household name in America, but in Ireland, she's basically RuPaul. Panti's male counterpart is Rory O'Neill, a man from a small, idyllic town in County Mayo called Ballinrobe. He grew up "painfully middle class" but always with the awareness that he was different from other boys. Horgan, began filming Rory/Panti in 2010 when he was still just a moderately successful club owner and drag persona. It's their personal connection that gives The Queen of Ireland a boost of intimacy. Rory is extremely comfortable revealing himself to the camera because his dear friend is behind it.
Horgan intended to create a profile of Panti Bliss, but it wasn't until "Pantigate" when his film really began to take shape. In an interview on a popular Irish talk show, host Brendan O'Connor asked Panti to name some homophobic public figures. And so she did. But despite very concrete evidence to support her claim, the people she named got furiously litigious. With this, Panti found herself at the forefront of an equality movement. Her campaign officially kicked off with what's now known as the "Noble Call" speech – a brilliant monologue wherein she uses her shrewd and affable manner to explain that homophobia is a sickness that afflicts the whole of Ireland, because it was bred into them. Even Panti suffers from it, she notes, when she "checks [herself]" on a street corner to make sure she isn't drawing too much attention to her "gayness." The speech, which ends with a call to action, quickly went viral and support for civil rights spread across the country like a vaccine. Many credit it as a key moment in the eventual legalization of Irish national marriage equality on May 22nd, 2015.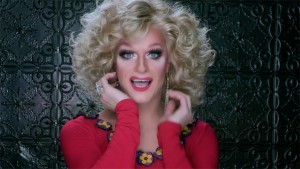 Horgan uses O'Neill's background as a delivery system for a brief history of being gay in 20th Century Ireland. Though O'Neill had a happy childhood, he grew up in a time when being gay was literally against the law, and men could murder people for their orientation without legal repercussions. O'Neill also contracted HIV in a time where such a diagnosis was a death sentence. But he didn't die – he persevered. He attended art school, "hoping to find queers," but didn't really come into his own until his final year when he decided to design a drag show. He took his newfound interest to the Japanese club scene. When he returned home, he developed the Panti Bliss character with the collaboration of some friends, and helped start a proper scene in Dublin.
Panti Bliss didn't ask to become the poster woman for gay rights in Ireland. But when duty called, she answered with gusto. She's been tempted to hide who she is out of fear – and there are very good reasons for her to be fearful. But hiding can be more dangerous than being out. Gay pride is more than just loving yourself. It's letting others know that you deserve that love because you're a human being. It's the people with hate in their hearts that should be ashamed.
– Jessica Baxter (@tehBaxter)