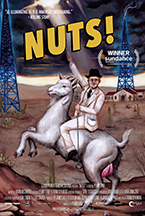 (NUTS!, Penny Lane's (mostly true) story of American eccentric J.R. Brinkley, has US theatrical premiere Wednesday, June 22 at Film Forum.)
For the longest time I believed the quote "Truth is stranger than fiction" was attributable to the punk band Bad Religion, it's not. It's actually a Mark Twain quote and the rest of it goes "but it is because Fiction is obliged to stick to possibilities; Truth isn't." While that quote can be used in terms of a variety of craziness in our modern world, it's particularly appropriate when talking about Penny Lane's fascinating new documentary Nuts! Not only does this feature film shed light on a brilliant yet troubling man, it's also sadly prescient in this age of snake oil salesmen politicians who shall remain nameless at this time.
Nuts! tells the seemingly impossible story of Dr. John Romulus Brinkley who pioneered the surgery where goat glands were placed into men's scrotums in order to cure them of impotence. You've heard of the surgery, right? It's still popular today. Just kidding, it's not. And it's no spoiler to say that putting goat glands in a man's ball-sack would literally do nothing physical to alter their situation thus rendering Dr. Brinkley a "quack" of the highest order. Nuts! details Brinkley's rise to fame and fortune and the many deep layers of his quackery via simple yet effective animation and hilarious voiceover but what makes the film really work – aside from the truly crazy but true story it lays out – is how it never tips it's hand until the final act.
Viewers know something's rotten in Denmark (is that a Ramones quote?) but we're never sure just what and that's because Nuts! plays earnestly and heartfelt which aligns perfectly with Brinkley's laid back, homegrown Kansas persona. The journey viewers go on has more twists and turns than imaginable. For one mans story, particularly one that's not well-known. Yet it's all because as Twain stated, Brinkley wasn't obliged to stick to possibilities and was doing things no one ever did before, at least on such a grand scale.
Brinkley was many things as Nuts! shows us but perhaps his greatest gift was his showmanship and vision. After his first "successful" goat-gland-male-scrotum-surgery, Brinkley took his procedure to the streets via intense radio ads and mailers that rival today's email spam. As the film itself describes him, Brinkley became the prototype for radio doctors like Dr. Ruth and Dr. Drew, dispensing sex advice over the airwaves wedged in between ads for his various procedures, creams and elixirs.
He also brought in local country music artists to give his shows a little more pep and many of the talking heads in the film indicate Brinkley also may have been a key person involved in bringing country music to a wider audience. Brinkley also made duckets of cash and managed to anger both the radio commission as well as the American Medical Association which, while he finagled some slick victories against, eventually catches up with him in a powerhouse third act where all is revealed. The results are truly shocking yet sad and even a bit hilarious.
Nuts! is a real hoot and places itself nicely alongside such political rube turned celebrity films as Elia Kazan's A Face in the Crowd or Warren Beatty's Bulworth. It also resonates heavily today in terms of politicians wanting to tell the people what they want to hear regardless of truth or consequences.
– Don R. Lewis (@ThatDonLewis)