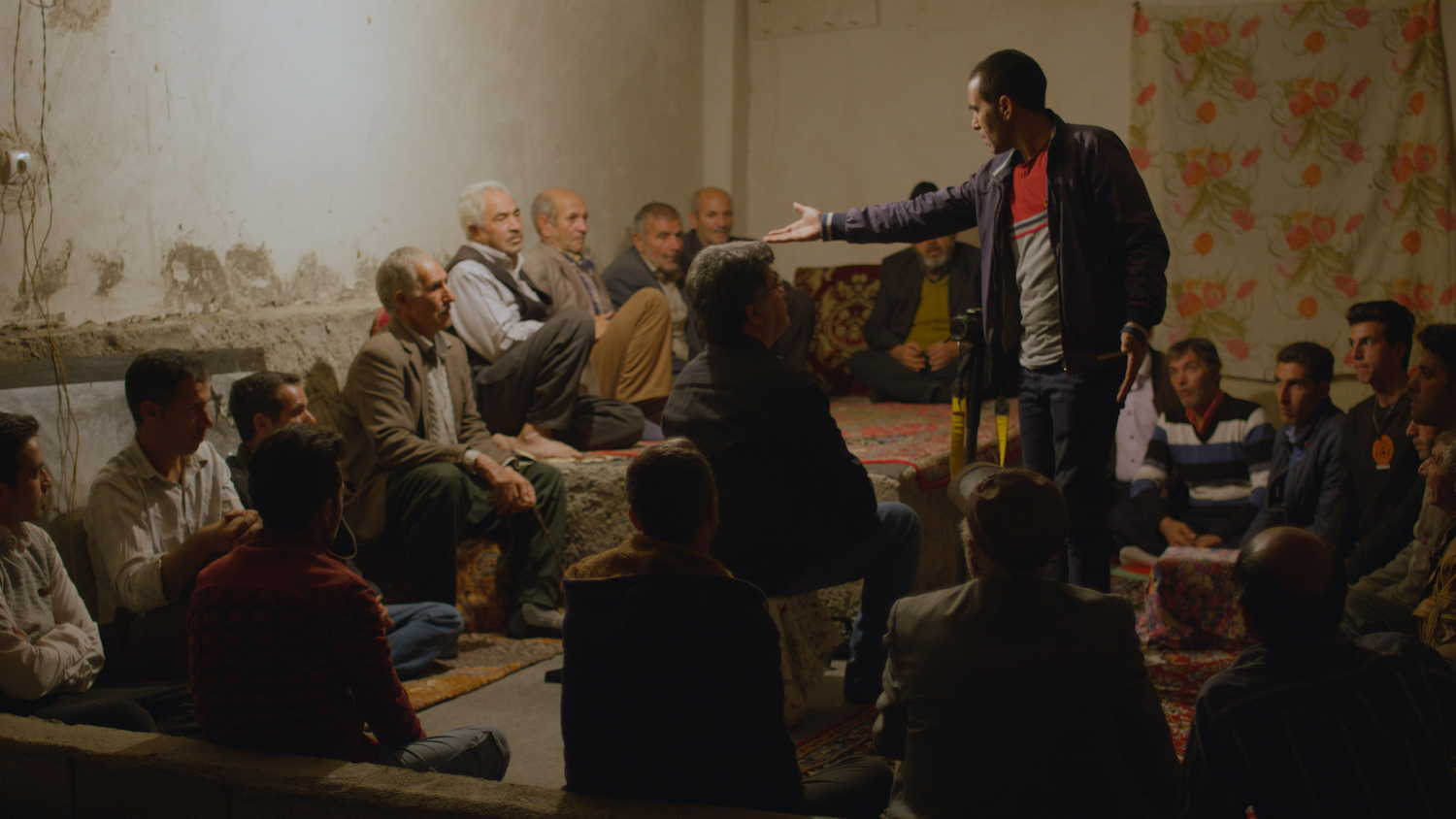 (Check out Chris Reed's movie review of No Bears, the  latest from Iranian director Jafar Panahi. It opens Friday, December 23 at Film Forum before going wide in the new year. Seen it? Join the conversation with HtN on our Letterboxd Page.)
Iranian director Jafar Panahi (3 Faces) was once again arrested this year by his country's government, this time after inquiring after two other filmmakers who were detained a few days earlier. This is by no means his first brush with the regime: he directed the 2011 This Is Not a Film while serving out a previous sentence of home confinement. Unable to leave the country since that time, he has nevertheless continued making movies, of which the new No Bears is a fine example.
Starring Panahi himself as "Jafar Panahi," the film (not a documentary, but clearly based in real life) follows the man as he struggles to direct a project being shot in Turkey while he is in residence just across the border. A parable about the intersection of tradition and modern life, coupled with a cautionary tale profiling the consequences of authoritarian rule, No Bears offers poignant drama wrapped up in a deceptively lo-fi cinematic container. Disarming in both his methods and gentle screen presence, Panahi proves a ruthless killer when it comes to delivering dramatic blows.
The movie starts in what turns out to be a Turkish border town, the camera pulling back from a tense scene between husband and wife to reveal the video-assist monitor via watch Panahi keeps track of the takes. That man and woman are Bakhtiar (Bakhtiar Panjei) and Zara (Mina Kavani), named so, and married, both on- and off-set. In that first sequence, they discuss the procurement of stolen passports, only one of which is ready to go, Bakhtiar insisting it be Zara who flees to Europe, she resisting going solo in no uncertain terms. As it turns out, that same conflict plays out in their actual lives. In fact, all Panahi (the character) may be doing is filming their real interactions, though the action appears scripted.
Meanwhile, across the border, Panahi is having troubles of his own: the internet connection he relies on to direct is inconsistent and the villagers have more than their share of suspicions about him. As one old man states, "Townsfolks have problems with authorities; village people have problems with superstition." They are also ruled by tradition, and when Panahi unwittingly finds himself in the middle of a familial marriage contract decided years ago, his stubborn refusal to understand the severity of the issue only makes things worse.
As befits a visual narrative, that village conflict swirls around a photograph Panahi ostensibly took of a pair of lovers who thought they were safe from prying eyes, the woman betrothed since birth to another. He denies and deflects, then ultimately gives up his camera's memory card, which has no such photo (still, I went back and looked again at the moment in question, and he does appear to have snapped some kind of image, as the villagers claim). But it's too late. His outsider presence is enough of a disruption that there is no turning back once the illicit couple is discovered.
Back and forth we cut between the two stories, the stakes rising each time. All the while, Panahi meditates on the consequences of resistance to established orders. It's a testament to his creative powers that his inauspicious mise-en-scène hides so many profound truths about the human condition. Even the devastating twin conclusions are seen from afar, the distant lens a reminder that this is, after all, only a movie. Or is it? There may be "no bears" (the animal appears but a fictitious bogeyman touted by the villagers as a scare tactic for the reckless), but dangers abound. As of this writing, Panahi still sits in prison, blending life and art, as always, into an unsettling mix.
– Christopher Llewellyn Reed (@ChrisReedFilm)
Janus Films; Jafar Panahi; No Bears movie review