THE CURBSIDE CRITERION: NIGHT AND FOG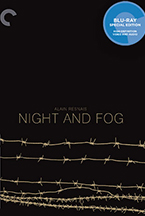 (We here at Hammer to Nail are all about true independent cinema. But we also have to tip our hat to the great films of yesteryear that continue to inspire filmmakers and cinephiles alike. This week, our "The Curbside Criterion" continues where HtN staff can trot out thoughts on the finest films ever made. Today Christopher Llewellyn Reed takes an in-depth look at the new Blu-Ray release of Night and Fog, Alain Resnais' essential, indispensable documentary on the Holocaust.)
In November, 1954, a group of French historians planned an exhibit in Paris, entitled "Résistance – Libération – Déportation." Almost 10 years after the end of World War II, France had yet to come to terms with its own role in the mass deportation of Jews as part of its official collaboration with the Nazis. Yes, there were French resistance fighters, a fair number of whom were captured and sent to concentration camps, but they were not the majority. Unwilling to deal with its own significant culpability in the Holocaust, France also downplayed the fate of Jews, and so this exhibit was meant to celebrate the valiant fighters who resisted Nazi rule and suffered for it, rather than probe the genocide of European Jewry, or any of the other Nazi atrocities. One particular member of the planning committee, however, Olga Wormser, had recently begun to explore that side of the story, and she became the main advisor to the young film director chosen to make a movie in tandem with the exhibition. His name was Alain Resnais (1922-2014), and though but 32 at the time and known primarily as an editor, he would create a powerful short documentary, Night and Fog, that would not only help change his nation's view of the Nazi death machine, but also help launch a major directing career, to include films like Hiroshima Mon Amour; Last Year at Marienbad; Je t'aime, je t'aime; My American Uncle; and Same Old Song.
The title of the movie comes from the Nazi phrase "Nacht und Nebel," which was a 1941 directive issued by Hitler ordering that those deemed a threat to the Reich be brought to Germany by "night and fog" – unseen by others – and effectively "disappeared." Resnais's Night and Fog takes the viewer on a harrowing journey through the Auschwitz-Birkenau death-camp complex, mixing color footage of the site shot for the movie with black-and-white archival material. It makes for a jarring contrast, which was exactly what Resnais wanted, as we see peaceful vistas of the quiet spaces of Auschwitz, filled with daisies by 1955, juxtaposed with the nightmarish, all-too-real photographs and films from the war. The Nazis, for whatever their twisted reasons, were compulsive record keepers, and Resnais not only shows us the ledgers where name after name of the victims were written down, but also includes documentary footage – shot by Jewish prisoners – of Jews, Roma and others herded onto trains bound for the camps. As the film progresses, Resnais begins to mix in footage, shot by the Allies, from the liberation of the camps, and it is not for the faint of heart, as we see emaciated bodies, severed heads, and everything in between. It is not just a horror show, however, as Resnais's purpose is not to wallow in the grotesque, but rather to shock his audience into an awareness of a great crime, in the hopes that this crime will never be repeated.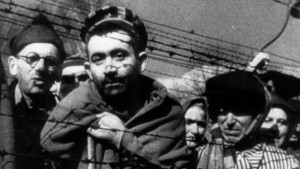 The images are accompanied by composer Hanns Eisler's evocative score, which works sometimes in harmony and sometimes in counterpart to what we see, and poet Jean Cayrol's accusatory narration, read by actor Michel Bouquet. Eisler, known for his work with playwright Bertolt Brecht, was half-Jewish and had been forced to flee Germany in 1933; Cayrol, an actual French resistance fighter, had been captured and interned in a concentration camp during the war; both bring hard-fought passion to their work here, helping Resnais create a powerful condemnation of barbarity. If the film has one weakness – and it is a glaring one to our 21st-century eyes – it is the complete failure to ever mention Jews as the primary targets of a Nazi "final solution." Yes, they talk about the millions of deaths, but avoid the ethnic specificity of those killings. Resnais and Cayrol – and historical advisor Wormser – would later discuss how their goal was to emphasize the universality of evil, and how any and all human beings can be both perpetrator and victim. But after the 1961 trial of Nazi war criminal Adolf Eichmann in Jerusalem, with its revelations of the intricate details of the genocide, a film about Auschwitz that avoids direct reference to Jews would inevitably fall out of favor. It took over 20 years for critics to come around to a renewed, if qualified, appreciation for Resnais's movie and mission. Now, thanks to Criterion's gorgeous new 4K Blu-ray transfer, you can watch this film – so important to its time and place – and decide for yourself whether Resnais and company were justified in their approach and/or if Night and Fog's strengths still make it worth watching, in spite of that one main flaw.
The disc comes with Criterion's usual array of special features, all of which offer thoughtful commentary on the work at hand. There is a fine essay by film scholar Colin MacCabe; a good short excerpt from a 1994 radio interview with director Resnais; a wonderful interview with documentarian Joshua Oppenheimer (The Look of Silence); and a feature-length documentary, Face aux fantômes, about the making of – and reception of – Night and Fog, that is over three times as long as its subject. All told, it makes for a very nice package, well worth the money for fans of the movie and/or Resnais.
Colin MacCabe's essay
MacCabe presents a wonderfully detailed analysis of the history of the film, starting with the very definition of the term "concentration camp" and moving forward to the conference that inspired the movie and the reasons for Resnais's involvement. He also discusses the thorny issue of the lack of specificity vis-à-vis Jews, and explains the decision to change the name of the film to "Night and Fog" from "Resistance and Deportation." I particularly liked MacCabe's breakdown of not only the reasons for the use of both black-and-white and color film, but also how each one was used (the color shots are all significantly longer than their B&W companions). MacCabe's essay is a must-read for scholars, aficionados and casual fans, alike.
Excerpt from 1994 radio interview with Alain Resnais on program "Les étoiles du cinéma"
 In this short audio clip, Resnais discusses many of the same topics that MacCabe addresses in his essay, including his use of B&W and color film and why he asked poet Jean Cayrol on to write the narration. He also provides additional details on an incident that almost prevented the film from being distributed, which was the French government's objection to the inclusion of a French policeman overseeing a deportation camp. They did not like being reminded of their complicity in Nazi atrocities. It's nice to hear the director's voice, even if one wishes the clip were longer.
Interview with documentary director Joshua Oppenheimer
Joshua Oppenheimer, with his debut documentary feature The Act of Killing, announced himself to the world as a bold new talent. That film told, in a highly unusual way, the story of the mass slaughter of the government's political opposition in 1960s Indonesia, by asking the surviving killers to reenact their crimes. Here, Oppenheimer offers his thoughts on his own work as well as on the power of Night and Fog. It's less historically informative than the other extras on the disc, but since Oppenheimer is a smart, articulate filmmaker, he is able to offer some exciting insights into the meaning of the film. Of particular interest to me were his thoughts on the nature of essay films – how the questions that the director doesn't ask are as important as the questions he does ask – and on Resnais's choice to make his subject more universal by avoiding the mention of Jews.
Face aux fantômes, a 2009 French documentary by Jean-Louis Comolli, with historian Sylvie Lindeperg (author of "Night and Fog": A Film in History)
Finally, there is Jean-Louis Comolli's dense, but illuminating, over-90-minute look at the making of Night and Fog, as well as on its reception both after its release, and later, after the Eichmann trial. Historian Sylvie Lindeperg serves as our guide, and takes us on a journey from before the film's inception to long after its completion. She starts with the French historians who commissioned the film, in particular Olga Wormser, Resnais's main consultant on the project. who silently began to work on expanding the official narrative on who was deported during the war. We also hear how Anatole Dauman – whose story MacCabe relates in his essay, as well – insisted that the film be as much a work of art as of history, which is how Resnais became involved. We learn that, for a brief while, before more was known about the "final solution," Night and Fog was the main film shown in schools in France about the camps, and how after Eichmann's trial, the film was sidelined (and how there now appears to be a reevaluation of its place in the film canon). Perhaps the most fascinating revelation in this documentary is how, because of internecine French politics over that photograph of the French policeman in a deportation camp, Night and Fog was actually shown in West Germany before it was shown at home. Overall, even though this film is aesthetically not that interesting, it is a more than worthy inclusion on the disc, given how much it teaches us about not only Night and Fog, but the history of France at this time.
I highly recommend this disc, then, even for those who may not like the main film, given how rich a treasure trove of historical data and analysis is on offer.
– Christopher Llewellyn Reed (@ChrisReedFilm)