MONKEY WARFARE and LESLIE, MY NAME IS EVIL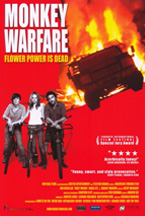 (Monkey Warfare is currently available on VOD via Film Movement, while Manson, My Name is Evil was unceremoniously dropped into RedBoxes nationwide last fall and can be bought on DVD.)
For a filmmaker whose work satirizes capitalist complacency, it's fitting that Reg Harkema's films are only now available in the U.S. via the great dumpster dives of media consumption. Half a decade after its debut at the 2006 Toronto Film Festival, Monkey Warfare is now available on VOD. Re-titled by torture-porn magnate Lionsgate from Leslie, My Name is Evil to Manson, My Name is Evil to tempt US genre consumers, Harkema's 2009 follow-up arrived on DVD with a glowering Charles Manson (Ryan Robbins) against a slate gray background. Yet Harkema, who dedicates his American International Pictures' version of Manson girl Leslie Van Houten's trial to moving-image essayists Harun Farocki and Jill Godmillow, embeds his film with earnest, at times painful insights into his protagonist's need for belonging and the failures of '60s counterculture.
Unlike the manufactured, fundamentally complacent Machete, as both consumer and aesthetic object, Leslie, My Name is Evil actually is the type of "what's it" exploitation film it emulates in its surreal disconnect. With the level camera framing, and diorama-like studio-sets, Evil adopts the modest presentation of Samuel Z. Arkoff and Roger Corman's teen-exploitations. The blow-ups of presidential portraits and obscenely large American flags convey the film's recognition that all historical representation is a construct. The Canadian film's origin and casting only adds to the distance. As Van Houten, Kristen Hager's skin is too buttermilk to simulate the tan of a California prom-queen, but this disruption also serves as a reminder that the images of teens from the '60s exploitation films are just as off-base.
As he did in Monkey Warfare, Harkema treats his characters with great empathy. The opening, in which Leslie's parents' divorce, is played at a Lifetime-level pitch but is contained in an unsettlingly extended long-shot. As Harkema didactically crosscuts between Leslie's induction into the Manson family and bourgeoisie chemist Perry's (Gregory Smith) convenient draft dodging, the film surprisingly emerges as more of a lament for the latter character. Assigned to the jury of the Manson trial, Perry falls in love with Leslie, and, for a time, becomes the sole voice of dissent among a court predetermined to give her the death sentence. Leslie's loyalty to the Manson family is depicted as a bid to belong within a patriarchal family unit—Charles himself doesn't hold much appeal, and he doesn't register as much of menacing presence. Perry, on the other hand, isn't satisfied with the expectations and conventions of the Silent Majority he belongs to. But he too, is ultimately too afraid to stray from consensus. Ending with the strange, haunting image of a plaster-cast museum installation of a Vietnamese woman holding her child, the film mourns for the quickly-quenched possibility for progressivism among the privileged.
Both Monkey Warfare and Leslie, My Name is Evil stand aside recent films about the failures of a not-too long ago radicalism. But if most of those films are opaque mood pieces (Night Catches Us, The State I Am In) or post-mortem procedurals (Carlos), Monkey Warfare is an existential sitcom. Frequent Harkema collaborators, the late Tracy Wright and Don McKellar, are Toronto-based ex-radicals who scavenge and scrimp for bike parts and assorted other tchockies to get by. They have a uniquely non-sexual relationship that's complicated with the arrival of Nadia Litz, a young pot-dealer with her own ideas of radical chic. As McKellar educates her on the White Panthers and the Red Army Faction, she shifts from lust object to surrogate daughter to both him and Wright.
The fluidity of this threesome's relationship—not unlike The Doom Generation's short-lived radical family—make this one of the most hopeful and utopian takes on the possibilities of the family unit that I've ever seen. Here is a presumably heterosexual director with affinities to the New Queer Cinema of the early '90s. Monkey Warfare is a feel-good movie, given extra buoyancy in how Harkema heightens the ridiculous dumb coincidences of situational comedy to super-stoned extremities. Harkema seems to have taken inspiration from [non New-Wave] critic/filmmaker Luc Moulett's philosophy to strive from a "stupidity derived from intelligence."
— Jason Klorfein