MARCEL THE SHELL WITH SHOES ON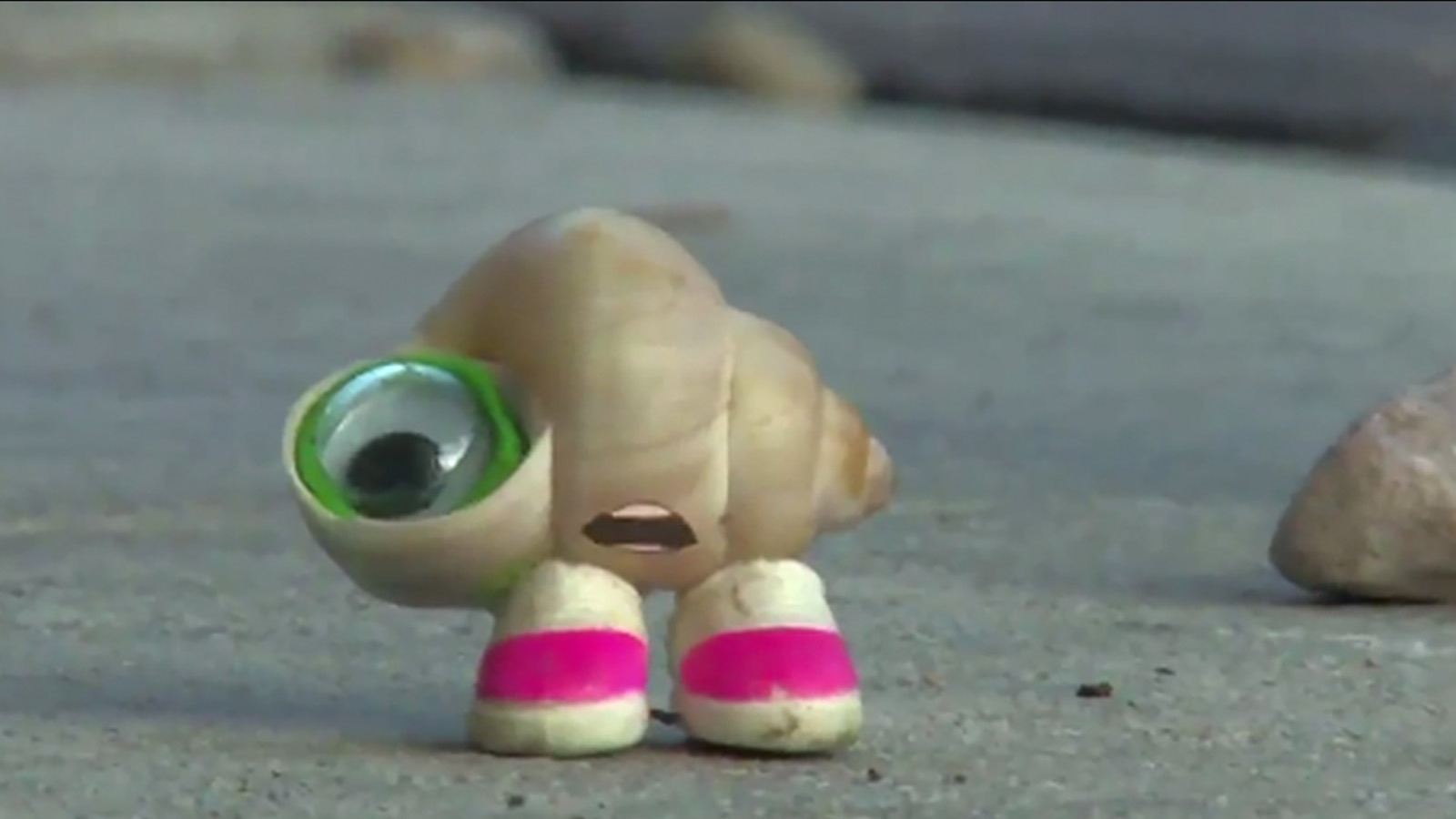 (Marcel the Shell with Shoes On has been charming festival audiences throughout the year including most recently at the Indianapolis International Film Festival where Melanie Addington has this review of the film. Seen it? Join the conversation with HtN on our Letterboxd Page.)
Kicking off the 19th Indy Film Festival in Indianapolis, the feature version of Marcel the Shell with Shoes On finds a sweet message about being brave and seeing the world in a new way.  Fans of the original 2010 short film may recognize some familiar introductions to Marcel. Much like the title, he is a shell with shoes on. He has one eye and a sweet innocent voice (voice of Jenny Slate). His documentary filmmaker guest (director Dean Fleischer-Camp) is staying at the Airbnb where he resides with his grandmother, Connie (voiced by Isabella Rosselini). 
Marcel is the little shell that could. He modifies systems in place to make them workable for him and serves as a caretaker of his grandmother. With a beautiful singing voice and a kind soul, Marcel charms even the guy behind the camera, who learns to take off his protective shell in the end. But as much as the plot is about Marcel pairing up with the filmmaker to find his missing family members, it is about fear of change and letting go, something both the little shell and the filmmaker needed to learn. 
But the director (both in real life and on camera) is the character I relate to. As a film lover and filmmaker, it is easier to feel the human condition through a lens, record it, and observe it. But living it in real life is messy, and people leave it for good. On camera, you can rewind or start over. 
With some great one-liners that remind us that life is fragile and beautiful, even when it feels too big, the film has that magic like the previous films: Being There, Forrest Gump and Rain Man. But going a step further with stop-motion animation blends seamlessly with "real world" characters. Among some of the simple but philosophical quotes are:
 On-time: "I couldn't tell you, but the space in my heart gets bigger and louder every day." 
On film: "A documentary is like a movie, but nobody has any lines, and nobody even knows what it is while they're making it."
And fans of the short film series may recognize a favorite on joy: "Guess why I smile a lot. Why? Uh, cause it's worth it."
Slate and Rosselini are pitch-perfect as mollusks that love 60 Minutes, and a cameo from the news program tops off a delightful romp in living life. Connie helps remind Marcel that the seasons change and that taking risks is the best part of being alive. The lessons we learn from our elders and how we approach intergenerational trauma are built into sweet words and funny moments. Anyone who has felt othered in this world may find a way to connect and relate with this mollusk family. 
Overall the film reminds us that sometimes big ideas come in minor forms but that love and opening up is the only way to live fully. Embracing one's community is not just a key to survival but a way to surround yourself with love. And a reminder that who you are is unique and where you are is exceptional, and life's joy is recognizing that you matter.  One can also learn and appreciate a message by supporting smaller films and smaller festivals in a society that expects only big blockbusters. 
A24 has not embraced many PG movies, so the fact that this one is such a great success may help pave the way to more small films (not just small shells) that uniquely capture the zeitgeist. It also reminded me of the type of film festivals I appreciate. Sure, the market fests are fun to see; the big films guaranteed a release in the theater anyway, and yes, meeting hundreds of new people in the industry is a delight. But attending your local, regional film festival does something else. It invests in the community. It creates special moments to connect with someone you wouldn't otherwise. Indy Film Festival is one of those festivals that do it for the love of film but also the love of their community. This non-profit paired up an all-volunteer organization with another non-profit, Kan Theater, to launch its first in-person festival since 2019. 
Check out what film festival is in your backyard. People give thousands of volunteer hours to these organizations not just because movies are fun to highlight but because the spirit of their city or town serves as a backdrop to the culture. Like Marcel the Shell reminds us, having an audience is one thing but building up a community is quite another. Support local before it disappears. Film festivals are one of the ways to keep your home unique. Homogenization in theaters is happening across the country, with countless chain restaurants and multiplex theaters serving the same studio films borrowing on nostalgia to keep you going. But film festivals celebrate unique storytelling and unique conversations around them.  
Bad news bombards us daily and films reflect a darker edge. It's easy to get twisted up and hate someone who hates someone else. But a reminder to stop and smell the roses is what the film does for us. It helps us empathize, connect with someone different from us, and find commonalities to appreciate. But as much as an adult may take away from the film, kids will enjoy it for the surface-level comedy. 
Marcel the Shell with Shoes On premiered at Telluride in September 2021 and closed its fest run at Indy Film Festival on June 15. See the original short film here. The feature is on demand on June 24 by A24.
– Melanie Addington (@MelAddington)
2022 Indianapolis International Film Festival; Dean Fleischer-Camp;  Marcel the Shell with Shoes On movie review