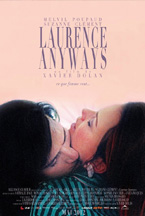 (Laurence Anyways is now available on DVD
and 2-disc Blu-ray
through Breaking Glass Pictures. It world premiered in Un Certain Regard at the 2012 Cannes Film Festival. It also screened as a Special Presentation at the 2012 Toronto International Film Festival. Visit the film's official website to learn more.)
For Quebec filmmaker Xavier Dolan, more is more is more. With each new effort, Dolan has deepened his vision, expanded his scope and breadth to include more ideas, emotions, characters, stuff. In his first, I Killed My Mother (J'ai Tué Ma Mère), a teenage Dolan barked, yelped, and squawked at his mother (Quebec actress Anne Dorval) who responded in kind while the Dolan stand-in grappled with his newfound sexuality and his mother's reaction to it. In his sophomore effort, Heartbeats (awkwardly translated from Les Amours Imaginaires), the familial relationship was exchanged for a young-love-triangle, frivolity, endless slo-mo, French New Wave nods, essentially a hyper-stylized music video chic. Here, Dolan allowed himself to float between the real and magically real; lust expressed as The David (Neils Schneider) bathed in marshmallows against a sky-blue backdrop. These two films are set in his native Montreal and indeed exhibit the city's best characteristics: a North-American base with European inflection.
Third comes the new Laurence Anyways. This time set in a nostalgia-soaked early '90s Montreal, Dolan delivers a sprawling nearly three-hour venture about a man who wants to become a woman and the toll this takes on his relationship with his girlfriend. It often seems Dolan has put everything into this film: every imagined scene, gesture, song, place, perhaps every thought that's popped into his head. And though this can result in over-indulgence, Dolan has managed to stitch together a world teeming with love, loss, family and its myriad entanglements, romance, vibrant colour, shape, sound… pretty much everything.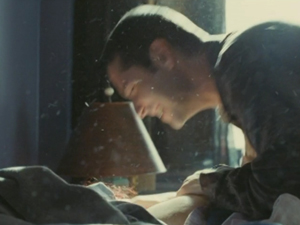 Laurence Alia (French actor Melvil Poupaud) is unsatisfied. He is content with his girlfriend Fred (Suzanne Clément) and his post as a teacher, but there is the perpetual nagging sensation that something is amiss. After struggling in solitude for what he later describes as an eternity, Laurence finally confesses his urge to Fred while they sit in a car wash. The machines whirr and whiz past, light comes, and moves away. It's an inspired setting for such a scene, and wonderfully adds to the feeling of claustrophobia and urgency of the confession. Fred is understandably shocked and talks with her sister Stéphanie (Monia Chokri), who offers sardonic one-liners, and little else. But with a love-conquers-all-ethos, Fred jumps on board, sending Laurence's journey into motion.
People are quick to show their liberal minds and open hearts. When standing in line in the cafeteria, a colleague quips gleefully, "It's a revolt," to which Laurence replies, "No, it's a revolution." Fred too becomes swept up in Laurence's transformation. She sits by his feet in a bathroom bleached white by the sun watching him apply makeup, looking on with a mix of tenderness and wonder.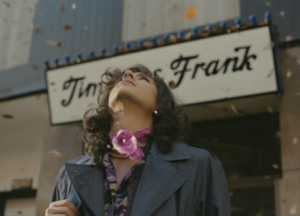 Laurence's world, the people around him, want to be strong enough, human enough, to support him in this transformation, but as one group begins to recede, the rest follow suit. Trouble at work, trouble at home, and through all of it, Poupaud's physical transformation continues, mainly exemplified by the lengthening of his hair but also apparent in his gait, in his stare, in the way he sits, stands, breathes. Laurence needs Fred (an ingenious name reversal, both are unisex in French, and so the names are interchangeable), and Fred loves Laurence unconditionally, but over time she is broken down. In a wrenching scene, an elderly waitress cannot help but peep, asking about their personal life, how hard it must be. To an outsider, it's no more than a novelty. Fred erupts, plates crashing, a voice passed rage and into grief, having lost all control, letting the years of frustration seethe from her pores. The waitress is stunned, could never have known the anguish and resentment this process has created in this woman. Fred is over the top, but so is the situation; the melodrama fits the context, the opulence overwhelms, and then satisfies.
Their love, so pure, is finite again—human—and they separate. Through it all, Dolan bombards the audience with every music genre, Prokofiev to Duran Duran to Celine Dion, as well as every costume, hair style, camera angle he can conjure up. At times, the artifice can overshadow such as with the one-dimensionality of Chokri's character or the "Grand Dames" Laurence takes refuge with at various points in the story—the ladies are all tell, no show. In a film twice as long as its counterparts, it can be said to be guilty of leaving everything in. Dolan proclaimed his frustration in May when not being accepted into the main competition at Cannes, alongside the likes of Haneke and Kiarostami, and being relegated to the "Un Certain Regard" sidebar for the second time. (It should not go without saying that Dolan having three features in Cannes before the age of 24 must be a record and is an incredible achievement in itself.) Perhaps an older, more experienced filmmaker might have trimmed in places (Dolan is the editor as well) but Laurence unapologetically excises nothing; it assumes the legitimacy of each frame.
Dolan did not set out to make a small movie. He made an epic, and the validity of this choice is reflected in the relationship it depicts. Laurence and Fred are soul mates and that love grows and shrinks, becomes toxic and then purifies, dies and comes back to life. After they reunite for the first and likely not the last time, running down the street in suburban Quebec, real time is slowed, music plays, clothes begin to fall from the sky. Square, unforgiving grey brick houses give way to the torrent of green shirts, purple sweaters, red pants and blue socks that shower them in a euphoric, if brief, filmic miracle. Again, Dolan proves that, to him, "exuberance is beauty."
— Jesse Klein