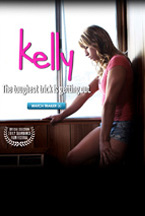 (Kelly world premieres in the Documentary Competition section of the 2012 Slamdance Film Festival. It screens on Sunday, January 22nd, at 11am, and Wednesday, January 25th, at 5pm. Visit the film's page at the Slamdance website for more information.)
"When you first met me, you looked at me up and down, you looked at my boobs and you looked between my legs, you looked at my ass and you wondered. What did you wonder?" Kelly is a pretty, girly early-20s transsexual with a laid-back demeanor and the cool confidence of someone who doesn't back down from fights. She tells the typical story of a small-town anomaly coming to Hollywood to be around kindred spirits, but quickly starts to reveal the eccentricities of how she sees herself and her life in L.A.
She launches into an unlikely, yet—with Kelly's assured spin—almost plausible rationalization for being a prostitute. In her mind, she's a celebrity—a person that people admire and want to get close to: "Any day I wanna be a star I can be." And in truth she's endlessly entertaining, full of dreams and unrealistic ambitions that she's not at all hesitant to express. She has tart judgments for all and sundry; particularly her Johns (she has a merit scale that correlates with how much they pay her).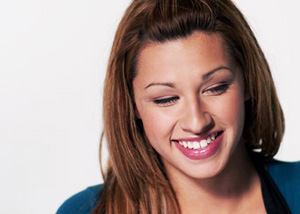 Particularly interesting is Kelly's self-image as a transsexual, far from the tragic character of yesteryear. "I'm a very big sensation to a lot of people," she confides, with a sparkling smile for emphasis. "I'm a real transsexual." Her body image is as extravagant as her non-sequiturs: she's dubious about dinosaurs once roaming the earth ("you believe that shit?"), and she freely reveals some shocking details about her feminine habits.
Director James Stenson intercuts the highly entertaining interview footage with fast-mo hidden camera shots (with the Johns' faces dutifully pixelated), giving the viewer a somewhat more prosaic look at a day in the life of Kelly.
A bust for prostitution leaves her incredulous and defiant. She talks a good game, but we see her dark roots and eyebrow stubble growing out. She stops paying rent, and even her boob starts "leaking hormone." She's afraid to advertise for clients and starts spending idle time scoring and smoking meth. "Jesus how can I be this pretty and be this bored?"
The contrast between Kelly's imagination and her reality becomes clear as she directly contradicts what she'd said earlier, talking about how horrible her family life was. A kind of vulnerability emerges—she has given too much of herself to those she loved: the man who pimped her out and cheated on her (whose initials she has tattooed on her lower back), and the best friend who first got her involved in prostitution— and then took her money and abandoned her.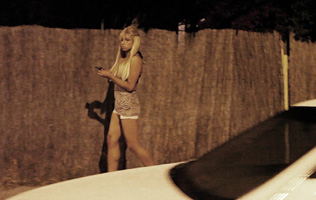 Kelly's mother gradually emerges as an off-screen character, from Kelly's descriptions and their phone conversations. When Kelly returns home to North Carolina to visit, her thoughts and beliefs and versions of events—the externalized inner monologues from the first part of the film—are seemingly put in check, as mom apparently sets the record straight. But the lurid accusations and counter-accusations thicken like a simmering pot of grits. Stenson cleverly cuts back and forth between mother and daughter in a way that mirrors his earlier cuts between Kelly and herself. And mom's side of the story starts to smell a little off as well. When she confidently assures us that "I know one day he (Kelly) will grow out of it," it becomes clear where Kelly got her propensity for fantasy and self-deception.
Much more than just a sensational story of prostitution and transsexualism, Kelly is about molding an identity (where better than L.A. to do so?), as well as being an archetypal, messy and complicated mother-daughter story. It's about the powerful spirit, internal contradictions, and often delusional approach to life of a woman living on the outer edges of society, with the courage to expose it all.
— Paul Sbrizzi