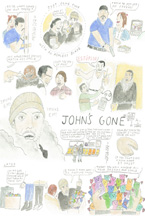 (John's Gone is available for streaming at Fandor through the end of January 2012. It world premiered at the 2010 Venice International Film Festival and continues to screen in short film programs at festivals everywhere—SXSW, Sarasota, etc. Watch the trailer. NOTE: This review was first posted on March 29, 2011.)
I met the Safdie Brothers maybe four years ago. I was working as the office manager at an indie film production company and they "took a meeting" with my boss. They were young, very young (and they still are), but they were about their father's business alright. They were pitching a feature film that, if I remember correctly, involved a child getting lost at the beach, and having mostly whimsical, and some frightening, adventures, before eventually being recovered by the parent. I don't think they ever made that film. Maybe the script still languishes in the office of Red Bucket Films, their film collective that now has a whole slew of short films and two features to its credit. Or maybe it became Daddy Longlegs, their remarkable, emotional story of two kid brothers spending a leave of absence with their incompetent, idiosyncratic father. Ronald Bronstein plays the dad, Lenny, with a manic desperation that made me wince. He is fascinating to watch, but when he drugs his sons in lieu of securing a babysitter it gave me an ache in my ovaries. Their mother is reduced to the nagging voice of reason, whose choice to marry up and provide a stable home for the boys is as laudable as it is stifling. It's the old conundrum: with one parent they get fun, creativity, and borderline child abuse. With the other they get their basic needs met.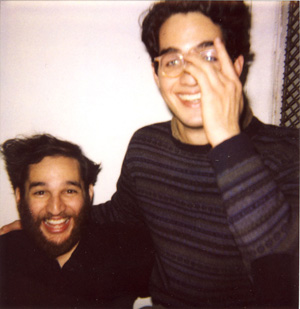 The Safdies have said the film is inspired by their own childhood, and it bears the sting of truth. It is also a fucked-up love letter to New York, when it was still particular, gritty, and vigorous. Even the scenes where Lenny is mugged, or arrested for a laughable bit of graffiti, have an almost sentimental feeling. This is fed by the aesthetic choices of the Safdies. They employ a deliberately lo-fi aesthetic in everything from the credits to the production design, but it's their camerawork I find most striking. I am also an analog person, and I was tickled by their website's pronouncement: "We always begin on paper. That's what we were taught. Nothing nicer than a blank piece of paper and a pen in your hand. That is absolute freedom. Anything can go from there." That sense of liberty carries over into their film work, which is formally rigorous but technically freewheeling. In other words, if you are raised by a cinephile father in what used to be New York, you can pick up a camera and make a film and it won't be YouTube, it'll be Cassavetes.
The Safdies' career is a funny one. Just barely out of college, the brothers were soon showing films at Cannes, Sundance, SXSW, and Venice. They've been featured in a New York Times fashion spread, tricked out like an erstwhile circus sideshow. They've even curated a BAM retrospective, "Emotionally Sloppy Manic Cinema," all of this in their early twenties. The most recent addition to their canon is the short film John's Gone, which I saw at SXSW. It was falsely programmed in what I thought was a rather weak lineup of (not so) short films, which included an AFI thesis about an older female swimmer's mythical romance with a pool lifeguard, a confusing adolescent tale set at a Scottish boarding school, and the Spike Jonze/Arcade Fire collaboration Scenes From The Suburbs.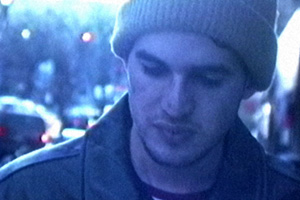 John's Gone was the clear standout. If there's a plot, it concerns John (played by Ben Safdie), a mouthy haggler who hawks his stuff and fumbles from one interaction to another. It's mundane and yet inexplicably compelling. I imagined it as a sort of sequel to Daddy Longlegs, seeing traces of Lenny's DNA in John's indifference to his girlfriend, and in the way he scrapes out an existence for himself on the fringes of New York. He sprays for cockroaches in the hall, sells his speakers to teenagers (one of whom is carrying a monkey in his backpack), and watches boxing with his buddy. Emotion is distilled into that last scene, where John begins crying furiously over his dead mother. The film closes with the Abner Jay song "I'm So Depressed," and the strangeness and lyricism of the 22-minute film really begin to soar. I didn't want it to end.
What the Safdies seem to capture best is the jazzy chaos of New York. The streets and apartment hallways never seem like sets, in part because of their permit-free shooting style. Their films are also, for lack of a better word, ethnic. My most frequent complaint with independent films is how white they are (a recent sensation, concerning a young woman's coddled Tribeca ennui, will go unnamed). In contrast, the Safdies give screen time to a diverse cast of characters, which in John include an angry Chinese food delivery guy and the guitar-strumming neighbor Esteban. Crucially, John is no hipster, marveling at the multicultural mélange of his gentrifying neighborhood from a distance. The people in his life just are. The Safdies are apparently working on a new film, Uncut Gems, partially based again on their father, but this time it's his experiences working in Manhattan's diamond district as a non-Orthodox Jew that are the inspiration. As John's Gone shows, they can tease a great film from spare source material and resources. I can only imagine what they'll do with Hasids and diamonds.
— Susanna Locascio