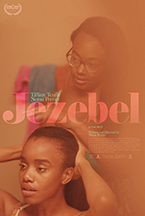 (The 2019 SXSW Film Festival ran March 8-17 in the fantastic city of Austin, TX. Like what you see here on Hammer to Nail? Why not pay just $1.00 per month via Patreon to help keep us going?)
The webcam industry has come a long way since 1998. But one thing that hasn't changed is the perspective of the women on the other side of the computer: This is a job. Some may be particularly skilled at making their customers feel special, and they may genuinely appreciate the occasional gifts, but for most of these women, it's not a passion project. It's a means to an end, and that end is keeping the lights on. Writer/director Numa Perrier's semi-autobiographical feature, Jezebel, is not just a coming-of-age story but also one of entering the workforce as a woman.
19-year-old Tiffany (Tiffany Tenille) lives in 1998 Las Vegas, where she shares a microscopic apartment with her older sister, Sabrina (played by Perrier herself), their brother Dominic (Stephen Barrington), their youngest sister Juju, and Sabrina's boyfriend Dave (Bobby Field). They are crammed together like sardines in what they clearly thought would be a temporary situation, while their mother ailed in the hospital. To make matters more awkward, Sabrina works nights as a phone sex operator, keeping everyone awake through the paper-thin walls. But when their mother dies, the other siblings must find work to help pay the rent. Dominic and Dave shirk their responsibilities immediately, and Juju is too young for employment. That leaves Tiffany, who is at a loss as to where to turn for her first job. But Sabrina knows of a burgeoning industry called "internet modelling" which offers good, fast money and doesn't require any face-to-face contact with customers. Tiffany decides to try it on, and Sabrina boosts her confidence with a little makeover involving the "Jezebel" wig; long, flowing black tresses which frame her face in a more grownup way than her youthful 1950s pinup bangs.
Tiffany is timid when she first arrives at the adult webcam headquarters. It doesn't help that her "interview" is with a guy named Chuck who barks a series of questions at her before asking her to strip and give the 360 view. Chuck isn't exactly a nice guy, but it's clear that he is more interested in a successful business than he is in his female employees. Tiffany is green, but she would fill a niche as their first black model. Chuck hires her on the spot and puts her right to work, offering $15/hour plus bonuses earned from "private chats". Chuck's sister Vicky (Zoe Tyson), who is both model and middle management, trains Tiffany on how to please their customers without getting slapped with a prostitution charge. They rely heavily on the streaming "delay" and lack of sound to convincingly simulate their customers' racier requests. Tiffany even has a little fun with it at first, giggling at what she and her fellow models can get away with. But her morale lowers when her boss refuses to ban a racist customer because he's "one of their best". Her mostly white colleagues are unsympathetic because they "get called names too". Tiffany considers her options when she meets two of Chuck's former employees who have struck out on their own because they were tired of working for The Man.
Tenille stuns in her feature debut, conveying an ocean of emotions with a single glance. Perrier relies heavily on close-ups and Tenille fills the screen with her presence. Perrier also performs a magic trick of direction every time she captures the female body in various stages of undress. Yes, these are beautiful women, but they own their beauty and their bodies. Her camera is a doorway, and the male gaze is a vampire who does not have permission to enter.
The most moving scenes are the ones which Tenille and Perrier share. There is little dialog, but through their glances and half-smiles, they convey a lifetime of history and tension, of unconditional love and tragic loss. They don't need to speak for the audience to feel the depth of their relationship.
The judgmental, unsupportive attitude from the men in their lives is appalling but predictable. They don't want Tiffany and Sabrina to do work they consider demeaning, but they don't want to do any work themselves. Through the struggle, Tiffany learns to see what Sabrina does in a new light, and they develop of bond of mutual respect.
Jezebel is a drama, but Perrier manages to show the humor and empowerment in Tiffany's profession. Though there is darkness, it is also an opportunity for women to control the interactions and hold agency over their bodies. They don't make a ton of money, but it's enough. In some ways, it's less demeaning other jobs one could get with little experience. It's a career with a short shelf life, but the lessons on confidence and self-assertion will stay with Tiffany forever, and serve her well in every facet of life. Many women can get fast cash this way, but it's not "easy" money. The amount of emotional work and performance they put into it, as well as having to be constantly on guard can take its toll. Jezebel shows that much of womanhood – especially for women of color – involves emotional compartmentalizing. Tiffany is Jezebel but she is also Tiffany. She must constantly gauge and calibrate her personality based on her environment. It's the single most important skill any woman can learn, regardless of our chosen profession.
Like what you see here on Hammer to Nail? Why not pay just $1.00 per month via Patreon to help keep us going?
– Jessica Baxter (@tehBaxter)