IZZY GETS THE FUCK ACROSS TOWN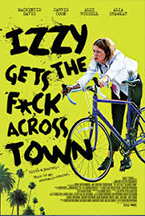 (Christian Papierniak's buzzed about feature Izzy Gets the Fuck Across Town is in theaters starting June 22 via Shout! Studios .)
It's worth noting that first-time film director Christian Papierniak has a background in video games because that's a bit how Izzy Gets the F*ck Across Town plays out. When Izzy (Mackenzie Davis, Halt and Catch Fire) learns her ex-boyfriend plans to marry her former best friend, she decides it is her destiny to crash their engagement party. The problem is that Izzy's car is as broke as she is. In L.A., no wheels mean that 5 hours might not be enough time to get from point A to point B. Izzy does her level best to squeeze favors out of people who don't support her cause and are have clearly grown tired of her shit. But she's in a race against time to get to Los Feliz before Roger is officially off the market (never mind the fact that an engagement party is not as binding as an actual wedding).
Papierniak's protagonist is the manic pixie girl minus the dream. Izzy is a twenty-something lost soul convinced that getting back together with her ex is the answer to her ennui. Davis imbues what could have been a one-note character (the "hot mess") with depth and occasionally invites empathy despite her myriad poor decisions. Izzy could be a precursor to Gillian Jacobs' character on the Netflix series, Love. Once upon a time, Izzy was a big deal in the local indie rock scene, but now she's relegated to the service industry. When she wakes up in bed with an (albeit very charming) stranger, she retains no memory of how she got there or how she soiled her work uniform with wine (and possibly blood). None of that matters anyway, because young Izzy is driven by Providence. In fact, it is a postcard from the Road Island capital hanging in her hook-up's bathroom which convinces her that it's her destiny to reconcile with her ex on the eve of his engagement to someone else. You see, the party is on Providence Road.
Broken into 10 riveting vignettes, the people Izzy encounters on her mission represent a side of L.A. rarely seen in film. Not everyone in the City of Angels is a wanna-be movie star. There are also eccentric old ladies (Annie Potts), hipster meth-heads (Alia Shawkat), and well-read helicopter pilots (Lakeith Stanfield). Izzy works her way down the list of friends, entreating them to loan her the compulsory cash or wheels to reach her destination. Along the way, she organically reveals her troubled back story. Papierniak unfurls a delightful ensemble to portray Izzy's exasperated loved ones. In addition to Potts, Shawkat, and Stanfield, Haley Joel Osment, Rob Huebel, and Carrie Coon season the 86-minute romp to taste.
Papierniak scores the film with a throw-back riot grrrl soundtrack that echo Izzy's internal monologue. In the film's best scene, Izzy finds herself unwittingly reuniting with her former collaborator who also happens to be her sister, Virginia (Carrie Coon). The residual tension between them is palpable. Virginia left the band to start a family with Bennett (Rob Hubel), but apparently poor judgment runs in the family. When Izzy arrives at their house, she busts Virginia mid-adulterous coitus while a cocktail party distracts her sweetly oblivious husband. Izzy's attempt to blackmail Virginia into loaning her car leads to Bennett's insistence that they play "that song [they] used to close their shows with" for their party guests. The women reluctantly launch into "Axemen" by Corin Tucker's seminal feminist punk band, Heavens to Betsy.
It's here that the price of admission pays off because the sisters manage to kill their impromptu performance whilst simultaneously engaging in conversation using only their faces and vocal intonations. The scene is a calling card for the power and screen presence of both Coon and Davis. When the credits rolled, I went back and watched that part 2 more times.
– Jessica Baxter (@tehBaxter)