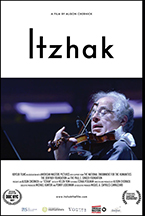 (The Annapolis Film Festival ran March 22-25 in, you guessed it, Annapolis Maryland. We have a slew of reviews coming your way so keep your dial tuned to HtN!)
From director Alison Chernick (Matthew Barney: No Restraint) comes a new documentary, Itzhak, a portrait of world-renowned violinist Itzhak Perlman (b.1945). Mixing archival footage with material from the present day, Chernick accompanies her subject from his origins as a hard-working child prodigy to his current status as icon of the classical-music world (and beyond). If we didn't know it, already, Perlman is more than just a brilliant musician (though that would be enough), but also a generous teacher, as well as a poster child for overcoming physical disabilities. He is well worth the attention, and makes a most engaging protagonist.
Born in Tel Aviv, Israel, Perlman contracted polio at a very young age, subsequently losing mobility in both legs. With the utmost love and devotion, his parents refused to let this infirmity define their son, and sacrificed almost everything to make room for music lessons. Perlman's very visible handicap, however, made some early teachers wary of investing too much effort on him – how good could a "cripple" ever be, after all? – but still Perlman blossomed. Then, at 13 years of age, in 1958, he appeared on The Ed Sullivan Show, where he wowed both host and audience, and this led to the chance to study in the United States. Once here, he found a champion in Juilliard professor Dorothy DeLay. Thanks to her guidance and oodles of his own hard work, Perlman grew into the virtuoso, still as active as ever, that we now know.
He also met Toby, the woman who would become his wife, mother to his five children, and constant partner. Watching their interaction as a couple is one of the highlights of the film. She was also trained as a violinist, so they have much in common beyond their many years together, and she advises him on his playing, their music school, and more. They also love dogs, and have many sweet interactions with their two current canine companions. Another great appeal of the movie is hearing Perlman play, whether it's something by a famous composer or more popular pieces like "Take Me Out to the Ball Game," "The Star-Spangled Banner," the theme from Schindler's List or an Irish jig at a Billy Joel concert. There is nothing, it seems, that the man cannot do.
Made for the PBS "American Masters" series, the film is without striking innovative flourishes, but knows the story it wants to tell and tells it well. It's therefore not only a wonderful film for lovers of Perlman and classical music, but also for those who just like solid, good cinema. Watch it, listen to the music, and experience the joy of Perlman's genius.
– Christopher Llewellyn Reed (@ChrisReedFilm)