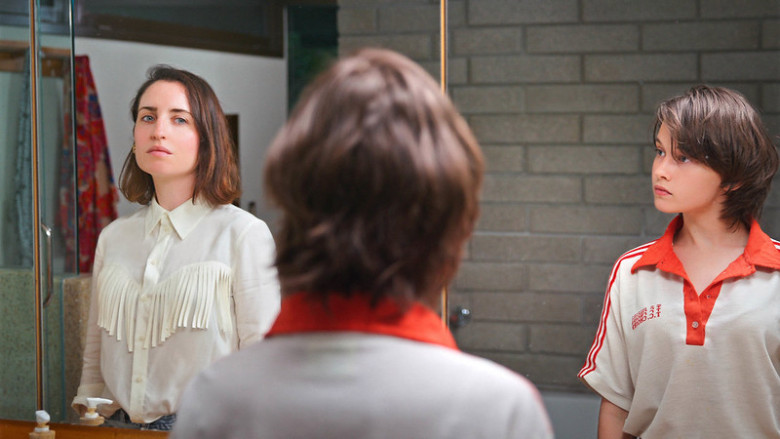 (The 2021 Sundance Film Festival runs January 28- February 3, all virtually as well as with drive-ins sprinkled around the U.S.. Hammer to Nail is bringing you a ton of coverage so, keep coming back! Like what you see here on Hammer to Nail? Why not give just $1.00 per month via Patreon to help keep us going?)
What starts off as a tedious premise of actors bored by the pandemic so they make a movie really warms up at this end of the world dramedy from Daryl Wein and Zoe Lister-Jones. With a stellar cast that appears to have a lot of fun with part script (part improv), How It Ends ignores the pandemic (while filming through it) and focuses on a meteorite about to end the world. The film poses the question: With only a day left, what would you do with it?
For Liza (Zoe Lister-Jones,) she chooses to wander the city with her inner child who is a stand out played by Cailey Spaney (Devs). Spaney pushes older Liza to resolve inner turmoil with parents, friends, boyfriends and exes with some surprise run-ins along the way. The plot easily allows for characters to be set far apart, dashing through the empty streets and to take in some sunshine on a final day. But knowing it is filmed during a pandemic, I wonder how future audiences will forgive the lack of human physical touch in the film. Will we really not hug on the final day?
There are plenty of great cameos from Charlie and Mary Elizabeth Ellis Day, Glenn Howerton, Nick Kroll, Fred Armisen, Finn Wolfhard, Bradley Whitford and Helen Hunt (as her parents), Whitney Cummings and Olivia Wilde plus many more pop up guests. LaMorne Morris steals the spotlight in his scenes and the female friendship chemistry between Wilde and Lister-Jones feels truly genuine.
Mostly in the end everyone wants to create art or smoke pot and party and honestly, the director duo likely has it right. It's a softer, kinder end of the world than any disaster film and it is also a nice chance to dream and ask yourself, what would you do? Who would you make sure to say goodbye? How much marijuana would you buy from the dispensary? What clothes would you bother to even wear? But also, in a heartwarming turn, who do you need to say you love one more time? It's a universal message that appeals anytime but right now as we miss human connection, How It Ends provides us with a glimpse at one.
– Melanie Addington (@MelAddington)