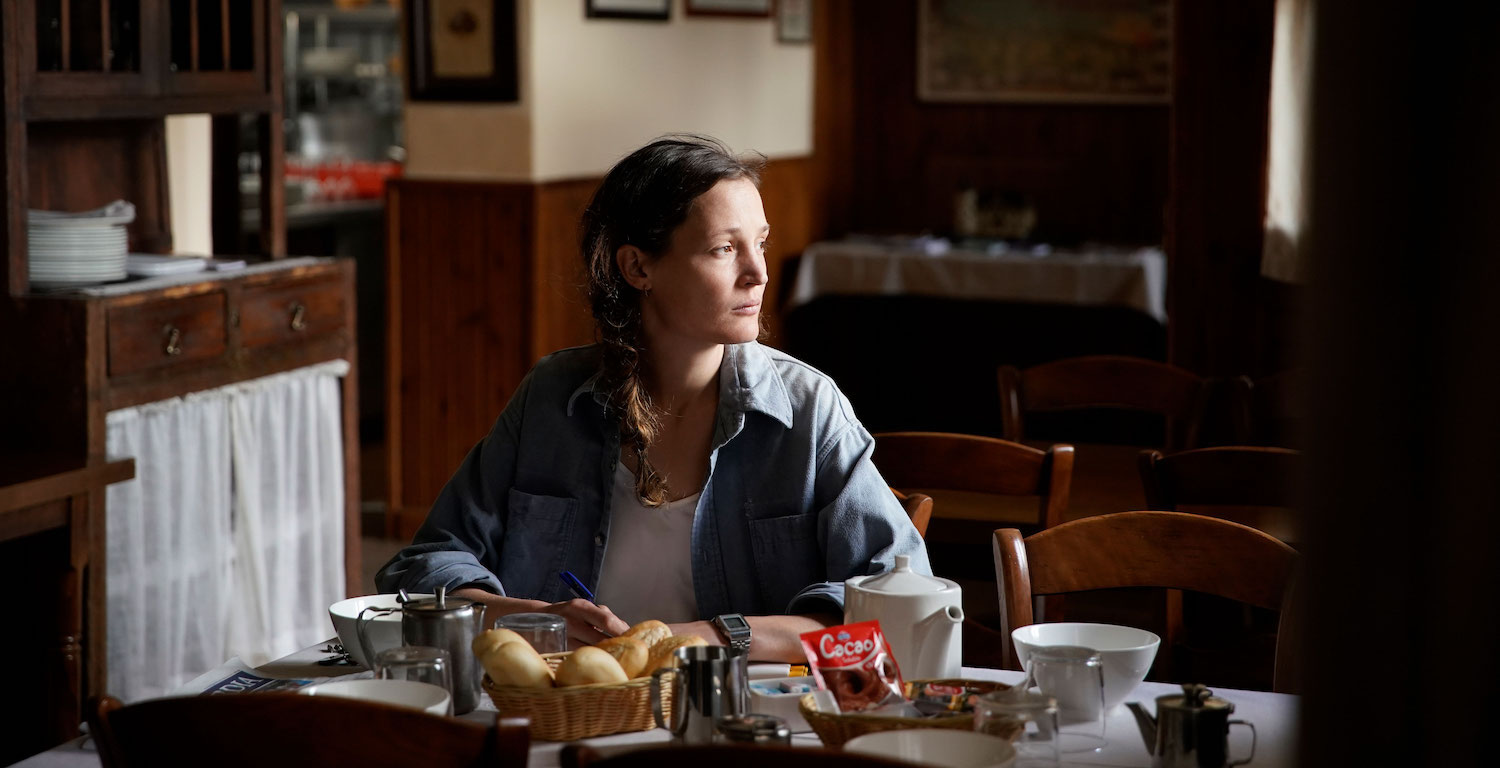 (Check out Ray Lobo's movie review of Mathieu Amalric's latest film Hold Me Tight is in select theaters now. Seen it? Join the conversation with HtN on our Letterboxd Page.)
The melancholy that runs through Hold Me Tight is a distinct one. It is the melancholy of waking, reaching over to feel the comforting warmth of one's partner, and realizing that they are not there. The prolific Mathieu Amalric (The Diving Bell and the Butterfly, Venus in Fur, The Grand Budapest Hotel) is behind the camera this time instead of in front. While it is not his first attempt at directing (The Blue Room), Hold Me Tight may be his most assured. And goodness, does he make good use of his talented actors—Vicky Krieps (Phantom Thread), Arieh Worthalter, Anne-Sophie Bowen-Chatet, and Sacha Ardilly.
Clarisse (Krieps) is the glue that holds the story together. She seemingly walks out on her husband (Worthalter) and kids (Bowen-Chatet, Ardily). Clarisse embarks on a road trip to a mountain lodge. We are not sure why she is going there, but we cannot help but notice a deep melancholy residing in her. She listens to tapes of her daughter practicing scales—one cannot help but be reminded of one of 2021's best films, Drive My Car. She imagines how her husband is coping with the care of their children. The answer, we learn from scenes depicting increasingly erratic behavior by both husband and kids, is not well. And, speaking of erratic behavior, Clarisse surpasses all of them. She engages in drunken unwelcomed hugging of strangers at bars. She even buries her face in the ice of a fish display at a market. If she is so deeply yearning for her family, why did she abandon them? That is the mystery at the heart of Hold Me Tight. It is a mystery that draws you in.
Admittedly, it takes a while to get into the flow of Hold Me Tight. This is due to the fact that Amalric fractures the narrative by going back and forth between Clarisse's journey and her husband's struggles with the two children. Around the forty-minute mark, however, everything clicked for me. In fact, what initially annoyed me about Hold Me Tight—the disjointedness of the storytelling leading to its unsteady rhythm—became the film's most satisfying aspect. Pacing in storytelling is an underappreciated component; it acts like the right amount of salt in a dish. If the pacing is not right, the film feels off. With Amalric, you are in good hands. In fact, in a flourish of bravura, Almaric picks up the pace toward the end of Hold Me Tight; and in terms of the story he is trying to tell, it works.
It is not lost on me that Amalric is telling a quite simple story that is enhanced by the trickery of narrative fracture. The story's undeniable simplicity is a fair critique; however, one that is not fatal to Amalric's project. Hold Me Tight works and it keeps the viewer interested in Clarisse's journey. Saying much more about film would ruin the story. It is a film in dialogue with the aforementioned Drive My Car and It's a Wonderful Life. While Hold Me Tight may not be in the same sphere as those two films, being in their company is quite the achievement.
– Ray Lobo (@RayLobo13)
Mathieu Amalric; Hold Me Tight  movie review