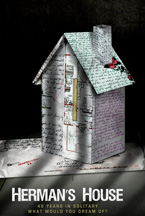 (Herman's House is now available on DVD through First Run Features. It world premiered at the 2012 Full Frame Documentary Film Festival, before moving on to Hot Docs. Visit the film's official website to learn more.)
***NOTE: On Tuesday, April 17, 2012, Amnesty International is delivering a petition with over 65,000 signatures to the Louisiana State Capitol demanding that Governor Bobby Jindal remove Herman Wallace and Albert Woodfox from solitary confinement.***
"I mean if you stay in a pile of sh*t for such a long period of time you get to the point where you don't even smell it. That's not to say that it's not there." — Herman Wallace
Back in 2001, when New York artist Jackie Sumell first heard about Herman Wallace's situation, she couldn't fathom it. Here was a man who was sent to the Angola prison for 25 years for armed robbery, and after being accused of killing a prison guard in 1972—a crime for which no actual evidence implicated Wallace—he was dumped into solitary confinement for decades. Yes, decades. This revelation inspired Sumell to write a letter to Wallace and ask him a potentially uncomfortable question: "What kind of house does a man who has lived in a six-foot-by-nine-foot cell for over 30 years dream of?" At first, Wallace was taken aback, but having nothing better to do, he began to play along. The resulting relationship not only led to a powerful art installation that has been exhibited in galleries around the world, but it sparked a dramatic life change for Sumell, who committed to realizing Wallace's dream on the outside, as he continued to bide his time on the inside with the patience and humility of a sage.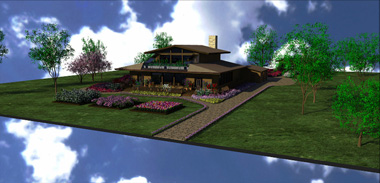 Documentaries about death row tend to follow a similar pattern, but in Sumell, Angad Bhalla has found a fresh conduit into this bleak world. Let it be known right away that most of this can be attributed to Herman Wallace himself, who we never see but who we hear throughout the film in phone calls. As the free souls—Sumell, his sister Vickie—speak to him and admit feelings of doubt and weakness, Wallace talks them back into laughter and hope. Shouldn't it be the other way around?
After Sumell's installation travels the world, she obeys Herman's wish to take his vision to the next level, building an actual house in Louisiana that will provide refuge and shelter for similarly troubled souls. But this is easier said than done. Sumell takes a major plunge, relocating to and buying a house of her own in New Orleans, while searching for a piece of land that will enable her to keep Herman's dream alive.
To be frank, most documentaries that feature comparatively privileged white individuals devoting their time and energy to bettering the lives of less fortunate people of color come off as tacky at best and condescending at worst. In these situations, there is an unavoidably, incredibly thin line between the inspirational and the egotistical. Yet in Herman's House, Bhalla finds a way to keep things from succumbing to the latter. This can be attributed to a few things: his and editor Ricardo Acosta's narrative construction, which covers much ground without ever losing the film's primary thread; Sumell, who proves that she's in this for the long haul; and, of course, Wallace, whose refusal to become bitter or give up is a flat-out miracle.
— Michael Tully