HEAVY GIRLS (DICKE MÄDCHEN)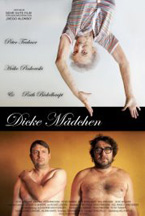 (Heavy Girls—the original title is Dicke Mädchen but we'll use the English translation from here on out—is US premiering in the Narrative Competition section of the 2012 Slamdance Film Festival. It screens on Friday, January 20th, at 8pm, and Tuesday, January 24th, at 7pm. Visit the film's Slamdance page, as well as the official website, for more information.)
Edeltraut is an elderly German woman with Alzheimers, but as imagined by writer/director Axel Ranisch (and exquisitely played by charming 89-year-old Ruth Bickelhaupt) her existence is far from tragic. She lives a playful, childlike existence, imagining things that must be done or that she would like to do and getting gently reined in by her middle-aged banker son Sven (Heiko Pinkowski) and her caretaker Daniel (Peter Trabner). Shot on a simple DV camera with improvised dialog, Heavy Girls has a naturalistic look that could almost pass for documentary, yet there's a subtle cartoon quality to Edeltraut's accidentally punk-rock hair and Sven's thick, oversized eyewear, not to mention a pair of very round male bellies—but more on that later.
Edeltraut and Sven approach life spontaneously, playfully and without much worry—she thinks nothing of putting on a helmet and going for a little joy ride on his motorbike. Their relationship feels organic and symbiotic; Sven soothing his mother's mild but frequent bouts of temper. Sven's hinted-at romantic interest in Daniel comes to the fore when Edeltraut goes walkabout: as they look for her, Daniel gets impatient—partly because his wife keeps calling—but Sven keeps his calm, casually points out the moon, and tries to put his arm around Daniel's waist. Daniel jumps away, upset and confused: "I'm surrounded by idiots!"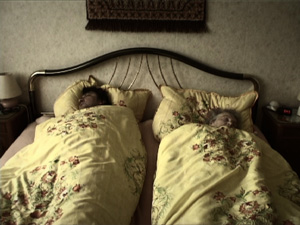 It turns out that mother and son also have a habit of spying on each other, which comes into full flower in a blissfully weird scene at the end of Act 1 (set to an old-Vienna romantic violin solo by Fritz Kreisler that recurs throughout the first part of the film, giving it a Euro-kitschy, old-timey feel). It's a grotesquely beautiful and funny sequence that powerfully expresses the level of understanding and acceptance between them.
Daniel gradually loosens up and gets drawn into the gentle madness. When his suspicious wife kicks him out, he joins in a silly dress-up party with Sven and Edeltraut. Daniel suddenly feels free to cut loose, throwing on a clown suit and doing "magic" that's really just him manically pulling tissues out of a box.
After a sudden, traumatic turn of events, an on-again, off-again relationship of sorts develops between the two men—a kind of romance, more for Sven than for Daniel. On a deeper level, the two men sense in each other the key to a type of escape. In one of the many bizarre scenes that Ranisch and his actors pull off with total credibility, Sven and Daniel have a picnic by a lake which starts out framed against fluffy clouds in a blue sky (a funny nod to the idyll of German Romanticism—with dirt on Ranisch's lens), which Daniel spins into a fantasy of an Australian aborigine ritual. The two men end up chasing each other around, naked and muddy, their matching round bellies bouncing up and down. Running into the water, Daniel raises his fists in victory: "It's the moment of something like freedom."
As the two men become closer, Daniel's son starts to turn up unexpectedly, the embodiment of Daniel's heavy conscience, a living, breathing obstacle to the possibility, for Daniel, of truly escaping his life. The fleshy physicality of the "heavy girls" is thrown together in yet another scene of extreme gorgeous ugliness, this one charged with foreboding.
Maybe in part because of the shooting style, with no crew and a tiny camera, Heavy Girls locks effortlessly into its melancholy/bemused mood and consistently captures the delicate textures of its characters' individuality in all its strange contortions. This is an incredibly intimate film, and it would be hard to overstate just how powerful and accomplished the performances are. Consistently surprising, full of strange twists and odd behavior, but always true to life, Heavy Girls demonstrates with extravagant imagination and clarity of vision how there's nowt so queer as folk.
— Paul Sbrizzi