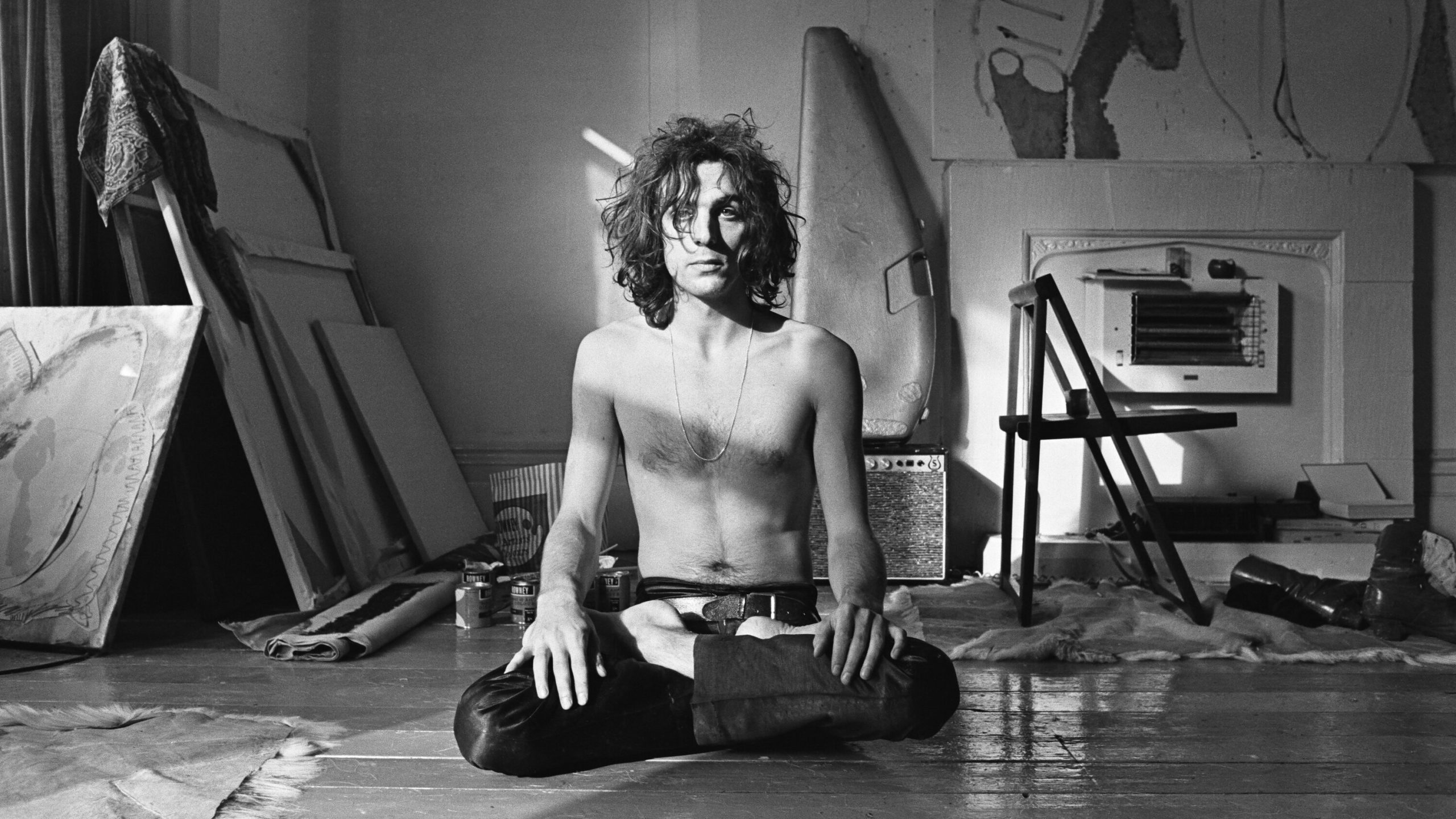 (Check out Jonathan Marlow's movie review of Have you Got it Yet? which opened at the  Quad Cinema (NYC) Friday, 14-July and Laemmle NoHo 7 (Los Angeles) and selected cinemas across the U.S. thereafter. Seen it? Join the conversation with HtN on our Letterboxd Page.)
If your familiarity of Pink Floyd is limited to the bloated, meandering tunes from Dark Side of the Moon or The Wall (or, less likely but more accurately, The Final Cut), there was a considerably different version of the band—songwriting-wise if not entirely personnel-wise—in the beginning. On their whimsically psychedelic 1967 debut, the extraordinary Piper at the Gates of Dawn, their principal songwriter and erstwhile leader was multi-talented poet-and-painter-turned-singer Roger "Syd" Barrett. The reluctant pop-star fronted the group from its earliest days and into its initial travels to the U.S. (for, among other things, visits to San Francisco and New York along with an ill-fated appearance on American Bandstand performing their non-charting single, Apples and Oranges). Barrett participated in a limited fashion on their second LP, A Saucerful of Secrets, and then opted to leave the band, recorded two—undoubtedly brilliant if highly unusual—solo albums in the early-1970s and then abandoned the music business altogether for a life as a recluse at his family home in Cambridge.
In a sense, Barrett (along with Alexander "Skip" Spence of Moby Grape, his Canadian / American near-equivalent) was the proverbial "poster child" of so-called acid-casualty, enough that his nickname became synonymous with LSD. An oversimplification of the situation(s), as so many things tend to be, since Syd (and Skip as well), despite a multitude of other mental and emotional issues, largely found the performative aspects of popular music not to be worth all of the hassle. They did their own thing. Until they didn't.
Despite Barrett's mere handful-of-years as a singer / songwriter, his influence can be heard in the works of Robyn Hitchcock and Edward Ka-Spel of the Legendary Pink Dots (although the latter claims any similarities as incidental, despite appearances to the contrary) amongst many, many others. How could it be that this lone fellow, a bright spark that burned-out ever-so quickly, have such a profound affect that continues to resonate these many years later? Arthur Rimbaud only lived until his thirty-seventh year and yet we still speak of him. At least a few of us, admittedly.
If you've always adored Pink Floyd but know little of the band's beginnings, see V for insights into how it all started. If you've persistently despised Pink Floyd over the years, see Have You Got It Yet? and fathom how a fascinating band went off-the-rails by its sophomore album (or, at least, found parallel rails with a proverbial destination at a far different station). If you already know everything there is to know about Pink Floyd and its co-founder, see Have You Got It Yet? regardless since there are an assortment of moments revealed here that you likely haven't seen nor heard before.
In the midst of the many highlights of Have You Got It Yet?—named, cheekily, for an unreleased Barrett song that changed each time it was played, making the "got it" rather impossible for the other players—is the participation of Storm Thorgeson as co-director. Thorgeson, co-founder of Hipgnosis, was a pre-Floyd friend of Barrett's and his firm designed the album covers of many of the post-Barrett Pink Floyd LPs (along with records by Peter Gabriel, Paul McCartney, Led Zeppelin and numerous others), including the Barrett-inspired Wish You Were Here (aka the "burning man") and the aforementioned Dark Side of the Moon, arguably one of the most recognizable sleeve-images of all time. Thorgeson sits-in on many of the talking-head sequences in the documentary with bandmates David Gilmour and Roger Waters as well as an assortment of friends, acquaintances and fans, asking them pointed questions or eliciting apt remarks. It breaks the usual nonfiction taboo of behind-the-camera folks engaging with (and interjecting in) the on-camera interviewees. These interludes make all the difference and elevate these conversations into an eavesdropping session amongst folks who know all that there is to know. Or at least as much as can be known.
Unusually enough, this is the second documentary released in as many months to feature the work of Thorgeson: Anton Corbijn fairly conventional Squaring the Circle, in selected cinemas a handful of weeks ago, documented the history of Hipgnosis and the collaborations of Thorgeson, Aubrey "Po" Powell, Peter "Sleazy" Christopherson and their assorted co-conspriators. Thorgeson passed away long-before either of these films was completed (by a decade) but he was fortunately still around when the earlier Taken By Storm: The Art of Storm Thorgeson and Hipgnosis was released, directed by Have You Got It Yet? co-director Roddy Bogawa. What went around comes right back around again. Right back to where we began.
HAVE YOU GOT IT YET? movie review (2023) dir. Roddy Bogawa, Storm Thorgerson  [94min.]  Abramorama + Mercury Studios et alia
– Jonathan Marlow (@aliasMarlow)