GUILLERMO DEL TORO'S PINOCCHIO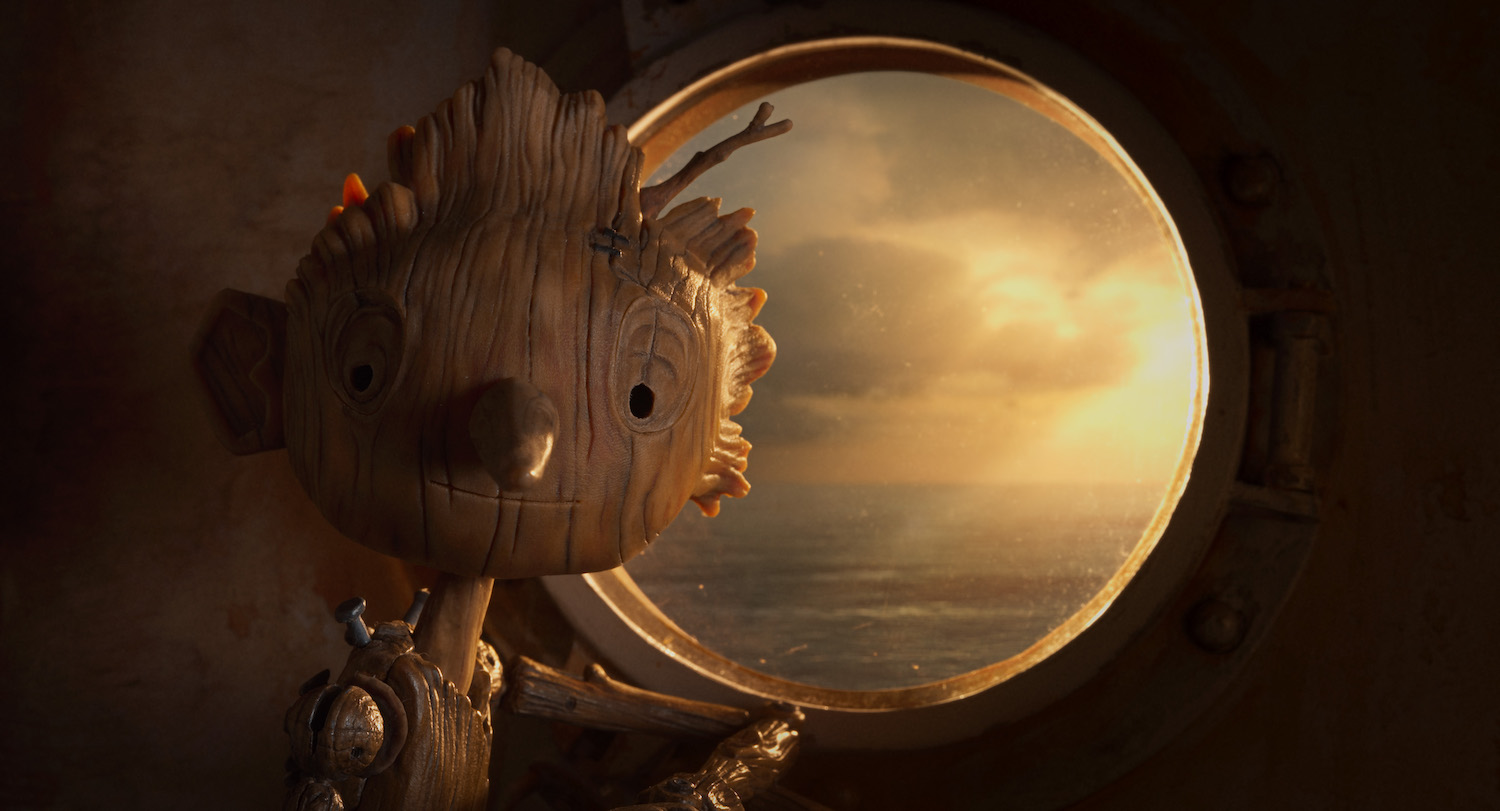 Tuscan writer Carlo Collodi published The Adventures of Pinocchio in 1883, and since then the tale has seen many adaptations on the page and screen, the best-known of which is probably Walt Disney's, released in 1940. Now, in late 2022, comes the second of the year's newest cinematic versions (the first by Robert Zemeckis, and not very good at all), this one from director Guillermo del Toro (The Shape of Water). Working with stop-motion veteran Mark Gustafson on what is officially entitled Guillermo del Toro's Pinocchio, del Toro has created a stranger, sadder and more twisted take on the classic narrative, simultaneously honoring tradition and updating it in his own inimitable way. Expect the unexpected through the prism of the familiar.
With a score and songs by composer Alexandre Desplat (The Sisters Brothers), this is every bit still a musical, though very unlike its more famous mid-20th-century predecessor in eerie charm. The same holds true for the design of the title character himself, inspired by illustrator Gris Grimly's 2002 Pinocchio book, which features a spindlier—and certainly far less human—vision of what a wooden boy would look like. The story's narrator, Sebastian J. Cricket (rather than "Jiminy"), is similarly created more in the image of an actual insect (though certainly a clothed one).
All of this greater visual verisimilitude (if of a heightened reality) fits nicely into the harsh climate of the Fascist Italy of World War II, which is where del Toro sets his movie, placing Pinocchio's unconventional existence in a universe where such idiosyncrasies are frowned upon at best, or destroyed at worst. The stakes are high, and also extremely relevant to the human experience, both of the past and present day. With totalitarianism seeing a 21st-century boost, this fairy tale grounds itself in the terrifying dangers of the mundane.
In a deeply poignant opening sequence, widowed woodcarver Geppetto (David Bradley, Jolt) loses his young son Carlo to an airplane's casual discarding of a live bomb, leaving him thereafter despondent. Depressed and drinking too much, he eventually carves a wooden boy from a pine tree he had planted while Carlo was alive. It so happens that our cricket guide (Ewan McGregor, Zoe), had just recently taken up residence in the same tree, and now finds his home in the spot where the puppet's heart would be, were he real.
That night, witnessing Geppetto's never-ending despair, a woodland spirit (Tilda Swinton, Three Thousand Years of Longing) decides to turn the carving into a live boy, whose name will come from the material (pine) from which he is made. From that impulsive decision arises a series of adventures and misadventures for Pinocchio, Geppetto, and Sebastian J. Cricket, along with all of those they come across. If Cricket can keep Pinocchio on the straight and narrow, he will be granted one wish when all is done.
Given the time period, even Il Duce makes an appearance, though the more immediate villain is Count Volpe (Christoph Waltz, Georgetown), the carnival operator who more or less kidnaps Pinocchio as a "living doll" for his show. Violence is all around as boys are forced to make decisions better left to the men, who are mostly too cowardly to sacrifice their own lives. By the time we get to the sea monster (in lieu of a whale), his threat, deadly as it is, seems almost cartoonish compared to the vileness of our own race.
With melodies both merry and melancholy (and usually delightfully bizarre), Guillermo del Toro's Pinocchio transports us to a space of both wonder and horror, as befits a work from this Mexican auteur. It may be initially hard to look at the jagged contours of Pinocchio's face here and feel love, but by the end the wooden marvel has won our hearts. As has the movie, creepy and comforting in equal measure.
– Christopher Llewellyn Reed (@ChrisReedFilm)
Netflix; Guillermo del Toro: Guillermo del Toro's Pinocchio movie review