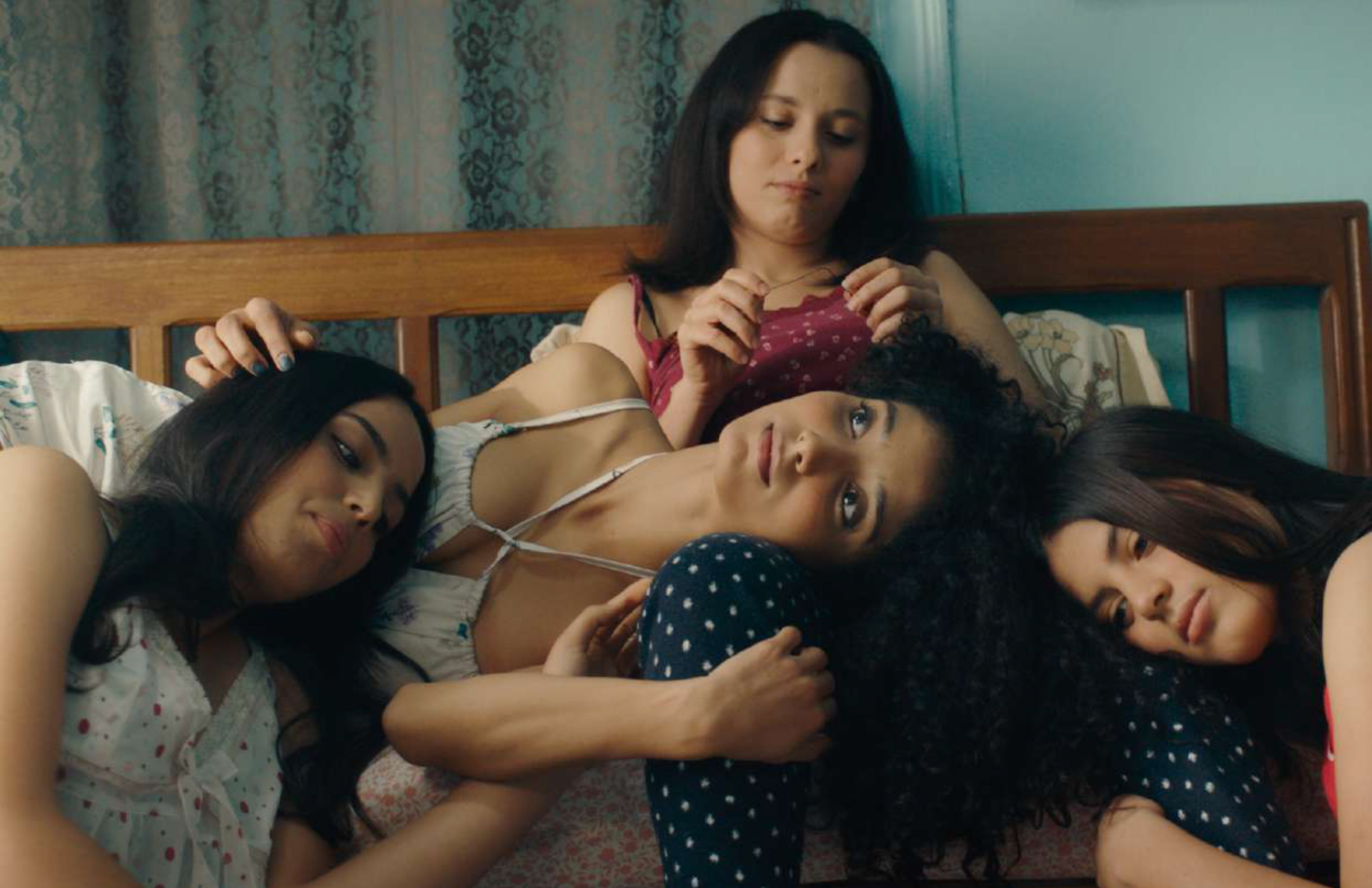 (Check out Chris Reed's movie review of Four Daughters. It hits theaters Friday, October 27 via Kino Lorber. Seen it? Join the conversation with HtN on our Letterboxd Page.)
Hybrid documentaries are nothing new, but Tunisian director Kaouther Ben Hania (The Man Who Sold His Skin) offers a fresh twist on the format by bringing actors and real-life subjects together in one frame, in this way inviting interaction between the two groups and deepening the narrative. Four Daughters tells the story of Olfa Hamrouni and her four daughters, a tale combining love, abuse, codepency, and the clash between fundamentalism and liberalism, tradition and modernity. Though the details are specific to this one family, there is little doubt about the universality of many of the movie's themes.
Two teenage daughters, Eya and Tayssir, still live at home with their mother, while the older Ghofrane and Rahma left a number of years prior to marry members of ISIS in Libya. In Four Daughters, these last two are played by actresses (Ichrak Matar and Nour Karoui), eventually acting as surrogate sisters to Eya and Tayssir as they reenact past memories. Another actress, Hind Sabri (Noura's Dream), substitutes for Olfa when the interviews or recreations prove too painful for her to relive. A single male performer, Majd Mastoura (After), incarnates all the various men who pop up in the film.
This structural conceit is explained right away, as first Sabri and then Matar and Karoui arrive, following an initial appearance from Olfa, whose central interview anchors the whole affair. Hers has been a hard life, battling for her own personal liberation, though by the time she became a mother and then escaped an abusive marriage, she herself had transformed into an obstacle to her own children's freedom and happiness. Or so the elder two came to believe. Has Olfa now learned to be more lenient with her two remaining daughters? Yes and no. At least they both seem to love their mother and forgive her her faults.
This is a powerful work of cinema, exploring the many ways we can hurt and heal. It's also a profoundly feminist piece, refusing to judge anyone for how the patriarchal system in which they have grown up has shaped their behavior. Olfa fled her husband only to find herself in a relationship with a newly problematic man. Her ultimate goal was always the safety of her daughters, but given the straightjacketed parameters of her life, she often struggled to succeed in that arena.
As we learn more about Ghofrane and Rahma's fate within the Islamic State, and how they ended up there, the facts grow more complex, muddying the waters of who is to blame. The actors start to share their own perspectives, outside of the scripted scenes in which they participate, art and life blending into one rich tapestry of meaning. The best part of it all is that Ben Hania manages to fill her fraught docu-drama with as much humor as sorrow, reminding us that even in the midst of tragedy there is always room to remember the joys that make life worth living. Cry, laugh, and learn.
– Christopher Llewellyn Reed (@ChrisReedFilm)
Kino Lorber Kaouther Ben Hania; Four Daughters movie review