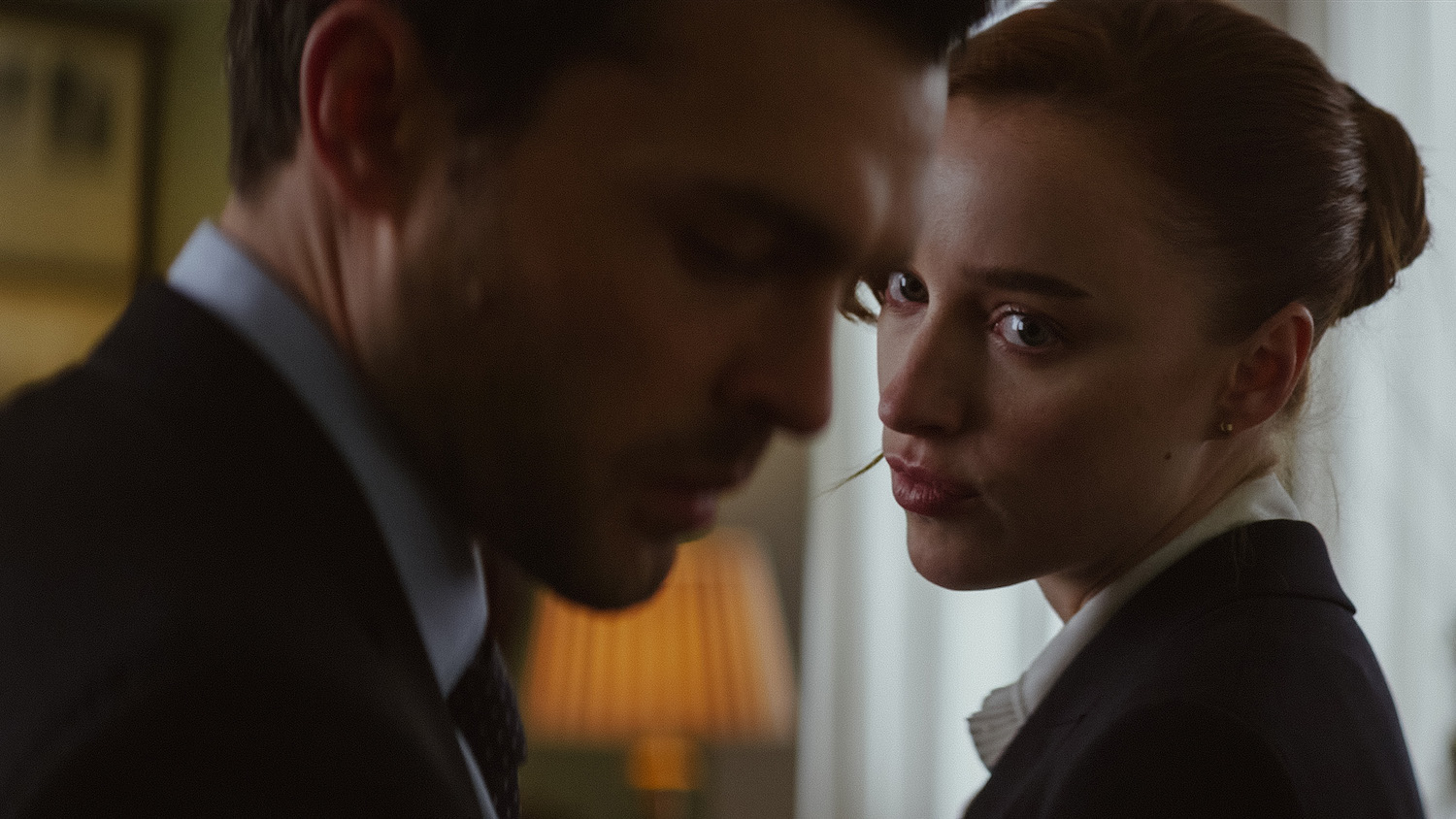 (The 2023 Sundance Film Festival takes place January 19-29 in and around Park City, UT and virtually. As always, Hammer to Nail has you covered with tons of movie reviews like Chris Reed's review of the film Fair Play. Seen it? Join the conversation with HtN on our Letterboxd Page.)
Turnabout, as they say, is fair play. Still, such gamesmanship seems far from the minds of loving couple Emily (Phoebe Dynevor, The Colour Room) and Luke (Alden Ehrenreich, Solo: A Star Wars Story), whom we meet in an opening wedding sequence where they, guests of the groom (Luke's brother), end up in the bathroom having passionate sex. She may be "the prettiest girl in the room," according to one, but soon she is rather messy after an unexpected pre-coital mishap. No matter, for Luke shall not be dissuaded from his master plan of the night: asking Emily to marry him. They're young and in love. What could be better?
Writer/director Chloe Domont, making her feature debut with Fair Play, has other plans, however, nothing quite as romantic as her protagonists might want. They both work at the same high-stakes hedge fund in Manhattan, despite the company's prohibition on interoffice relationships, keeping their cohabitation a secret while they each pursue dreams of wealth. There's an upcoming opening as a PM (portfolio manager), which  could propel Luke to the next level.
Except that, despite their assumptions, it's Emily who gets the job, throwing everything out of whack. This may be the 21st century, but misogyny is as alive as ever, in a multiplicity of forms. There are the predictable whisperings about how she got the position (it couldn't be that she deserved it), along with the sexist insult thrown at her by the big boss (Eddie Marsan, Vesper) when she momentarily stumbles. Worse, though, is the doubt that starts to creep into Luke's eyes when he looks at her. Or is it that he just can't stand that he now reports to her. That's not how things were supposed to go.
Domont explores these shifting power and gender dynamics through a series of increasingly taut scenes where Luke's sense of self degrades quickly over time. Emily tries to be supportive, but eventually she has her own needs to take care of. Plus, there's only so much condescension one can take before enough is enough.
The film is, overall, an interesting, dramatically heightened case study in what can go wrong when toxic masculinity rears its ugly head. Emily may take a little too long to finally stick up for herself, but when she does, she is ruthless. And though there is a staginess to the final showdown, both performers are up to the hysteria. Game, set, match.
– Christopher Llewellyn Reed (@ChrisReedFilm)
2023 Sundance Film Festival; Chloe Domont; Fair Play movie review