THE CURBSIDE CRITERION: THE EXTERMINATING ANGEL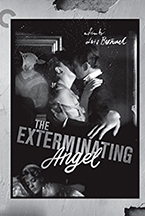 (We here at Hammer to Nail are all about true independent cinema. But we also have to tip our hat to the great films of yesteryear that continue to inspire filmmakers and cinephiles alike. This week, our "The Curbside Criterion" continues where HtN staff can trot out thoughts on the finest films ever made. Today HtN Lead Critic Chris Reed gives wings to Luis Buñuel's The Exterminating Angel .)
Spanish director Luis Buñuel (1900-1983) began his remarkable cinema career with the short surrealist masterpiece Un chien andalou (a collaboration with fellow Spaniard Salvador Dalí) – a movie made famous by its razor slashing through an eye – in 1929, which he followed in 1930 with a film even more outrageous, the barely feature-length L'âge d'or (another collaboration with Dalí), which was banned for almost 50 years for its blasphemous mocking of Christian (in particular, Catholic) imagery. At the time, Buñuel lived in Paris, but he would shortly thereafter return to his native land, immersing himself in the socio-political upheavals that would lead to the Spanish Civil War and, eventually, the triumph of Francisco Franco and the establishment of a 35-year fascist dictatorship. Buñuel was, as a left-leaning intellectual and artist, opposed to Franco, and so fled Spain for the United States and then Mexico, where he remained until, starting in the 1950s, he began his return to the international scene. All the while, he kept making movies, meaning that his career is marked by many different periods.
Beginning with Los olvidados in 1950, which won him the Best Director award at the Cannes Film Festival that year, Buñuel re-emerged as a filmmaker of note after years directing undistinguished Mexican studio fare. Subsequent respected movies of his include Nazarín (1959), Viridiana (1961), Belle de jour (1967), The Discreet Charm of the Bourgeoisie (1972) and That Obscure Object of Desire (1977), all of which received major international honors of some kind. In the middle of this career revival came The Exterminating Angel, a taut psychological thriller with surrealist tendencies that looks both backwards, to the absurdist themes of his debut, and forwards, to the increasingly satirical work of his final decade, while still continuing the sharp criticisms of societal inequities at the center of Buñuel's more realistic Mexican dramas. Shot in Mexico – though the director had initially wanted a London location – the movie places a group of wealthy aristocrats and members of the bourgeoisie in an odd sort of trap: after a night at the theater, they return to the palatial home of one of them for a dinner, only to then find themselves unable to leave the drawing room. No concrete barrier stands in their way, yet they are somehow blocked, while those who would rescue them from the outside cannot enter the house, either, barred by the same unseen force. Days pass, and their situation deteriorates, stripping off the veneer of civilization, exterminating that which raises them above the common folks they disdain. Such is the frequent fate of the upper classes in Buñuel's œuvre.
It's a powerful, if occasionally stilted and unpolished (at least in comparison to what would follow) film, heralding an important shift in the director's aesthetic. Thanks to the Criterion Collection, we now have a beautiful high-definition transfer to Blu-ray, in the original 1.33:1 aspect ratio and with the original monaural soundtrack. Picture and audio are both pristine, without noticeable blemishes or flaws. Along with the movie, the disc comes with four video extras – including a documentary on Buñuel that is longer than the main feature, itself! – as well as a booklet that includes a critical essay and excerpts from a mid-1970s interview with the filmmaker. Though perhaps not as comprehensive as some Criterion releases, this is an important – maybe even crucial – addition to any collection of the director's works. What follows is a brief review of these ancillary items.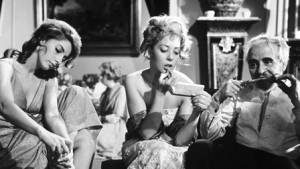 BOOKLET:
As just mentioned, there is one essay and one interview excerpt:
Essay: "Exterminating Civilization," by Spanish-Cinema Film Scholar Marsha Kinder: Kinder provides some valuable information on the film's production history, as well as some excellent analysis of the themes within. She reminds us that this is a movie not just about class, but about oppression, and the role of the Church (Buñuel's perennial bogeyman) in that oppression, writing: "The Exterminating Angel demonstrates how religion provides an underlying justification for some of the worst injustices of the bourgeois social order." This is both a strong critical essay and an invaluable addition to the disc.
Excerpts from Objects of Desire: Conversations with Luis Buñuel, by film critics José de la Colina and Tomás Pérez Turrent (from interviews conducted between 1975 and 1977): Among other interesting tidbits here revealed, we learn that Buñuel considered this film a failure, and was no great fan of the acting of his mostly unknown (outside of Mexico) cast, though he notes that most international viewers just assumed that the mannered behavior on display was peculiar to the Mexican upper classes. Both the director and his interviewers also discuss, at length, the many repetitions and purposeful continuity errors within the movie, which Buñuel used as a form of aesthetic hypnosis (but which I think remind us, instead, of the artifice of what we are seeing, which is an even better manipulation of the audience). It's a good conversation, and well worth the read.
DISC:
Again, there are four video extras:
The Last Script: Remembering Luis Buñuel (2008) (97:04): This documentary, co-directed by Gaizka Urresti and Javier Espada, follows Juan Luis Buñuel, the director's eldest son (of two), as he journeys through the many countries in which his father lived and worked, accompanied by French screenwriter Jean-Claude Carrière, a frequent collaborator of Buñuel's (Diary of a Chambermaid, Belle de jour, The Discreet Charm of the Bourgeoisie, The Phantom of Liberty, That Obscure Object of Desire). Meandering and occasionally delivering too much filler, the movie nevertheless serves as an insightful and fascinating biography of the filmmaker.
Interview with Silvia Pinal (10:15): Mexican actress Pinal plays a small, if pivotal, role in the ensemble cast of The Exterminating Angel, as the virginal "Valkyrie" (so called by the other guests at the doomed party) who develops a rescue plan. She also starred in Viridiana, as the lead, and in Buñuel's 1962 short, Simon of the Desert, as the devil. In this 2006 interview, she shares anecdotes from the set of The Exterminating Angel, including the fact that Buñuel made the actors rub honey over their bodies to better simulate the grime and slime of the space (as one can imagine, this was unpleasant). My favorite comment of hers is when she claims that, with this film, Buñuel effectively invented reality television, pitting people against each other in an existential battle to survive. Indeed.
Interview with Mexican director Arturo Ripstein (14:49): Also recorded in 2006, this interview features Mexican director Ripstein (Time to Die, Deep Crimson, and many more), who began his film career working with Buñuel as a very young assistant director on The Exterminating Angel. His father was a producer of commercial movies, and it was Buñuel's Nazarín that made Ripstein grasp the artistic possibilities of cinema, and how one could be "illuminated" (his word) by them. He also admires the fact that, as he sees it, Buñuel came to Mexico and became Mexico (and Mexican), unlike other foreign directors, who only noticed the pictorial beauty and vast landscapes of the country. Buñuel dug deep into unpleasant truths, and Ripstein has forever after followed in his footsteps.
Trailer (3:48): This is an appropriately oblique, Spanish-language trailer for the film. Nothing more, nothing less.
And there you have it. There is plenty to learn about this intriguing film artist, so get to it!
– Christopher Llewellyn Reed (@ChrisReedFilm)