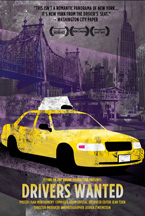 (Drivers Wanted is now available on iTunes and VOD. It world premiered at Silverdocs 2012 and opened theatrically at the reRun Gastropub on Friday, November 30, 2012, where it also screened with Joshua Weinstein's short film I Beat Mike Tyson. Visit the film's official website to learn more.)
For anyone who has ever ridden in the back of a yellow taxi in New York City and has wondered what it might be like to make a living as a cab driver, Joshua Weinstein and Jean Tsien's short documentary feature Drivers Wanted provides honest insight into that contemplation. So, is it harder or easier than one might think? Is it more romantic and glamorous? More aggravating and grueling? Thankfully, Weinstein and Tsien have no interest in answering silly questions like those. Without adding unnecessary spice or drama, they instead succeed in providing an honest glimpse into the lives of human beings who have chosen a profession that, like just about every job that has ever existed, has its good sides and its bad sides.
In the way that Sean Baker and Shih-Ching Tsou's micro-budget gem Take Out made it impossible to view Chinese deliverymen in New York City the same way again, Weinstein and Tsien's film goes a long way to humanizing those cabbies behind the steering wheel, who we far too often forget to treat as the hardworking everyday folks that they are. They do this by focusing their attention on three characters (and when I say "characters," in this case I indeed mean it): Stanley, the longtime manager of one of NYC's most well-known taxi stands; "Spider," an 80-year-old who first got behind the wheel in 1945 and continues driving to this day; and Eric, a newcomer who must learn the ropes quickly if he wants to earn a decent paycheck and not end up worse off monetarily than when he showed up for work in the morning.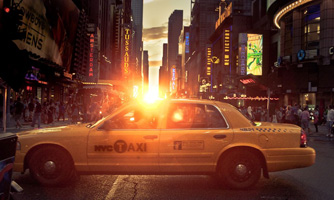 One thing's for sure. Compared to most jobs, driving a cab makes for a grueling workday. Twelve hours is the base shift, and in Stanley's perfect world, there wouldn't be too many days off in between. Of course, "Spider" has earned a respite from a schedule this grueling. He now drives just a few hours a week. For him, having grown up in a vehemently racist South, driving a cab in New York City is a source of personal pride and success, proof of just how far he has come.
For Eric, the profession is no less noble—it's a profession, after all—but it is most purely driven by his need to support himself and his family. Weinstein and Tsien follow Eric into his home, introducing us to his wife and two children. By allowing us to sit at the dinner table with them, we understand immediately just how important this job is to him. Eric's natural graciousness and timidity adds an almost excruciating amount of tension to his first day on the job, when things begin to go awry. And when an asshole fare tells him flat-out to his face that he isn't going to pay him, it verges on the heartbreaking.
Too often, non-fiction filmmakers feel the need to turn up the volume on their film's message—likely to receive the type of grant that will bring said film into actual existence—but the IFP-supported Drivers Wanted doesn't reek of this well-intentioned-but-foul stench. While the film does acknowledge pressing issues like immigration and racism and gentrification and our troubling economic times, more importantly—and simply—than that, it helps us to get to know some very special New Yorkers who are fighting the good fight.
— Michael Tully