(Treeless Mountain is being distributed theatrically by Oscilloscope Pictures. It opens Wednesday, April 22nd at the Film Forum and in Ridgefield Park, NJ, before expanding to other cities in the coming weeks and months. Visit So Yong Kim's official website to learn more.)
So Yong Kim's directorial debut, In Between Days, didn't just hint at her potential; it confirmed her arrival. After premiering the film at Sundance, Kim scored a coveted distribution deal with Kino, an impressive feat for such a tiny-movie-that-could. Using the restrictions of a four-person crew and 24p imagery to her advantage, Kim brought the inner fears and yearnings of a young Korean immigrant in Canada to life with the utmost grace. With her sophomore effort, Treeless Mountain, Kim trades adolescence for childhood, delivering an even more fully realized work of poetic naturalism.
As with In Between Days, Kim tapped into her past for her sophomore film, though she hasn't let memory distort her perspective. This is one of her greatest gifts as a filmmaker. In Between Days and Treeless Mountain are both deeply personal works, yet they never reek of autobiography. After having attended countless film festivals for the past several years, it is refreshing to discover a young writer/director who seems to have been born with a natural ability to balance filmmaker objectivity and emotional subjectivity so effortlessly.
The story of Treeless Mountain is a deceptively slight one. When their mother leaves them to track down their estranged father, six-year-old Jin and her younger sister Bin are forced to adjust to life without her. At first, they move in with their aunt, whose dependence on alcohol proves troublesome. They begin selling fried crickets to other children in order to fill the piggybank their mother left with them with the assurance that, once it has been filled, she will return. When that doesn't happen, they relocate to an isolated farm to live with their grandparents. As they continue to wait for their mother to return, their feelings of frustration and abandonment begin to fade and their world begins to widen.
Kim understands that simplicity and clarity, when used effectively, hold the utmost power. At first, one might think they're watching a minor story about two little girls, but by the film's third act, the mood shifts and it expands into a deeply symbolic lesson in acceptance and humility. Kim uses her camera to chart this quiet evolution, beginning by shooting in claustrophobic, jerky close-ups, and gradually backing away to let the images breathe and to reflect the literal weight that is being lifted from inside these young girls' hearts and minds.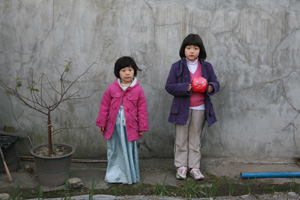 As a filmmaker, it's impossible not to watch either of these young girls and think, "How did she do that?!?" for Kim has elicited some of the finest child performances in recent memory. But, rather than distracting from the story, it enriches the experience and makes it even more powerful. The unforced naturalism of every performance—not just the children—helps to further root the film in reality, even as it continues to unfurl like a sleepy daydream.
In the film's press notes, Kim confirms the influence of two recent films on her own production: Ponette and Nobody Knows. But while she incorporates elements from those films—the childlike emotion, the splendid natural performances—she is painting on a different type of canvas. Both Ponette and Nobody Knows captured children's behavior extraordinarily well. But with Treeless Mountain, Kim has burrowed inside her children and makes us see the world through their eyes. A towering example of this is near the end of the film, as Bin watches her grandmother work. Kim's camera doesn't just show us what Bin is looking at; at that moment, we are Bin. We are no longer watching a film from the outside-in. Without telegraphing or forcing this shift upon us, Kim gradually changes our perspective from a world we are witnessing to a world we are experiencing. While this might slip past a less attentive viewer, for those who are patient and open and willing to embrace Kim's quiet, unforced rhythms, it will take your breath away.
As she did in In Between Days, Kim breaks up her narrative with chapter breaks in the form of gorgeous landscape shots (shooting on super-16 as opposed to 24p, these moments reach an unexpected state of Malickian majesty). But whereas she had her character voicing her inner thoughts over those images in that film—as an adolescent would—this time she lets the imagery speak for itself. For Jin and Bin are unable to verbally express their fright and confusion at such a young age. To have them speaking at these moments would be dishonest, a screenwriter's calculated tool. Kim shows her wisdom throughout Treeless Mountain, most admirably in her refusal to get in the way.
Though Treeless Mountain appears to be mired in sadness and loss, it is ultimately about the conquering of those emotions. In this case, Kim has chosen characters who are unable to help themselves, but with patience, time, and the influence of a supremely kind grandmother, they are able to let go of their fears and begin to accept their place in this ultimately beautiful world. Without our even realizing it, Kim has turned Treeless Mountain from a story without hope into a story about it.
— Michael Tully
(This review was first published in conjunction with its world premiere at the 2008 Toronto Film Festival.)