(The Other Half screens on Friday, April 24 as part of the Film Society of Lincoln Center's series On the Edge: New Independent Cinema from China 2009, and on Saturday, April 25 at the China Institute. Ying Liang's latest feature, Good Cats, will screen at Lincoln Center on Sunday, April 26. Ying is scheduled to appear in person at all three events. The Other Half and Ying's first feature, Taking Father Home, are both available on DVD and as digital downloads from dGenerate Films, Karin Chien and Kevin Lee's new series of contemporary independent films from China.)
Ying Liang's 2005 debut Taking Father Home, which had a brief theatrical run in NYC last year, was a minor triumph of DIY filmmaking. Shot on DV for less than $5,000, this minimalist road movie chronicled the journey of a young Chinese peasant to the big city in search of his missing father. Ying's 2006 follow-up The Other Half is everything admirers of Father might have hoped for: it builds on many of the earlier film's themes and stylistic devices, but delivers a deeper artistic vision, a wider range of human sympathy, and a broader investigation into contemporary Chinese society.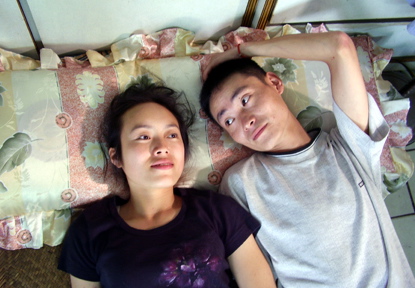 The film begins with Xiaofen (Zeng Xiaofei), a 22-year-old woman, being interviewed by an off-screen lawyer for a job as a legal assistant. She gets the job, which involves taking notes as various potential clients arrive at the lawyer's office seeking help. These men and women represent a cross-section of social types—a farmer furious that his wife wants to leave him, a chemical-plant owner fearful of a lawsuit brought by sick workers, a gold-digger from Taiwan who thinks she'll get a better divorce settlement from a mainland court, a saleswoman seeking custody of her child, a battered wife whose army-officer husband holds all the cards, and many others. Variously disgruntled, desperate, insulted, and injured, they spill their secrets in detached, documentary-style interviews as Xiaofen sits nearby, silently recording it all. The interviews are interspersed with snapshots of daily life in the industrial city of Zigong, and scenes from Xiaofen's personal travails: her deadbeat boyfriend Deng Gang constantly hits her up for money, her mother wants to set her up with a crass but wealthy entrepreneur, her friend Lian Lian dreams of escaping to America. Xiaofen says little, and gives little away, but as the narrative progresses it gives a clear picture of a young woman being pushed past the limits of her ability to cope.
Ying's style offers a rich and fascinating combination of different modes, different registers: on one level, he's operating as a journalist or documentarian, reporting on what he observes around him, from everyday domestic dissatisfaction to wider forms of political, economic, and cultural malaise (environmental degradation plays a major part in the storyline), while his elliptical approach to narrative and his highly expressive long-take technique place him in the tradition of contemporary art-house filmmaking, especially his fellow Sino-cineastes Hou Hsiao-hsien and Jia Zhang-khe. But unlike those two masters, Ying seems to be reaching for a more emotionally direct and accessible mode of address. In The Other Half he gives us suspense-building subplots, sudden dramatic reversals, surprise revelations, and outbursts of rage, regret, and yearning. This is the stuff of mainstream melodrama, and Ying's remarkable facility at weaving such elements into what's otherwise a reserved, carefully modulated mood piece suggests that he's aiming for a fusion of art-film formal rigor and audience-friendly entertainment. Where he goes from here is anyone's guess, but viewers are advised to start paying attention—after only two films, Ying has already passed beyond the merely "promising" phase; there are few young filmmakers anywhere in the world whose next work I'm more eager to see.
—Nelson Kim